Spain vs. Italy: Most Important Players on the Pitch in Exciting Euro 2012 Final
June 29, 2012

Michael Steele/Getty Images
One of the most exciting European Championships in recent history is unfortunately coming to an end, but it will undoubtedly go out with a bang when a fantastic Spain squad faces underdog Italy in the final.
We expected so much of Euro 2012 for many reasons, and we got everything we've asked for. We've seen international football's giants battle through to the final with a criticizable style of play, and we've been bestowed with many upsets and down-to-the-wire finales between world powerhouses. 
The culmination of the entire tournament will be an event of epic occasion on Sunday, when Spain will fight to win their third straight major international title. Italy defied the odds in 2006 to win the World Cup despite being given no chance against a powerful France team, and they did so with many of the same players they currently have.
However, they played less than stellar leading up to Euro 2012, which has seen their fate change. 
Italy and Spain faced off in the opening match of the group stage, which ended in a 1-1 tie thanks to a beautiful goal at the hour mark by Antonio Di Natale, an answer by Cesc Fabregas and repeated failures to seal the comeback late by substitute striker Fernando Torres. 
Germany was pegged as a heavy favorite to face Spain in the final, but Italy shut them down with a dominating performance by Mario Balotelli and clutch goalkeeping by Gianluigi Buffon in an improbable 2-1 win. 
Spain may not have made it here without Portugal's decision making. In the penalty shootout, they left Europe's best player, Cristiano Ronaldo, until the fifth shooter's slot that wouldn't be needed as Spain won the scoreless game with a 4-2 penalty victory. 
Will it be Spain's continued greatness that seals their legacy as an international dynasty? Or will Italy's experience in big moments and their explosive playmakers pull through in yet another upset?
Andres Iniesta
Spanish teammate David Silva firmly believes that forward Andres Iniesta is the best player in the world (per Goal.com). While he may be a little off with that statement, Iniesta is still the biggest difference in this Spanish squad.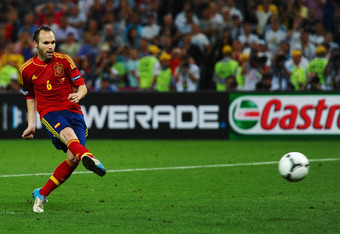 Laurence Griffiths/Getty Images
Iniesta enjoyed his place in the shadows of David Villa, Xavi and Fernando Torres in the 2010 World Cup, eventually putting in the cup-winning goal in extra time of their final against the Netherlands.
He possesses the greatest attacking talent on the pitch for Spain without Villa in the lineup. With an attack that doesn't seem too interested in putting their foot down on the accelerator, he'll need to not only be motivated to put the match in his own hands (or at his feet, rather), but also execute on the many chances he'll have alongside his highly-talented teammates.
Antonio Cassano
Cassano gives Italy the best chance to outstretch Spain's defense past their ability. 
His wide-ranged game allows for giant teammate Mario Balotelli to roam in the penalty box, which resulted in the game-winning goal against powerhouse Germany in their semifinal match. 
Cassano's energy and pace will make him nearly unguardable for Spain and will effectively take out one of their top defenders from taking up space (either Alvaro Arbeloa or Sergio Ramos, probably). When he does that, it'll open up the floodgates for the likes of Andrea Pirlo and Claudio Marchisio. 
Gianluigi Buffon
Italian giant Gianluigi Buffon's presence in Euro 2012 has been hard to wrap our minds around. One moment he gives us the indication of his "just happy to be here" feeling, then the next he's refusing to celebrate one of the biggest wins in Italy's recent history (from the AP, via the San Francisco Chronicle).
Whatever the case may be, there's no denying Buffon's impact on this Italian side. Without his dominance throughout all of Thursday's upset, Italy likely would have seen the game shift to extra time. With the help of stellar defending, Buffon was unbeatable and made several clutch saves.
When Spain isn't boring the Italian side to tears, they'll be attacking the box with menace in the hopes of notching the one goal that they need. Buffon will need to be just as brilliant as he was against Germany, if not more so.
Gerard Pique
Pique is the leader of Spain's defense and the cog of their back third. It will be his fault more than anyone else's if Spain cannot contain Italy.
Italy made it very clear that their intentions are to get the ball to Mario Balotelli in the striking areas, and Pique is the only defender that rivals Balotelli's scary size.
In a scoreless game, the referees will allow plenty of leeway in the boxes as far as fouls are concerned. Pique needs to take advantage of that and ride the fine line between aggressive play and illegal play.
Mario Balotelli
I said before the tournament that Balotelli needed to play above and beyond his already incredible potential for the Italian side to even have a chance at making a deep Euro 2012 run.
Now, I'll say it again as their side is just one win away from glory.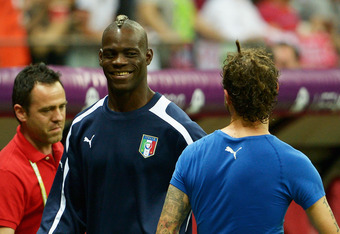 Claudio Villa/Getty Images
Italy's game plan revolves around Balotelli. He'll barely touch the ball when Italy is possessing, as they'll work it around their midfield and wings, but the final touch is always taken by him in the plays they've been drawing up. 
His finishing ability is unrivaled on the pitch, and Italy has done a masterful job of taking advantage of that so far. With confidence flowing through his veins more than ever, Balotelli will need to be cool, calm and collected while still being smart enough to put himself in the right spot to strike a goal.
So far, he looks the part. It'd be foolish to write him and the Italians off after what they've shown.
Euro 2012 Final Prediction: Italy 2, Spain 1 (extra time)
-- Follow me on Twitter: @StevenCookBR