Indiana Pacers 2012 Draft: The Unpopular, Yet Correct Pick of Miles Plumlee
June 29, 2012

Kevin C. Cox/Getty Images
It's not often when a Hoosier gets selected by the Indiana Pacers and venomous comments and articles quickly follow. 
But in the case of Miles Plumlee (a Warsaw, Indiana native) that is exactly what has happened.
But, why?
There were four things the Pacers needed to accomplish this offseason, and only four. In order they go: resign Roy Hibbert, resign George Hill, find a big man to give Hibbert a breather and pick-up an attacking two-guard that can not only create his own shot, but also get to the line.
On Thursday night, Indiana accomplished one and a half (we'll get to that) of those things.
Miles Plumlee. The Duke center has size (7-feet, 252-pounds), can jump out of the gym (40.5 inch vertical), is hyper-athletic and rebounds (7.1 rpg), according to Draft Expert.
He has already been dismissed as the next coming of Jeff Foster, I see that. Foster was never really a scorer, which is the same inability that Plumlee showed during his time at Cameron Indoor. But when Foster brought rebounding and competitiveness to the table, Plumlee brings those attributes and adds athleticism that Foster did not have.
There were times during the playoffs when a bottle of Foster was exactly what the Pacers needed. Try as Lou Amundson did, he didn't bring the same edge that Foster did. Indiana missed having a bold rebounder in the second unit. Plumlee fills that void.
Remember when a team: already has an established core, just reached the Eastern Semi-finals, hasn't peaked yet and is picking 26th, they aren't looking for Michael Jordan, but rather for a player that fits into the fabric of the team. While Jordan would be a nice surprise, that's not the point.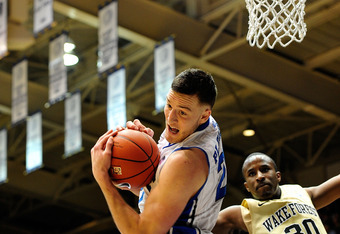 Grant Halverson/Getty Images
Perry Jones III, or any player that is an injury risk (read Arnett Moultrie), is someone that you shouldn't take the risk on. Not when you only have one first round pick. Not when you already have three (Granger, George, Jones) small forwards on the roster. Not when you need a more-constant version of Leandro Barbosa or a competent to above-average backup for Hibbert. Plumlee fits the void, Jones III did not.
A better place for Jones III to go was, fittingly enough, Oklahoma City. With the Thunder he can be the back-up for Durant that they need. 
While Plumlee fills a much needed space on the Pacers roster, Indiana's work is not done.
As stated before Hibbert and Hill need to be locked up. While trading for Orlando Johnson is nice, Indy still could use a more experienced commodity as the leading player of their second unit and as their attacking two-guard. Someone like OJ Mayo, Mickael Pietrus or Jason Terry could be available.
In Plumlee, the Pacers have found a player that will be an active and important cog in their wheel. Sure he might be a rich man's Foster, but a rich man's Foster, would have been much needed last season.