Euro 2012 Final: 5 Reasons Why Italy Will Raise the Trophy on Sunday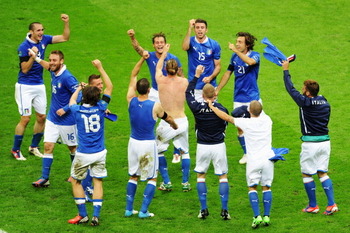 Michael Regan/Getty Images
In a match where the result surprised anyone who hasn't paid attention to the Italian national team lately, Gli Azzurri defeated Germany 2-1 to advance to the final of the 2012 European Championship.
Germany, heavy favorites with Spain to reach the final coming into the tournament, didn't always look their best in their first four matches at the competition, and Italy made them pay on Thursday, ending Germany's world record 15-match win streak.
From back to front, Italy were absolutely brilliant. There are still things they can improve upon, especially their quality in front of net, but they got the goals they needed and earned their rematch with Spain, who they opened against in Group C play with a 1-1 draw three weeks ago.
The final is set. Spain are looking to become the first team to win two straight European titles and three straight major titles (continental and FIFA World Cup). Italy are looking for their first major trophy since winning the World Cup in 2006 and their first European Championship since winning in 1968.
Italy were the team that showed that Spain are not the Spain of old when the two last played three weeks ago. The way the Azzurri are playing, they can easily lift the trophy on Sunday evening.
Here are some reasons why.
Andrea Pirlo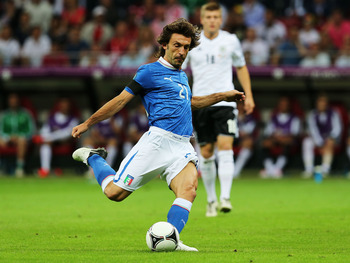 Alex Grimm/Getty Images
Time to say something that no longer seems crazy...
Andrea Pirlo has emerged as the likeliest player not named Lionel Messi or Cristiano Ronaldo to compete for the 2012 Ballon d'Or.
Pirlo could be named the world's best player in 2012? Absolutely.
The 33-year-old, after guiding Milan to the Italian Scudetto in 2011, was the most valuable player on Juventus as they won the title this past season.
A few weeks after leading Juventus to the title with the help of his 13 assists, he's making younger players look silly at Euro.
He has looked like he's in his 20s playing in this championship so far and has been the driving force behind Italy's success to be sure.
Arguably his best performance came against Spain. He was turning players all day in the midfield and then played in the perfect ball that found the foot of Antonio Di Natale to get Italy's goal.
Over the past two years, Pirlo has been in the best form of his career, and it's shown at this tournament. There's no reason to think he won't continue to shine against a team he has already starred against.
Brilliant Defending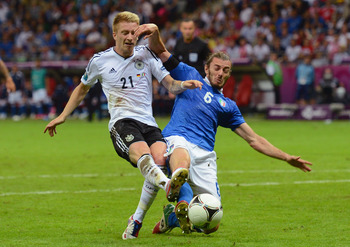 Shaun Botterill/Getty Images
Italy bent at the end but never broke.
Germany's lone goal came on an unfortunate penalty late in stoppage time that was awarded following a handball in the box.
During the latter stages of the match, Italy had a lot of defending to do as Germany desperately threw everyone forward. They were desperate to the point where Manuel Neuer became only the fourth goalkeeper to touch the ball on his opponent's side of the field in the competition since 1980 (via Opta).
Italy let Germany have absolutely nothing all match, and that has been a recurring theme throughout the tournament for the Italians. The nation has built its football on the basis of defending for over 100 years, and it hasn't changed much. Defense and counterattack are still the two key foundations of modern Italian football.
The real story in the back has been Federico Balzaretti. The Palermo man has shown why the likes of AC Milan and Napoli are interested in him, as he has come up big for the Italians in the back time after time since finding his way into the starting lineup against Ireland.
Leonardo Bonucci also came up big for the Italians against Germany.
Expect Balzaretti to anchor the defense yet again. With the likes of him, Bonucci and Giorgio Chiellini holding down the fort in front of Gianluigi Buffon, Italy have more than enough to stop Spain—a team that has struggled to find a No. 9 to rely on in attack and have often gone with six midfielders and no natural forwards.
Italy Are Not Afraid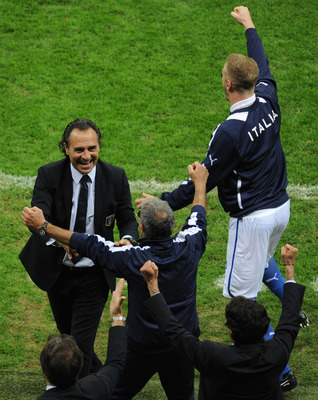 Michael Regan/Getty Images
Cesare Prandelli has made it a point to state what seems obvious after the way they played against Germany.
In his pre-final press conference, Prandelli declared that his side are not afraid of Spain. And will play accordingly.
Many expected them to play scared against Germany, but the way Italy pressed the issue and found two first-half goals made it quite clear that that was not the case.
Italy never showed signs of fear against Germany, who played a far tougher match than Spain did in the opening match for Italy.
Expect Italy to press and not let Spain get into a comfortable rhythm with their tiki-taka play.
Counterattack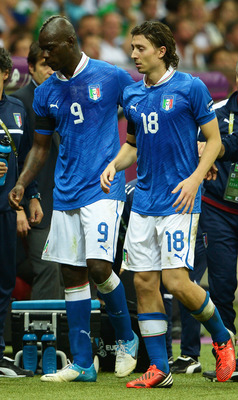 Claudio Villa/Getty Images
Italy's best moments at this competition have come when they break out on the counterattack.
Di Natale's goal against Spain and the two goals against Germany were all due to the brilliant countering movement of the Azzurri.
Italy could have easily had five on the break last night, but the likes of Claudio Marchisio, Alessandro Diamanti and Di Natale were unable to finish their chances.
Italy will have the chance to break out if they can pick the ball away from La Roja in the middle of the park. If they can get Pirlo, Cassano or even Ricardo Montolivo on the ball in a quick movement the other way, they could easily get the ball to a spot for Mario Balotelli to finish it off with confidence.
If Italy can counter the way they did against Germany, it will be curtains for Spain in their pursuit of history.
Mario Balotelli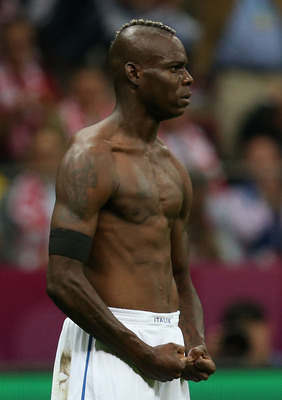 Joern Pollex/Getty Images
The way he played on Thursday, there's no doubts that Mario Balotelli can become the player he was born to be if he keeps his attitude in check.
The 21-year-old blasted home two goals 16 minutes apart off great counterattacking football from the Azzurri as they took a 2-0 lead into the dressing room and never looked back.
When Balotelli is focused, he's one of the most lethal finishers in world football.
He said on Thursday that it was his performance that helped add to the best day of his life.
It's safe to say that should he score and lead Italy to victory over Spain, he will have a new "best day of his life" to speak of.
If Balotelli can show the same maturity he did on Thursday (minus the excited removal of his jersey following the second goal), he will have another great performance and confirm his place as a national hero in Italy.
Follow Tim on Twitter @Tim_Fontenault
Keep Reading

Italy (National Football): Like this team?