The SEC Blog will be counting down the top 150 players in the SEC every day, concluding on Aug. 30, the start of the college football regular season.
61. Charles Sawyer, No. 3, Ole Miss Safety
2011 stats: 70 tackles, three tackles for loss, four interceptions, one fumble recovery
Strengths
Sawyer has proven to be a key piece of the Ole Miss defense, whether he's playing safety or cornerback. He led the Rebels in interceptions last season with four, returning one for a touchdown. The 5'11", 175-pounder moved to safety full time late last season and should benefit from an offseason of relative stability.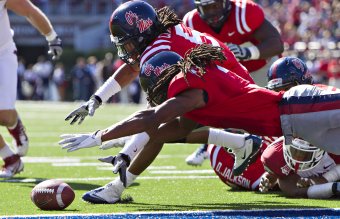 Wesley Hitt/Getty Images
Weaknesses
He's a little undersized when compared to other SEC safeties; but what he lacks in size, he makes up for in determination. The instability that comes with a coaching change will have an impact. Sawyer will need to be a leader off the field as well as on it this season.
2012 Prediction
Sawyer is being counted on to be a star for the Rebels. He has proven during his career to have the necessary talent, but consistency has been a little bit of an issue—due in large part to issues outside of his control. That will change in 2012.