Spain vs. Italy: Key Players to Watch in Euro 2012 Finals Clash
June 30, 2012

Shaun Botterill/Getty Images
It's not exactly the finals matchup the world expected to see, but after watching the Mario Balotelli show on Thursday, there's nobody that isn't excited about watching Italy take on Spain in the culmination of Euro 2012 action.
Despite the fact that the Germans had yet to lose on the Euro stage, Italy seized their chances of reaching the finals early on, putting Die Mannschaft in a 2-0 first-half hole that they couldn't climb out of.
Here's a preview of the key players to keep your eyes on as the finals commence on Sunday.

Iker Casillas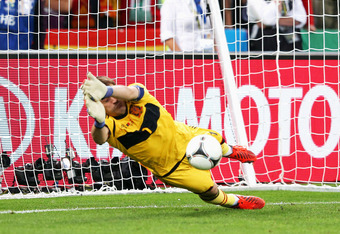 Alex Livesey/Getty Images
Saint Iker lived up to his rep against Portugal on Wednesday, holding strong during a shootout to deliver Spain to its third consecutive finals in a major international tournament.
With the win, Spain's captain will establish himself as the first player to ever reach 100 wins with his national team. Many thought he'd reached the milestone during La Roja's shootout win over Portugal, but since Infostrada doesn't count penalty wins, Casillas will have to give it another go versus Italy.
The keeper hasn't allowed a goal in regulation since playing to a 1-1 draw against the Italians in Spain's opening match of the group round. If he can hold strong against the only team that's managed to score on him in the tournament thus far, Spain will take its second straight Euro crown and become the only nation to ever win three consecutive international tournaments. 

Mario Balotelli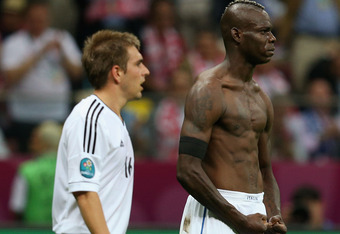 Joern Pollex/Getty Images
The Italian striker's two goals versus Germany on Thursday gave us perhaps the most exciting moment(s) of Euro 2012 thus far. Not only did he put the nail in the Germans' coffin bright and early in the match, but he now gives Italy a chance to knock off the perennial favorite to win it all.
Forget about Cristiano Ronaldo. There's a new scoring superstar on the Euro stage, and he's just as exciting to root for as the Portuguese legend—and now, perhaps just as recognizable.
Though its hard to believe anything could outdo the exhilaration Balotelli felt after tallying those two first-half goals on Thursday, the 21-year-old could experience the crowning achievement of his career if he leads Italy to a win on Sunday. Despite the fact that Spain has been the stronger team throughout the tournament, the Italians have been the only team to score on Casillas.
With Balotelli as hot as he is right now, they might just be able to do it again.

Andres Iniesta
As significant as Casillas has been to Spain's defensive effort, Iniesta is just as important to its offensive effort.
The midfielder isn't all too concerned about decrees that Spain's approach at Euro has been boring to watch. Prior to La Roja's shootout win over Portugal on Wednesday, he pointed out the obvious: Whatever Spain's doing, it's working. He told Thomas Pascoe of the Telegraph:
"For us, the play that we have, the way we have of doing things, is what has led us to our success, to winning titles. All opinions should be respected, but … We feel identified with our style of play, and a few years ago this style changed the history of Spain for good."
In particular, it's the way Iniesta reads and commands the field that has allowed Spain's approach to be so effective throughout this tournament. Even Croatia midfielder Ivan Rakitic, whose team fell victim to Spain during the group round, admitted it. It could be his movement and speed that serves as the difference-maker during the finals.