Spain vs. Italy: Gerard Pique and Stars Who Must Neutralize Mario Balotelli
June 30, 2012

Joern Pollex/Getty Images
Italian striker Mario Balotelli is one of the most polarizing figures on all of soccer, but there is no doubt that he is one of the most talented players in the world as well. Balotelli's skill was on full display on Thursday as he torched the German defense twice and led Italy to a 2-1 victory over Germany and a spot in the Euro 2012 finals.
Carrying that performance over won't be easy, though, as Italy will have a rematch with Spain. The Italians are the only squad to score a goal on Spain in the entire tournament as they played them to a 1-1 draw in their first group-stage match. Spain has been very stingy, but it will have to ramp the defensive intensity up another level with Balotelli playing as well as he is.
Here are three Spanish stars that must step up in a big way in order to slow down the streaking Balotelli and hold the Italian offense in check.
Gerard Pique
Gerard Pique is only 25 years of age, but he is already considered one of the best defenders in the world, and he will have to live up to that billing on Sunday.
Pique is a star at Barcelona and he is one of the biggest reasons why Spain has been nearly impenetrable during Euro 2012. He is adept at transporting the ball down the pitch, but his defensive capabilities will be in much higher demand during this match with Balotelli currently running wild.
Pique is big and strong at 6'2", so if he can get his body on Balotelli, then the Italian spark plug will likely have some issues. At the same time, though, Pique can be beaten when speedy forwards get out wide and use their wheels. Balotelli will attempt to do precisely that, but Pique has to stay in a strong defensive posture and can't let Balotelli's freelancing distract him from the task at hand.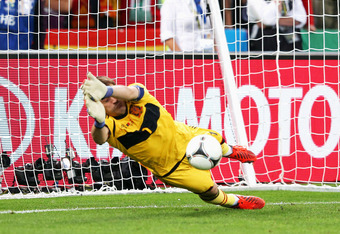 Alex Livesey/Getty Images
Spanish goalkeeper Iker Casillas hasn't been exceptionally busy during this tournament, but you can't take away from what he has accomplished. Casillas has four clean sheets in five matches and has surrendered just one goal thus far.
Casillas also came up big in the penalty shootout against Portugal as La Roja was able to survive and advance. Most consider him to be the best goalie in the world, and he has the hardware to prove it as he won Euro 2008 as well as the World Cup in 2010.
Casillas is a big-game goalkeeper and he has come up with some extremely big saves over the course of his illustrious career. As good as Spain's back line is, there is a decent chance that Balotelli will find a way to slip through the cracks at some point and get a solid scoring opportunity or two.
When that happened against Germany, Manuel Neuer couldn't make the stops, but Casillas has no choice other than to shut things down.
Sergio Ramos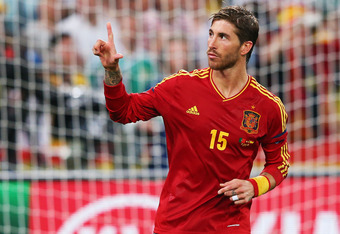 Alex Livesey/Getty Images
Like Pique, Sergio Ramos has developed into a world-class defender at a fairly young age. He is incredibly aggressive and tough to deal with, and those qualities must be on full display against Italy.
If you try to play a finesse game when defending Balotelli, he is going to thrive. The only way to ensure that he isn't a threat is to get in his face and give him no room to work with. Ramos will have no qualms about doing that, but it could leave him open as well.
As good as Ramos is, he is also prone to being a bit overzealous. If he is too loose as an attacker and doesn't get back in time defensively, Balotelli might have a field day. He was able to get over the top on Germany's defense on his second goal in the semifinals and figures to attempt to stretch the field against Spain as well.
As long as Ramos is cognizant of where he is on the field at all times, however, he should be okay.
Follow @MikeChiari on Twitter