Isaiah Crowell: Georgia RB Let Team Down with Felony Weapons Arrest
June 29, 2012
Kevin C. Cox/Getty Images
Nothing good happens when you're an athlete who is out on the town at 3 a.m. It doesn't matter if you're getting paid professionally or receiving a scholarship for your athletic ability.
Nothing good happens.
Isaiah Crowell, Georgia's standout running back who rushed for 850 yards and five touchdowns in 2011, is finding out firsthand. 
He was arrested early Friday morning on three charges, two of which are felonies, according to Chip Towers of AJC.com.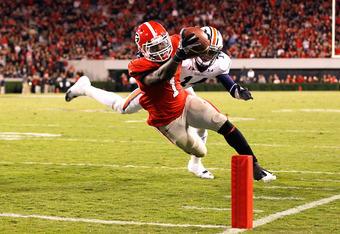 Kevin C. Cox/Getty Images
Crowell, who continuously finds himself in trouble, just let his team down heading into the 2012 college football season.
When you get into trouble with the law or the university, you not only hurt yourself, you hurt your team. His reputation is in question, but now the team has an issue heading into the 2012 season. 
Crowell was booked at 3:37 a.m. on charges of carrying a concealed weapon, possessing a weapon in a school zone and an altered ID mark, according to Towers. 
After being benched for the first quarter against Vanderbilt on October 15 and being suspended for the New Mexico State game on November 5, you would think that Crowell would do whatever it took not to get in trouble again.
Instead, he was arrested and now faces "immediate suspension," according to Towers. 
According to the UGA Student-Athlete handbook, a felony arrest means 'immediate suspension from athletic competition.' A Comprehensive Action Plan Committee, consisting of UGA athletic administrators and the faculty athletics representative, will then investigate and review the facts and forward a disciplinary recommendation to athletic director Greg McGarity. Recommendations include 'dismissal from the team, suspension from competition, reduction in aid and/or cancellation of athletic aid.'
Maybe this situation will be the one that hits him the hardest. Maybe this will be the turnaround point of his life. Maybe this will be where he can look back and say his life changed.
It's nice to think about it from that angle, but he hasn't proven capable of making that turnaround yet.
Maybe we'll be pleasantly surprised. Maybe we won't. Maybe Georgia is better without the running back. 
We'll find out.