Germany vs. Italy: Azzurri Stars Who Must Carry Momentum into Final vs. Spain
June 29, 2012

Michael Regan/Getty Images
Italy did what many thought was impossible on Thursday by knocking off Germany. The most impressive aspect of the victory was how easy the Azzurri made it look, keeping the Germans in check aside from a penalty kick in stoppage time.
They will face another difficult challenge in the championship match as they take on Spain. The defending European and World Cup champions are looking to stretch their major championship streak to three, which would be an amazing accomplishment.
For Italy to pull off another upset, the players who shined against Germany will have to carry over that positive momentum into the final. Let's take a look at a trio of stars who are key to the team's pursuit of the coveted trophy.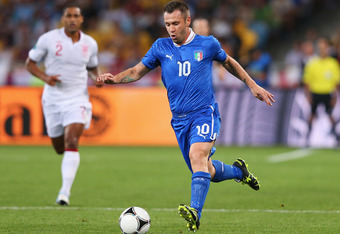 Alex Livesey/Getty Images
Antonio Cassano
Even though Cassano has only scored one goal during the tournament, that hasn't stopped him from being one of the most effective players on the pitch for Italy. He's embraced more of a distribution role alongside Mario Balotelli, and it has worked well.
The veteran striker played a perfect cross to set up Italy's first goal against Germany and helped steady the ship early in the second half before getting subbed out. It's exactly the type of performance fans have come to expect from the A.C. Milan star.
Spain will attempt to dominate the possession battle, so the onus will be on Cassano to help the team's midfield level the playing field. If Italy can stifle Spain's midfield like it did to Germany, a win becomes much more attainable.
Mario Balotelli
It's amazing what Balotelli can accomplish when he remains completely focused on making plays. He's always had a tendency to drift in and out of games, but he's showcased a lot more consistency during Euro 2012, and it's a major reason Italy is in the final.
He scored both of the team's goals against Germany, including a terrific strike to give the Azzurri a more comfortable two-goal lead. Those tallies also tied him for the tournament lead in goals and a chance to win the Golden Boot Award.
Balotelli will meet plenty of resistance in the final, however. Spain hasn't allowed a goal since the first match of the group stage, for a stretch of four straight clean sheets. That makes his task a lot harder, but he has the talent to end the streak.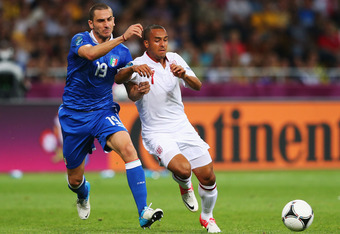 Alex Livesey/Getty Images
Leonardo Bonucci
Italy's back line has played well above expectations throughout the tournament. When these two teams faced off to open the tournament, the Azzurri were able to keep most of Spain's chances to the outside and held them to a 1-1 draw.
Shutting down Germany should give them the confidence necessary to hang right with La Roja's talented attacking group once again. Bonucci has been a rock in the center of defense, directing traffic and thwarting several dangerous opportunities.
He'll have to lead the charge one more time. The key will be making sure Spain doesn't have enough space to create plays. Italy's defenders have to close to the play quickly and limit them to long-range efforts. That shouldn't be any problem for Gianluigi Buffon.