AT&T National 2012: Predicting How Tiger Woods and Most-Hyped Stars Will Finish
June 29, 2012

Patrick McDermott/Getty Images
After the difficult Olympic Club chewed up and spit out many of the world's top golfers at the U.S. Open, most probably figured that they would get a bit of a reprieve moving forward. That certainly isn't the case at the AT&T National in Bethesda, Md., however. The Congressional Country Club is playing very much like a U.S. Open course, and it shows in the scores.
Bo Van Pelt surged out to an early lead at four-under par after the first round, but the vast majority of the field is either at even par or over par. Many of the guys near the top of the leaderboard seem likely to drop back in the second and third rounds, just as they did at Olympic Club. Whether or not some of the golfers who are under a microscope can make a move remains to be seen, though.
There are several golfers in this tournament who have had a lot of hype surrounding them lately, and here is a breakdown of how they will ultimately fare.
Tiger Woods is looking to bounce back from the major disappointment of letting things slip away in the U.S. Open as a terrible third round dashed his chances of winning a 15th major.
Woods played quite steadily over the first two rounds, but he suddenly couldn't hit a fairway and then couldn't find his range with his irons. Woods wasn't a factor in the final round of the tournament, but he did a lot of good things in the first two rounds that he needs to carry over.
Woods got off to a pretty good start this week with a first-round 72 that puts him one-over par. Woods is just five shots off the pace, which is a solid range for him to be within. I highly doubt that Van Pelt is going to shoot another great score in the second round at such a tough course, so if Woods can shoot slightly under par in the second round, then he should make up ground.
I feel like Woods learned a lot about his game in the U.S. Open, and I like his chances to win this tournament.
Beau Hossler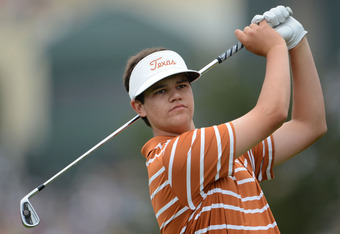 Stuart Franklin/Getty Images
He may not have been near the top of the leaderboard by the time the U.S. Open ended, but 17-year-old Beau Hossler was a factor throughout and gained a lot of fans with his solid workmanlike performance.
Most golf fans figured Hossler would fade into obscurity after the first round, but he hung around before finally falling back a bit on Sunday. Hossler looked like a wily veteran on the course as he made hardly any mistakes over the first three rounds and seemed to know what U.S. Open golf was all about.
Hossler appears to have carried his momentum into the AT&T National as he shot even par in the first round and is just four shots behind Van Pelt for the lead. I'm not really sure how Hossler is on courses that are conducive to birdies, but he really seems to excel at these courses that reward players who are able to battle and claw their way through rounds.
I expect Hossler to hang around, but he is young and still learning to be a true threat, so look for him to ultimately finish somewhere around 25th place.
Jim Furyk
Harry How/Getty Images
No matter what Jim Furyk does for the rest of the year, the final round in the U.S. Open is likely to haunt him. Furyk was in the driver's seat, but he faltered late and ended up two strokes behind the eventual winner, Webb Simpson.
Furyk proved why he is such a good veteran at Olympic Club as he tamed a very difficult course and was one of the few golfers who was under par for the majority of the round. He couldn't hold it together on Sunday, though, and that was his undoing.
Furyk is in the mix at the AT&T National as he is two-over par after the first round, but it will be interesting to see if or how the U.S. Open affects him. If Furyk is ready to put the disappointment behind him, then he has a chance to win. If it is still lingering in his mind, however, it is very likely to harm his game.
Furyk probably feels like he let one of his last opportunities slip away, and I believe that will throw him off moving forward in this tournament and knock him from contention.
Follow @MikeChiari on Twitter