Pittsburgh Steelers
Mike Wallace and Antonio Brown: Examining the Pittsburgh Steelers' Catch Radii

Mike Wallace catching his only fade pass of 2011 for a touchdown against Seattle.
Jared Wickerham/Getty Images
June 29, 2012
The Pittsburgh Steelers have a knack for finding starting wide receivers in the middle rounds of the draft.
The franchise's all-time leading receiver, Hines Ward, was drafted in the third round of the 1998 draft. The player he surpassed in the record books, Hall of Fame receiver John Stallworth, was a fourth-round pick in 1974.
Recently they have been striking gold again.
In 2009, they found Mike Wallace with the 84th overall pick, which might have been the steal of the draft. A year later, they got Emmanuel Sanders with the 82nd overall pick, and found another diamond in the rough with Antonio Brown at No. 195 in the sixth round. 
After Brown's breakout season in 2011, the Steelers now face a big problem going forward: How are they going to afford to keep all of these talented receivers?
If they can keep only one, who should it be?
Wallace is the current priority, as he has yet to sign his $2.72 million tender as a restricted free agent.  Though his teammates expect him to be there for training camp next month, the young receiver obviously has a huge figure in mind for a long-term contract.
He will never see that figure in Pittsburgh, but they may cut him a reasonable deal in the coming weeks.
However, what happens if Wallace gets a long-term deal worth (a minimum) $60 million, and he is only the second leading receiver on the team in 2012?
That could certainly happen, given the strong finish Brown had last season, while Wallace averaged just 46.6 receiving yards per game in his final nine games (including playoffs).
Should Brown then get a similar contract?
This is the conundrum the Steelers could easily be facing and why they must be very careful in how they handle the contract situations with their young receivers, who have even taken on the nickname of "Young Money."
Different Kinds of Receivers
Mike Wallace quickly established himself as a premiere deep threat in the league and is arguably the fastest receiver playing today.
He has added more routes to his game each season, though pure athleticism is his best weapon against any defense. The fear of his going deep gives him a lot of cushions to stop routes short and be wide open near the sidelines, which he did with success in 2011.
Antonio Brown is more of a diverse route-runner with very good hands, and he also has the speed to make big plays.
The difference is his that big plays will come off his running after the catch rather than streaking past cornerbacks down the field. The first play of his professional career was taking the opening kickoff back 89 yards for a touchdown against Tennessee in 2010.
For long-term prospects, you would probably prefer to have a receiver like Brown, as it is harder to defend his style.
Ideally, the Steelers would keep them both for the remainder of Ben Roethlisberger's seasons in Pittsburgh.
They create an excellent trio.
Catch Radii
Rather than make this a referendum on which player Pittsburgh should pay more, I wanted to look at a very specific aspect of their games as it relates to the most important ability a wide receiver must master: catching the ball.
Limas Sweed (No. 53 pick in 2008) bombed in Pittsburgh because no matter how many times he got open, he could not catch the ball.
Stunning to see a wide receiver perform that way, but that was his downfall.
When you hear "catch radius" you may think of a large receiver, like Rob Gronkowski in New England, who probably does have the biggest catch radius in the league right now.
But it applies to any receiver.
For years Ben Roethlisberger hinted at wanting a big receiver in the draft, but this sounded more like the quarterback hoping to make his job easier by having to be less accurate.
Fortunately the Steelers have found receivers, albeit small (Wallace is 6'0 and Brown is listed at only 5-10), who know how to catch the ball and can do it in several different ways.
One of the problems with statistics is that they do not tell you how a given reception was made.
Play A: Receiver catches a screen but does not follow his blockers and only gains two yards.
Play B: Receiver, with a defender draped on his back, reaches to the heavens to pull down a poorly thrown pass just to salvage a two-yard gain on the play.
Each play goes down as a reception for two yards, but the level of skill involved with each was much different, as was the expected outcome. Great receivers can separate themselves by consistently making difficult plays an ordinary receiver cannot make.
In trying to assess the catch radius each Pittsburgh receiver showed in 2011, I looked at each reception and made note of where the ball was caught. Also taken into consideration was the locations of their bodies at the time. (i.e. Did they have to jump for the ball or dive to the ground?)
Each type of catch will be described in detail below, but here is the summary of their 2011 receptions (playoff game included):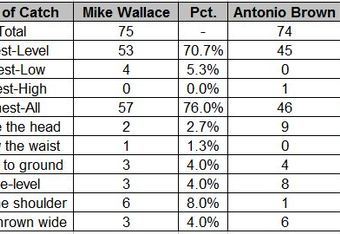 Types of catches for Mike Wallace and Antonio Brown (2011)
You can see Wallace is more likely to have the ball arrive at his chest, while also making more of the over-the-shoulder catches as he hauls in the deep balls. Brown had 17 receptions on targets thrown above the neck, compared to five for Wallace. Could those two inches in height be making the difference there?
Let's take a look at each type of catch.
Chest-Level Catches

This is the most common kind of catch in football and likely the preferred delivery point for most receivers. Hit the guy on the numbers, and he should be able to run after the catch because of the accurate throw.
That is not to say you should always throw to the chest, as certain plays can benefit from deliveries that are more wide of the mark, allowing for catches in stride on slants, for example. Low passes are almost impossible to intercept and are a safe tool for any offense.
Speaking of accuracy, this exercise is also a good way of evaluating your quarterback.
Ben Roethlisberger had all but seven of these completions (Charlie Batch started against St. Louis in Week 16). The Pittsburgh quarterbacks were able to hit the chest target on 103 of 149 receptions, good for 69.1 percent.
Wallace caught 13 screen passes, and all 13 were caught at chest level. Brown caught 11 screen passes, but two were not thrown accurately, and Brown only netted one yard on those two plays. That is still 22 out of 24 screen passes going right on the numbers, and that number really should be even higher.
They are, after all, among the easiest plays in the game.
When people have the "is it the quarterback that makes the receiver or vice versa" debate, they should remember that an accurate quarterback will deliver the ball on the numbers most of the time.
The receiver just has to get open and make the catch.
Circus catches are great for a receiver's highlight reel, but they are not the norm. Here are some examples of Brown and Wallace making ordinary, chest-level catches in 2011: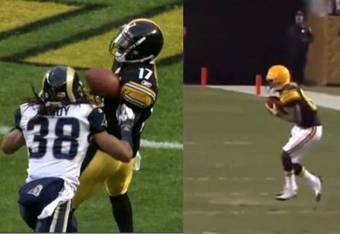 Wallace (left) and Brown (right) making on-the-numbers catches.
Chest-Low Catches

There were just four examples of this, and Wallace had all four.
Basically, the pass hit the receiver in the chest, but the throw was low, which caused Wallace to crouch on two plays and literally kneel on the ground for the other two.
The plays gained 44 yards and two first downs, but they could have done more with better throws.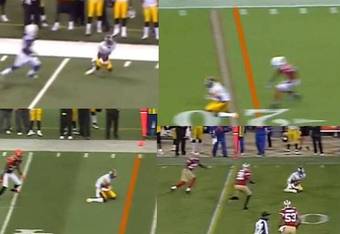 Mike Wallace must go low to the ground for these four receptions.
Chest-High Catches

Perhaps not even worthy of its own category, this is one catch by Brown against Kansas City.
He had to jump high off the ground to pull the ball down at his chest, as Brandon Flowers failed on the coverage.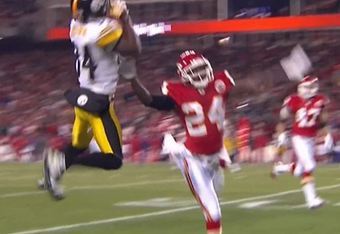 Brown goes up high to catch the ball in his chest against Brandon Flowers.
Catches Above the Head
These are plays in which the ball went above the receivers' heads, often forcing them to extend their arms up, jump into the air and make high, tough catches.
You can say these are bailing the quarterback out, and Brown had nine of them to Wallace's two.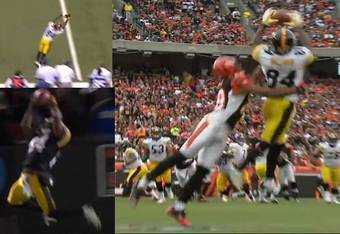 Brown made several impressive catches using full extension to go up and get it in 2011.
Below-the-Waist Catches

Again, there was just one example, from Wallace.
This is a very tough catch to make, as he had to reach down to secure the ball around his ankle. It was a quick slant, but the pass was not accurate.
Wallace stumbled down for a 16-yard gain, but it could have been a bigger play if thrown properly.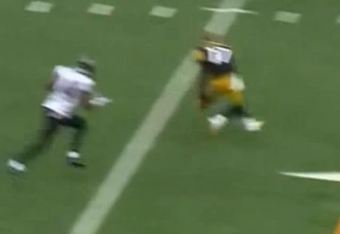 Wallace has to catch an ankle-ball in Week 1 at Baltimore.
Catches Made Diving to the Ground
Each player had at least three passes that required him to dive to the ground to catch. Brown should have had a fifth against Cleveland, but the referees blew the call.
These are very tough catches.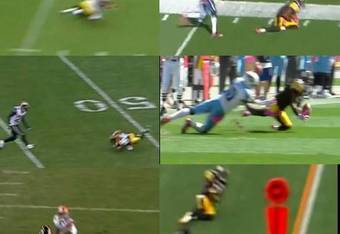 Brown (left) and Wallace (right) with diving attempts.
The toughest catch was made by Brown.
Against Baltimore, the Steelers were faced with a 3rd-and-17 situation late in the third quarter. Brown came across the middle of the field for a diving attempt at a low ball.
He made the catch, gained 21 yards and the Steelers finished the drive with a touchdown.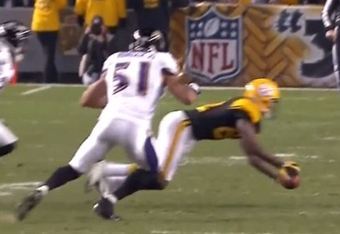 Antonio Brown with an incredibly tough diving catch on 3rd and 17.
Eye-Level Catches

These are plays in which the ball is thrown practically at the receiver's face, putting the ball at eye level with the receiver. They are not high enough to be "above-the-head" catches.
Brown had eight of them, to Wallace's three.
The best example came in Week 14 against Cleveland.
Late in the fourth quarter, with the Steelers hanging onto a 7-3 lead, Roethlisberger went back-shoulder, again to Brown.
He turned at the perfect moment, catching the ball at eye level (but also had to jump a little), and then raced 79 yards for a game-clinching touchdown.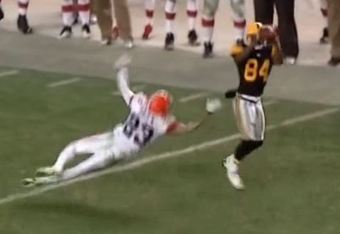 Roethlisberger went back-shoulder to Brown for a clinching TD against Cleveland.
Over-the-Shoulder Catches

These are the plays made for Mike Wallace, as they are going to come on deep balls with the receiver outrunning the field.
A perfectly thrown deep ball will find the receiver in stride. Since he is not turning back towards the ball, he has to make the adjustment to catch the ball over his shoulder, and this is something Wallace did six times in 2011.
On these six plays, Wallace gained 319 yards (53.2 yards per reception) and scored four touchdowns. The only short play was a 2-yard touchdown catch on a fade route against Seattle.
On the next drive against Seattle, Wallace not only tracked the ball over his shoulder and beat Earl Thomas, but since it was a hair overthrown, he made the catch with the ball just inches off the ground.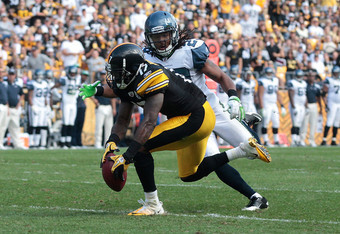 Wallace barely keeps the ball off the ground for 53-yard gain. (Jared Wickerham/Getty Images)
Then, against Arizona, Wallace made franchise history with a 95-yard touchdown.
It was, of course, another example of great speed and making the over-the-shoulder catch.
Brown had only one of these plays, but it was a great one, against Cleveland in Week 17. He tracked the ball down for a 40-yard gain.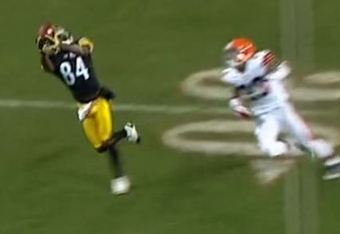 Brown only went over-the-shoulder once in 2011, but it went for 40 yards in the wind.
Catches on Passes Thrown Wide
These are plays in which the ball is thrown wide of the target, which could mean it was thrown behind the receiver or it could be too far ahead of the receiver.
Again, this is not always a bad thing if the receivers are breaking towards the ball, but it often will create difficult catches.
In 2011, Brown made some excellent catches on such plays, including two one-handed efforts.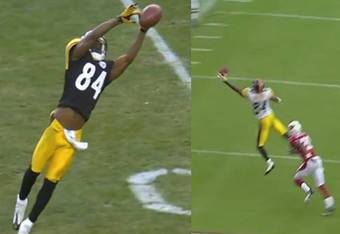 Brown made two great efforts with one hand to haul in a pass.
Conclusion
Mike Wallace and Antonio Brown essentially had a tale of two seasons in 2011.
Early on it was Wallace making all the big plays, with all six of his big over-the-shoulder catches coming in the first seven games.
But around the time of that Arizona game, in Week 7, the offense saw a shift toward Brown as the No. 1 receiver in Pittsburgh. Hard to blame them, with the production and great catches Brown kept providing down the stretch.
Brown finished the regular season with 124 targets, which were 10 more than Wallace's 114.
Roethlisberger also seemed to start trusting Brown more, as he completed seven back-shoulder throws to Brown and none to Wallace. The back-shoulder throw is a very dangerous weapon for any offense to have, but it takes great trust between a quarterback and receiver.
Assuming Wallace is back in time for training camp, one of the most interesting storylines of the 2012 season will be who stands out as the No. 1 wide receiver in Pittsburgh's offense.
They both finished 2011 with about the same numbers last season, but it was a half-and-half sharing of the No. 1 title.
One thing's for sure: If the Steelers can keep these two receivers together for the long term, they will have one of the best receiving duos in the league.
These two players make you cover the whole field, and they both have catch radii that maximize  their abilities.
Just have to hope "Young Money" does not break the bank in Pittsburgh.
Like the new article format? Send us feedback!