Boston Red Sox Using a David Ortiz and Scrubs Approach to Contend in 2012
June 29, 2012

Jim Rogash/Getty Images
After the trade of Kevin Youkilis earlier this week to the White Sox, the Boston Red Sox now have almost $90 million of their $175 million payroll on the disabled list—in Pawtucket or in Chicago. 
John Lackey ($15.25 million salary) is out for the entire year after offseason elbow surgery; Andrew Bailey ($3.9 million) hasn't thrown a pitch yet this season; Jacoby Ellsbury ($8 million) played seven games before getting hurt; Daniel Bard ($1.6 million) failed in an ill-conceived move to the rotation before being demoted to Pawtucket; Daisuke Matsuzaka ($10 million) missed most of the first half recovering from elbow surgery; Youkilis spent time being both hurt and ineffective before being shipped out of town—with the Red Sox still on the hook for almost all of his remaining salary; Bobby Jenks ($6 million) had two back surgeries in the offseason, then was arrested for a DUI in spring training; Josh Beckett ($15.75 million) is currently on the disabled list with recurring shoulder issues; and Clay Buchholz ($3.5 million) was the latest to go down with esophagitis. 
Theo Epstein may have ditched town this offseason, but he left behind plenty of bad contracts to keep his memory alive. To add injury to insult, Chris Carpenter—the reliever the Red Sox acquired from the Cubs for allowing Epstein to leave—is also out for the season. 
Even some of the able-bodied, expensive players that Epstein left behind are struggling to perform.  Adrian Gonzalez ($21 million) is having the worst season of his career, hitting just .269/.322/.412 with six home runs entering play Thursday; and Dustin Pedroia ($5.5 million) is playing through injuries, leading to the worst batting line of his career at .270/.329/.406. 
Despite all of the injuries and ineffectiveness, the Red Sox are somehow only one game out in the wild card race. They are second in baseball in runs scored, third in OPS and third in slugging percentage.  How have they manged to hit so well with Pedroia, Gonzalez and Youkilis struggling, and without Crawford and Ellsbury?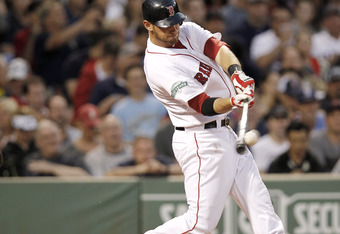 Winslow Townson/Getty Images
The Sox have done it with a star and scrubs approach. David Ortiz has been the star, hitting a robust .309/.399/.628 with 21 homeruns on his way to a likely start in the All-Star game.  
Will Middlebrooks is a top prospect—and thus hardly a scrub—but no one expected the rookie to hit .310/.345/.555 while forcing Youkilis out of town. 
Cody Ross came over from San Francisco for only $3 million in free agency, and he's hit a surprising .283/.353/.578, despite spending some time on the disabled list. 
Epstein bought low on Jarrod Saltalamacchia a few years back, and Salty has turned into a solid backstop, hitting .254/.301/.539 with 14 homeruns.  His platoon mate, Kelly Shoppach, came cheaply along with Ross in free agency, and he's hit .276/.364/.540 off of the bench.
Daniel Nava is a 29-year-old journeyman who wasn't drafted and was once cut from his independent league team. He's been a godsend for the Red Sox, hitting .315/.433/.480 in 41 games since his call-up from the minors. Even the washed-up Scott Podsednik came over from the Phillies Triple-A team to hit .387/.409/.484 before succumbing to an injury of his own.
While Middlebrooks, Ross, Salty, Shoppach, Nava and Podsednik are not likely to sustain this level of performance going forward, the imminent returns of Crawford and Ellsbury—combined with the improved performances likely to come from Gonzalez and Pedroia—will more than offset any regression.
If the Red Sox miss the postseason again in 2012, it won't be due to a lack of offense. In the September collapse of last season, it was a lack of pitching depth that did them in. If the Red Sox want to make the dance in 2012, they need better health, and better pitching.