Tiger Woods: How Close Is He to Regaining His Greatness in 2012?
June 29, 2012
Patrick McDermott/Getty Images
This is all Tiger Woods' fault.
When he was dominating the world of professional golf—winning 14 major championships and holding the top spot in the Official World Golf Ranking for a record 281 consecutive weeks—he set the bar so high not even he would be able to reach it again.
Or so it would appear that way. You know, since the fall.
But the expectations are still there—from the fans, certainly from the media and from Tiger himself.
Tiger is expected to win every golf tournament he enters. He's expected to hit every fairway and every green, and he's expected to make every putt. And on those rare occasions when he doesn't meet the expectations, he's counted on to pull off the impossible shot.
Because he's Tiger Woods—once great, always great.
The truth of the matter is that Tiger is not invincible. He is not super-human, although there have been times, on the golf course throughout his illustrious career, when he has appeared that way.
That's not the case in 2012. Tiger isn't playing the best golf of his career, but he is having, arguably, a Player of the Year-type performance.
Along with Hunter Mahan and Jason Dufner, Tiger has the most PGA Tour victories with two. He has led the tour in Total Driving for most of the year. He's second in Scoring Average and Ball Striking. And his Total Putting rank has jumped to No. 15 after a shaky start.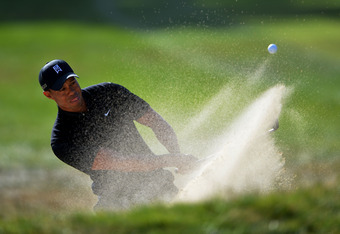 Stuart Franklin/Getty Images
So, what's wrong with this picture? Not a whole lot if you're anyone other than Tiger Woods.
After several years of fine-tuning a swing change with his current coach, Sean Foley, Tiger is closer than ever to returning to the greatness he has, and always will be, so well known for.
One obvious flaw in an otherwise outstanding arsenal of shots that Tiger currently possesses is his wedge play. Take a look at his distance stats. On approaches from 50-75 yards, Tiger is only getting the ball to 20 feet 10 inches from the hole. Quite frankly that stinks, at least for a tour player.
Ditto for everything inside 125 yards. He's not getting the ball close enough to the hole, and in some instances, like from 100-125 yards, he's only getting the ball on the green 69 percent of the time.
This doesn't bode well for someone who used to excel in this area.
During a pre-tournament presser for the AT&T National, Tiger said he hasn't been able to put as much time into this area of his game:
I would say certainly my short game has been something that has taken a hit. And it did the same thing when I was working with Butch and the same thing when I was working with Hank. During that period of time, my short game went down, and it's because I was working on my full game.

Eventually I get to a point where the full game becomes very natural feeling and I can repeat it day after day, and I can dedicate most of my time to my short game again.
If that means what I think it means, with a bit more time—perhaps even this year—Tiger might actually return to the greatness he once knew—the greatness we once knew.
It would mean all aspects of his game were clicking.
Imagine this: He's driving the ball well, hitting it far and hitting a lot of fairways. He's hitting a lot of greens, and those approach shots are getting closer to the hole. And he's making putts. Lots of them.
I won't go so far as to say it's going to happen in 2012, but all indications are that is where Tiger's game is headed.
Sure, there are still going to be periods of inconsistency. Those are frustrating times for Tiger and for his fans. But being just a fraction off can mean a world of difference on the toughest golf courses against the best players in the world.
And this game isn't easy, by the way.
It has been a slow process, but Tiger Woods is getting closer to regaining the greatness of his prime. Even if he doesn't achieve the other-worldly results of his yesteryear, something resembling it would still be very impressive.