Pittsburgh Steelers: Which Third-Year Players Need to Step Up This Season?
June 28, 2012

Peter Aiken/Getty Images
There may be no more crucial year in the development of an NFL player than their third season in the league. The growing pains of being a rookie are gone, they gain experience in year two and big things are expected by year three.
Last season, the Pittsburgh Steelers had seven third-year players contribute as starters or key backups. Ziggy Hood took over for an injured Aaron Smith at defensive end, while Ramon Foster and Doug Legursky started at guard.
Of course, there was Mike Wallace, the star of the Steelers' 2009 draft, who had another season with over 1,000 yards receiving. Then there were some less-heralded players including David Johnson, Ryan Mundy and Keenan Lewis.
While many of the other players had already established themselves as starters or backups, Lewis struggled through injuries and development, but he finally began to show some potential last season and earned an important role with the Steelers' defense.
Lewis was the third corner off the bench and played the outside on passing downs where he rarely gave up big plays and had six passes defended.
Though Lewis has not developed into a star, he is a capable starter who took a huge leap after a disappointing first two seasons.
This year, the Steelers have a number of third-year players who are expected to step up their roles.
Antonio Brown has already established himself as a starter and has proven himself. Isaac Redman and Steve McLendon are both going to start the year at running back and nose tackle, respectively. While not as experienced as Brown, both have proven themselves as backups, flashing the potential to start.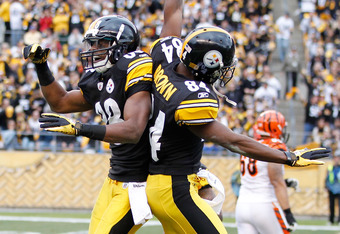 Gregory Shamus/Getty Images
An interesting player in this group of third-years is Emmanuel Sanders. He has yet to put up big numbers due to injuries, but he has put up 50 receptions in two years.
Sanders was a better route runner than Brown coming out of college and he has excellent hands. Injuries have been the only thing to hold him back so far and he will finally have a chance to showcase himself as the slot receiver this season.
While there is a lot to like from the third-year players this year, there are several players who really need to develop and show they can do more than what they have shown so far.
This group begins with Jason Worilds.
Worilds could be the eventually replacement for James Harrison but has yet to show that he can be the monster pass rusher that the Steelers need from their outside linebackers.
In seven starts last year, Worilds had three sacks and 38 tackles. Not bad production for his first significant action, but also not the same potential that LaMarr Woodley displayed early in his career.
The Steelers pass rush as a whole suffered last year because of injuries to both starting linebackers and if Worilds is going to take on a more significant role moving forward, they need more production and Worilds needs to be a big part of that.
Stevenson Sylvester is another linebacker who needs to show more this year.
As a rookie, Sylvester flashed a lot of talent on special teams and that is often an indicator of eventual success in the Steelers' defense.
That has not been the case so far. Sylvester did not show much growth last season and was behind James Farrior and Larry Foote.
Sylvester had an opportunity to seize a starting job, or at least a more significant role, last year after starting against the New England Patriots. Instead, he was held off the the stat sheet and did not start again.
Things got more difficult for Sylvester with the drafting of Sean Spence who could very well jump Sylvester on the depth chart and share time with Foote on defense.
That should not discourage Sylvester. He is still a very athletic linebacker who could be a major asset in defending against the pass.
Defense isn't the only area where the Steelers could use a third-year player to step up. On offense, Jonathan Dwyer, thought to be a late-round steal when drafted, has been on the roster bubble and now has a chance to establish himself this year.
Dwyer should have increased role with Rashard Mendenhall out with an ACL injury. The increased load will be a welcomed change for Dwyer, who only has 23 carries in two seasons.
Last year against the Tennessee Titans, Dwyer rushed for a career-high 107 yards on 11 carries, highlighted by a 76-yard run.
The potential is there, Dwyer just needs to put the work in to realize it. If he can take over as a backup option to Redman, it would certainly help make the Steelers' decision on Mendenhall after the season much easier.
Worilds, Sylvester and Dwyer do not need to start this season, but growth is expected and they need to start to become bigger contributors for the Steelers. If not, their careers in the black and gold could be nearing the end.
Follow me on Twitter @ChrisG_FC