Andrea Pirlo's Brilliance Has Driven Italia to the Finals
June 28, 2012

Shaun Botterill/Getty Images
Spain trots out the dynamic duo of Xavi and Andrés Iniesta.
Germany is fortunate enough to have starlet Mesut Özil patrolling the centre of the park.
The Netherlands has a myriad of options—which includes the likes of Wesley Sneijder.
Who do the Italians have as their maestro in the middle?
The 33-year-old ageless wonder has been the straw stirring the drink for the Azzurri in the 2012 European Championships.
The Italian style of football has been criticized at times for being stagnant and uneventful. While credit should definitely be given to manager Cesare Prandelli for the implementation of a more attacking-based tactical style, Pirlo has been the fulcrum of the attack.
Since the beginning of the tournament, Pirlo has performed at an incredibly high level from his patented deep-lying midfielder role.
Pirlo's vision has been nothing short of spectacular. He has constantly sprayed the ball around the park with ease, and seemingly always has the right amount of precision, accuracy and timing with his deliveries.
As the hub of creativity, the continual movement with short, quick passes has had opponents in an absolute tizzy. 
Not only has Pirlo demonstrated a superlative touch on the ball, but he's also displayed an immense amount of calmness and tranquility on the pitch—something surely exuded via his marvelous penalty kick chip on England goalkeeper Joe Hart.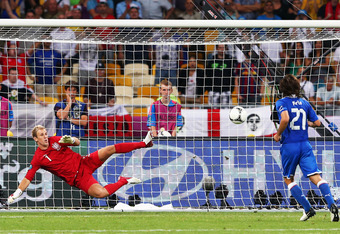 Alex Livesey/Getty Images
He completely dismantled England with his skill—dominating possession and leaving the English with a sense of hopelessness.
One aspect of Pirlo's game that might be understated is his overall awareness and intelligence on the pitch. There have been countless times where opposing defensive midfielders have been looking to dispossess Pirlo of the ball, or at the very least trouble him with pressure.
To combat the pressure, Pirlo channels his calm demeanor and promptly unlocks the opposing defense with sublime passes and cheeky, evading touches. 
Many are saying that this tournament is a rebirth of sorts, or a renaissance for the Juventus man. 
Such a statement would be grossly unfair.
At his age, Pirlo might not be considered as highly rated when compared to his aforementioned competitors listed above. However, Pirlo has always demonstrated his excellence, and that greatness has been on full display for the world to see. 
In a second tilt against the Spaniards, Italy will yet again rely on the wily veteran to provide some magic. If that happens, the Italians may be celebrating a European Championship in Kiev come Sunday.
A win would be paramount for the Italians—as they have not won a European title since 1968.