NBA Draft Trade Rumors: Dealing No. 2 Pick Would Be Wrong Move for the Bobcats
July 1, 2016
Jamie Squire/Getty Images
There's a lot of pressure on Michael Jordan to make the most of his Charlotte Bobcats' premium position in Thursday's draft.
How he attempts to do so remains to be seen.
ESPN's Andy Katz is hearing that the Charlotte Bobcats aren't far from a deal that would send the second overall pick in the draft to a destination not yet known:
Charlotte is "getting closer" to dealing the No. 2 pick, according to high-level source. Adds intrigue leading up to the draft at 7:30 p.m.

— Andy Katz (@ESPNAndyKatz) June 28, 2012
And, according to ESPN's Marc Stein, the most likely clubs to land that pick are the Cleveland Cavaliers and Houston Rockets:
Also from @Chris_Broussard on SportsCenter: Bobcats narrow five potential trade partners for No. 2 pick to two teams (Cavs and Rockets)

— Marc Stein (@ESPNSteinLine) June 28, 2012
There's certainly a logic to working with those teams. Both have a stockpile of draft picks that would significantly ease the pain of losing the chance to take the best player not named Anthony Davis.
If the Bobcats traded down to get Cleveland's No. 4 selection (along with some or all of the organization's other three selections, presumably), they'd still have a shot at a top-shelf prospect like Kansas' Thomas Robinson, Kentucky's Michael Kidd-Gilchrist or UNC's Harrison Barnes.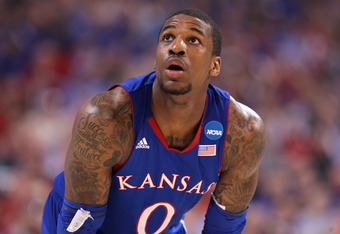 Andy Lyons/Getty Images
But Florida's Bradley Beal almost certainly won't still be on the board—and that's precisely the problem with this deal.
Charlotte's consolation prizes could still make an immediate impact on a locker room that desperately needs it. Robinson and Kidd-Gilchrist epitomize the kind of grit the Bobcats were clearly missing during their historically awful 2011-12 campaign.
But Beal could be a special player. He's the kind of young scorer who a team could build around for years to come.
The Bobcats should be looking to make a deal. It just shouldn't involve forfeiting the opportunity to take Beal.
The better move would be creating a spot in the rotation for Beal by moving last year's lottery selection, Kemba Walker.
The 22-year-old Walker is one of those point guards who would much prefer to shoot the ball at every opportunity. That's not necessarily a bad thing. It's just not the kind of star a team like the Bobcats should build around.
When a roster is stocked with subpar or otherwise inexperienced talent, the last thing you want running the offense is a guy who's better at creating for himself than his teammates.
Those teammates need all the help they can get.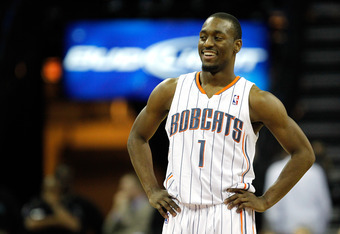 Streeter Lecka/Getty Images
Rather than losing out on Beal, the Bobcats should use Walker to upgrade the roster. They could either trade Walker straight-up for a package including a more traditional floor general (perhaps someone like UNC's Kendall Marshall) or otherwise use him in a move to upgrade the wing.
Parting ways with small forward Corey Maggette may signal that Charlotte is prepared to add Kidd-Gilchrist or Barnes, but they could one day regret missing out on Beal.
The shooting guard turns 19 the same day he'll be taken in this draft. But, thanks to his ability to score from anywhere on the court in a variety of ways, the Bobcats would be the ones walking away with the big gift.
If they lose that chance, they won't leave empty-handed—they'll just leave wondering what might have been.