Dusty Baker loves playing the Giants
Patrick McDermott/Getty Images
June 28, 2012
Completing a three-game sweep of the Los Angeles Dodgers yesterday, the San Francisco Giants took a share of first place for the first time since the season began.
Shutting out Los Angeles in all three games, the Giants took advantage of a depleted Dodgers lineup that has been wracked by injuries. In the month of June, the Dodgers have the lowest batting average and the fewest amount of home runs in the National League.
Dusty's Back
Enter the first-place Cincinnati Reds stage left. Dusty Baker brings his hot-hitting Reds to town for a four-game series between two first-place teams that are locked up in close division battles.
In June, the Reds are in the top three in the National League in multiple offensive categories, including home runs, average, runs scored, on-base percentage and slugging percentage.
In short, the Giants' pitching staff may have caught a break with the Dodgers, but they clearly have their work cut out for them in this series.
Dusty Baker, the Giants' former skipper, loves to play against his old team and loves AT&T. Since leaving San Francisco, Baker has a winning record at AT&T, going 14-12 as the manager of the Chicago Cubs and now the Reds.
Bum Goes for Double-Digits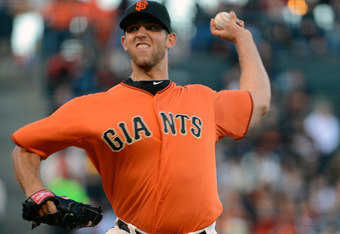 Bumgarner is going for win number 10 tonight.
Thearon W. Henderson/Getty Images
Game 1 of the series matches the Giants' young lefty in Madison Bumgarner (9-4) against Johnny Cueto (9-3). Bumgarner has been rolling, as he is 4-0 over his last five decisions. The 22-year-old looks to continue a stellar first half, one that could earn him a trip to the Midsummer Classic.
Bumgarner will have to manage his way through an explosive lineup that includes one of the best all-around hitters in baseball in Joey Votto. Coupled with Votto, Brandon Phillips and Jay Bruce bring a lot of pop to the middle of an order that has 41 home runs and 144 RBI between them this season.
Keep the Line Moving
While the Reds' lineup can score runs in a variety of ways, the Giants' lineup has been scoring runs the old-fashioned way, station to station.
The Giants as a team have 47 home runs, third-worst in the major leagues. Their success has not come with the long ball, but rather on stringing multiple hits together and being aggressive on the basepaths.
Once Gregor Blanco and Ryan Theriot solidified the top of the lineup, setting the table for Melky Cabrera and Buster Posey, the Giants started producing more runs.
Theriot has been on fire, hitting .324 in the month of June and .341 over his last 10 games. Blanco has been slumping as of late, hitting just .200 over his last 10 games. The Giants will need Blanco to heat up again if they are going to contend down the stretch.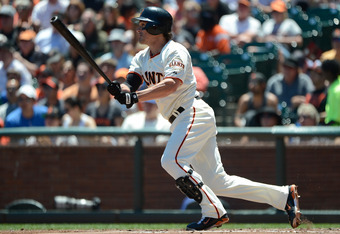 Theriot has been on fire in June.
Thearon W. Henderson/Getty Images
Cabrera, who leads the majors in hits (106) is only two percentage points behind Votto at .351. Posey and Pablo Sandoval have also heated up recently, including driving the ball for extra-base hits over the past week.
Angel Pagan, hitting in the fifth spot over the last month, may start to drop in the order if he doesn't start to pick up his production. After a torrid May, Pagan is hitting just .247 in June, and he's 7-for-40 (.175) over his last 40 at-bats.
Red-Hot Ace
The Giants battery will face a Reds pitcher tonight who's been incredibly hot as of late. Cueto is 4-0 over his last four starts with a 1.47 ERA, dropping his ERA from 2.63, to 2.21. He's also been very consistent, as he's pitched through the seventh inning in each of his last five starts, including a complete-game victory against the Cleveland Indians on June 12th.
Over the past two seasons, Cueto has the best ERA in the majors at 2.27 (39 starts, 257.2 innings pitched). During this stretch, his ERA hasn't been higher than 2.63, allowing three runs or fewer in 34 of the 39 starts.
The Reds are also 7-0 when Cueto is on the mound the next game after a loss. Losing to the Milwaukee Brewers yesterday 8-4, the Giants look to break that streak.
Start Me Up
The Giants look to stay hot and in first place, as they have won five of their last six and are 24-14 (.632) at home this year.
Pitching matchups and game times for the rest of the series are as follows.
Friday June 29th vs. Cincinnati (7:15): RHP Mike Leake (2-5, 4.46) vs. Matt Cain (9-2, 2.27)
Saturday June 30th vs. Cincinnati (1:05): RHP Mat Latos (6-2, 4.77) vs. Barry Zito (6-5, 4.00)
Sunday July 1st vs. Cincinnati (1:05): RHP Bronson Arroyo (3-5, 4.13) vs Ryan Vogelsong (7-3, 2.23)
Like the new article format? Send us feedback!