NBA Draft 2012: Washington's Terrence Ross and Tony Wroten Taken in First Round
June 29, 2012
Chris Trotman/Getty Images
As a sign of the talent coming out of the Washington Huskies basketball program, the Toronto Raptors picked 6'6", 190-pound sophomore shooting guard Terrence Ross No. 8 overall in the 2012 NBA draft. 6'5", 205-pound freshman point guard Tony Wroten Jr. found himself in Memphis after going No. 25 overall.
While Ross' and Wroten's early departures from Washington does leave sizable holes to fill, their presence in the first round of the NBA draft should be seen as a big win for the Huskies basketball program.
Washington, led by its top two scorers, Ross and Wroten, won the 2011-12 Pac-12 regular season title outright. The Huskies, however, missed out on the 2012 NCAA tournament, becoming the first major conference regular season champion to do so in the modern configuration of the event.
Washington went on to the 2012 NIT, where they lost to the Minnesota Golden Gophers in the semifinals (Stanford then beat Minnesota to win the 2012 NIT). That event is long over, and now the Huskies can prepare for next season knowing two of their teammates, Ross and Wroten, were selected in the first round of the 2012 NBA draft.   
Washington coach Lorenzo Romar was on hand to support his players at the 2012 NBA draft. The coach, who recently joined Twitter, posted the following comment prior to the selection program: "At the draftess luncheon watching Terrence shake hands (for the first time) with David Stern. Awesome!!" After Ross was selected as the No. 8 overall pick, Romar tweeted "T.ROSS!!!!!" For Wroten, Romar tweeted, "Woof, Woof!!! TWROTEN!!!! Great night for these young men!!"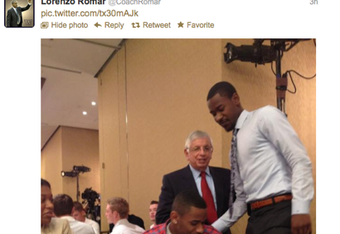 Hoopsworld recently posted an interesting interview with Ross. In that interview, when asked if there were any misconceptions about him, Ross responded, "I can get to the basket. A lot of people don't think I can get to the basket, but I think that's something I'm going to start proving to people that I can."
The interview also revealed that when it came to draft number, while he thought about it, Ross was clearly focusing on just getting to the next level: "I think [draft selection number]'s important to every player, but I'll just be happy to get picked." At No. 8, Ross pulled out a surprisingly high lottery pick in the 2012 NBA draft, with no major mock drafts picking him that high prior to the event. 
Wroten's family revealed a similar attitude toward the 2012 NBA draft selection. Wroten's father told the Seattle Times, "It doesn't matter if he gets drafted No. 5 or 55. I always tell him, 'Do what you can control. Work hard. Bust your ass.' That's how you make it."
With both players now headed off to the NBA, here is a look back (including individual stats) at the performance of these two basketball talents during their time at Washington. 
Ross scored 574 points in 2011-12, which was the ninth-highest single-season record in the Washington program's history.  In the NIT alone Ross averaged 25 points per game. Ross scored a career high of 32 points against Northwestern in the 2012 NIT. 
Wroten scored 559 points with the Huskies in 2011-12. Wroten scored a career high of 29 points in a Washington loss against Oregon State in the Pac-12 tournament. However, Wroten's performance in that game may likely be remembered more for his four missed free throws toward the end of the game.
Game Time: 31.1 minutes (2011-12), 17.4 minutes (2010-11)
PTS: 16.4 (2011-12), 8 (2010-11)
FG%: .457 (2011-12), .443 (2010-11)
3P%: .371 (2011-12), .352 (2010-11)
FT%: .774 (2011-12), .758 (2010-11)
REB: 6.4 (2011-12), 2.8 (2010-11)
AST:  1.4 (2011-12), 1 (2010-11)
BLK: 0.9 (2011-12), 0.4 (2010-11)
STL: 1.3 (2011-12), 0.6 (2010-11)
Awards: First Team All-Pac-12, NIT all-tournament team, honorable mention Pac-10 freshmen team, and named to the five men All-Pac 10 tournament team among other awards.  
Ross missed out on being named the Pac-12 Player of the Year in 2012, which went to Cal's Jorge Gutierrez. The Seattle Times quoted Ross as saying he felt "snubbed" and "I am a little surprised, but congratulations to Gutierrez…He is a great player and has helped Cal out a lot. You can see it in their record."
Game Time: 30.3 minutes (2011-12)
PTS: 16 (2011-12)
FG%:  .443 (2011-12)
3P%: .161 (2011-12)
FT%: .583 (2011-12)
REB:  5 (2011-12)
AST: 3.7 (2011-12)
BLK: 0.4 (2011-12)
STL: 1.9 (2011-12)
Awards: 10-man first-team all-conference squad, and Pac-12 Freshman of the Year among other awards.