Spain vs. Italy: Azzurri Momentum Not Enough to Carry Team to Victory in Final
June 28, 2012

Michael Steele/Getty Images
Italy played a brilliant game against Germany in the semifinal round of the 2012 European Championship.
Its effort against the all-around juggernaut was perhaps the most impressive of the tournament thus far, but Cesare Prandell's side will need more than momentum to beat Spain in the final.
The Azzurri victory on Thursday is the feel good story of this competition. The Italians were pegged by many—myself included—as nothing more than Germany's next victim en route to a dominant Euro effort. Despite the doubters, Prandelli and company would have none of that.
Spain is a whole different animal, though.
Germany came out flat in a rather forgettable first-half performance. There is simply no way that will happen with La Roja in the final.
Joachim Low's side is young. They might be extremely talented, but one could make the case that they don't have the experience necessary to win a major tournament.
Vicente Del Bosque has the most poised and confident roster in the competition.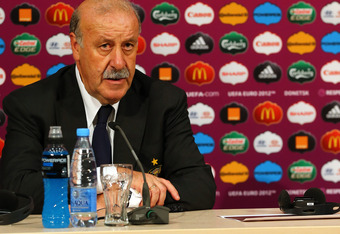 Handout/Getty Images
La Roja has been absolutely dominant in their quest to establish a Spanish football dynasty (if they haven't already). Their success stems from their superior possession skills and effective midfield play.
In the 2008 Euro, Spain conceded just five goals in six games. In the 2010 World Cup in South Africa, just a pair of goals were allowed. One goal is all that the team has allowed in the 2012 European Championships.
Six goals through three major tournaments is a number that can hardly be challenged by some of the best teams in the history of the sport.
Italy is going to need much more than the momentum they have built up against Germany to hoist the trophy on Sunday. 
Andrea Pirlo, Daniele De Rossi, Claudio Marchisio and Riccardo Montolivo were at their collective best in the semifinal against the typically flawless German midfielders. Only on Thursday, Bastian Schweinsteiger, Sami Khedira and Mesut Ozil were far from flawless from the outset.
Whether it was the slow start that doomed Die Mannschaft, or the spectacular play of Pirlo and company, the Azzurri need an even better effort from their midfielders against the Spanish.
Spain's calling card is its "tiki-taka" style of football, one that cannot be replicated by any other team in the world. The quick, precise passes make it extremely difficult to out-possess La Roja over the course of a game.
The Spanish defense is a cut above Germany's. Sergio Ramos, Gerard Pique and Jordi Alba are stalwarts in front of Iker Casillas' net. Just to get to them, you need to get past Xabi Alonso, Xavi and Sergio Busquets in the middle third.
Italy's defense must be better than it was against Germany. Sure, the Germans scored just one goal, but there were far too many opportunities allowed by the Azzurri.
If Spain gets all those chances, don't expect its forwards to fail to finish as frequently.
The Italians played a masterful game in the semifinal matchup against Germany, but more is needed.
If Prandelli wants to see his players lift the trophy high above their heads after full time in Kyiv on Sunday, he needs to make sure to squeeze every ounce of brilliance out of his entire roster.