Germany vs. Italy : 6 Tactical Observations from Euro 2012 Semifinal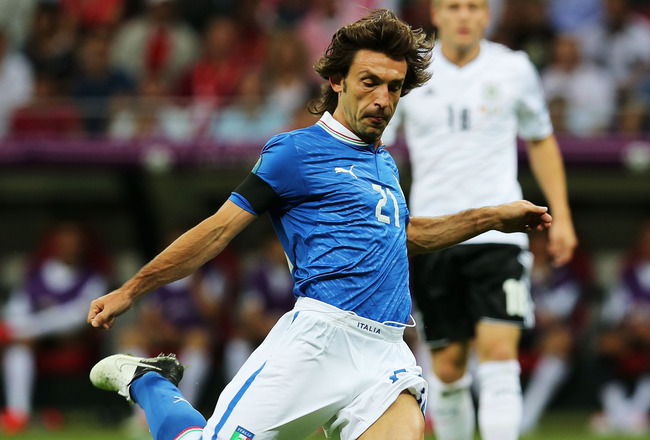 Alex Grimm/Getty Images
Germany's dream is over—Italy are through to the final to face Spain.
Die Mannschaft were widely expected to reach the final at a minimum, with the large majority back home demanding nothing less than the trophy itself.
Italy have surprised most by getting this far, but judging by their performances, they deserve it. It's all down to Cesare Prandelli's tactical brilliance and his players' belief in the system he employs.
Here are six tactical observations from the second semifinal of Euro 2012.
Questionable Use of Mesut Ozil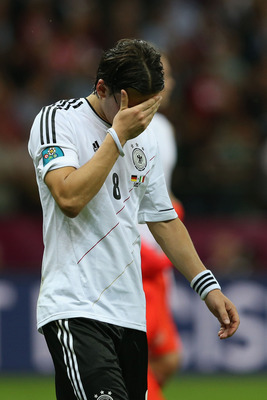 Joern Pollex/Getty Images
First things first—you don't play your best player out of position.
Joachim Low introduced Toni Kroos to the starting XI, so Mesut Ozil moved out to the right-hand side at the expense of Thomas Muller.
Ozil is, in my mind, the best attacking central midfielder in world football—even better than Wesley Sneijder, Paulo Henrique Ganso or any other name you can throw into the mix.
His effectiveness was limited whilst stuck out on the right and Kroos was far from convincing in his place.
Low is bold, but this was a poor gamble to take.
We've seen Ozil run Germany's offense this tournament, ducking in and out of holes and creating overloads wherever he pleases.
He was the major reason Mario Gomez flourished in the group stages, so why stick him out on the right in the most important game yet?
Questionable Use of Bastian Schweinsteiger
Christopher Lee/Getty Images
Bastian Schweinsteiger was injured and struggling for fitness coming into the tournament.
He's a key player, so you play him when it matters, but his performances throughout have underwhelmed even the most diehard Germans.
In the quarterfinal against Greece, Joachim Low switched things around and rested a few players. Schweinsteiger needed a rest and Die Mannschaft could have won without him in that game—why not give him the night off?
"Schweini" turned in another bad performance against Italy and lays further credence to the questionable role Low awarded to Toni Kroos.
Kroos and Sami Khedira would have have been a better, fresher holding midfield partnership for this game.
Italy's Diamond Bucks the Narrow Trend
Joern Pollex/Getty Images
Simply put—Italy's midfield diamond is as pure and perfect as they come.
It is rare you'll find four players who can utilise it as well as Andrea Pirlo, Claudio Marchisio, Daniele De Rossi and Riccardo Montolivo.
A common criticism of the midfield diamond is its lack of width, but Antonio Cassano's wisdom and experience made up for that.
From his support striker role, the AC Milan player drifted from side to side and helped Federico Balzaretti maintain the width on both sides.
Cesare Prandelli's diamond represents the perfect combination of possession-based, counterattacking and direct football.
Did Joachim Low Actually Watch Italy's Quarterfinal?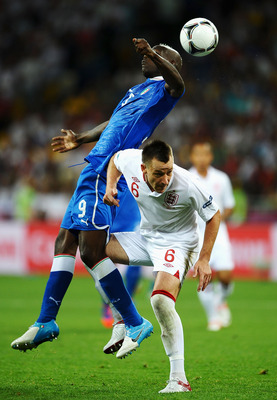 Laurence Griffiths/Getty Images
Mario Balotelli had an off day against England in the quarterfinals and squandered numerous opportunities to score.
He had been very effective against John Terry's feeble offside trap and found himself with room to run and shoot on the break on three or more occasions.
Against Germany, Balotelli's incisive runs earned him two good opportunities and he took one with aplomb.
Philipp Lahm's tracking of the Italian striker from the corner was laughable and he should have known better.
It was almost as if Joachim Low didn't bother watching the quarterfinal, as Balotelli tried the same routine only with more success.
Joachim Low's Substitutions Were Perfect...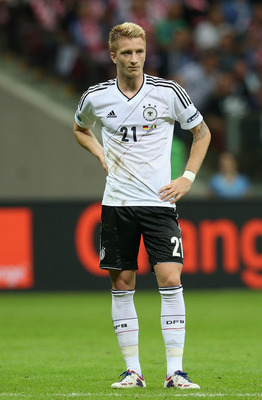 Joern Pollex/Getty Images
...but Miroslav Klose and Marco Reus should have played from the start.
The experiment against Greece worked on all accounts except one—Andre Schurrle was toothless and did not deserve to start the semifinal.
Reus was a live wire and injected pace into the lineup—a lineup engineered to break down a solid, hard-working defensive strategy set up by Fernando Santos.
Cesare Prandelli is nothing if not organised, and his teams' defensive record in this tournament proves that. Reus was required from the start if the Germans had any hope of breaking this team down.
Andrea Pirlo was largely unmarked for the first half and found pockets of space all over the pitch in which to exert his influence. Klose was able to put him under pressure, but Mario Gomez is lazy unless he's in the penalty area.
Pirlo was unchallenged again. Italy won again.
Italy Can Beat Spain with the Same Tactics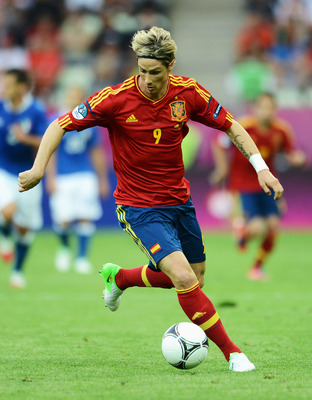 Jasper Juinen/Getty Images
Italy are well organised and resilient. They've drawn with Spain once this tournament, albeit with different tactics, and they will face them again knowing they can beat them the second time around.
The tactics Cesare Prandelli used in the semifinal are perfect to face Spain—it puts pressure on the channels and achieves a delicate balance between possession and defensive solidarity.
They will be able to create a blockade on the edge of the box and halt Spain's packed midfield.
If Italy use the same system and play anywhere near the level they reached against Germany, they can oust Spain and become European champions.
My money is on Italy to win it.
Keep Reading