San Jose Sharks: Why Doug Wilson Should Consider Trading Joe Pavelski
June 28, 2012

Christian Petersen/Getty Images
The sad truth, Little Joe lovers, is that Pavs is unlikely to remain in San Jose his whole career.
While Joe Pavelski has used his cerebral play, three-zone grittiness and clutch goal scoring to become a fan favorite in San Jose, he has also elevated his game to a level that may ultimately buy him his ticket out.
At age 27 (28 in two weeks), Pavelski has officially entered the prime of his career. The once-gritty depth forward spent most of last season on San Jose's top line, unseating Patrick Marleau as Joe Thornton's favorite target. 
The Big Pavelski, indeed 
Pavelski's career-high 30 goals is the most glaring example, but all of Pavelski's numbers suggest he's gone from role player to star.
His ice time (20:36 total ice time per game) was first among Sharks forwards, higher than Thornton and Marleau (20:28 TOI/G each). He also led the entire team in plus-minus (plus-18) and shots (269). He led Sharks forwards in blocked shots (84), was second in takeaways (73) and was third in the entire NHL in face-off percentage (58.7 percent).
With a cap hit of $4 million, Pavelski's certainly a bargain for San Jose. However, his current contract was signed before he became the star he is today. His next payday will come two summers from now, and at age 29, Little Joe will certainly command a much larger sum. 
Long-term decisions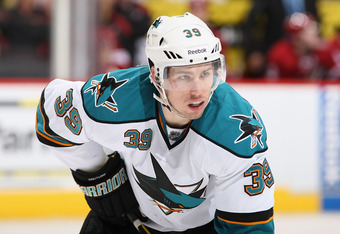 Christian Petersen/Getty Images
So where does this leave general manager Doug Wilson? 
More or less, it leaves Wilson stuck between two very good centers. With young stud Logan Couture hitting restricted free agency in two years, he'll be due a significant pay raise the same summer as Pavelski.
Thornton and Marleau will also become free agents that summer, and while their contracts will get smaller if they're renewed at all, Wilson will be in the market for other offensive stars to replace them.
With the much younger Couture (23), San Jose has a player who is almost as good a three-zone forward as Pavelski, is already a better offensive player and has potential is through the roof. This makes Couture the obvious priority over not only Pavelski but also Thornton come the summer of 2014.
San Jose is currently at risk of falling into salary cap jail and will have some very tough choices to make if it wants to stay out. 
The team has a weak farm system, which means re-signing the young talent it has—Couture, Tommy Wingels, Marc-Edouard Vlasic, Justin Braun, Andrew Desjardins—is absolutely necessary.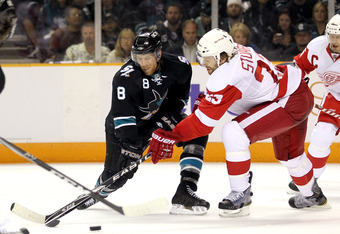 Ezra Shaw/Getty Images
Sharks need something new
Wingels, Braun and Desjardins were all extended on Tuesday, leaving San Jose with just over $8 million in cap room and five roster spots to fill. There's no question the Sharks could do this, but that would leave the roster almost identical to last season, with Brad Stuart as the only upgrade.
Stuart will help the Sharks, but banking on a 32-year-old defenseman to turn a one-and-done team into a Cup winner would be very risky. The Sharks are an old team and only getting older, so Doug Wilson must either significantly improve his roster this summer, make it significantly younger or free up some significant cap space.
San Jose has too thin a farm system and too little cap room to move prospects for a big-time player. It has too little cap room to sign a big-time free agent and too important stars to clear significant cap space.
This is where Pavelski comes in. Pavelski's value is at an all-time high, as he's coming off a 30-goal season,is  still in his 20's and has two years left on a bargain contract.
Two-way centers are at a premium in the NHL, which means that San Jose could acquire a player who would be much better as a Wing than Joe—as well as one with more years on their contract and more offensive upside.
This means Wilson's best move may be to sell Pavelski high. After all, NHL players have consistently proven to slow down once they get onto the wrong side of 30, which would make giving Pavs a big, long contract in two years—just as he turns 30—ill-advised.
Of course, Wilson will ask himself why he should trade Pavelski when Patrick Marleau is older and making more money. However, Pavelski will bring much more San Jose's way than Marleau and will also be more easily replaced.
San Jose focused heavily on center in this year's draft, adding Tomas Hertl, Chris Tierney and Daniel O'Regan. These three—combined with Wingels, Desjardins and of course Couture—gives San Jose a very bright future at center.
Joe Pavelski is an outstanding player and an integral part of the Sharks organization. However, when considering the trade chips available, the value of each one of them and the long-term implications of losing them, Pavs may be the smartest guy to move in order to help the team win both now and in the future.