Phillies Need More Than Chase Utley and Ryan Howard to Make Roaring Comeback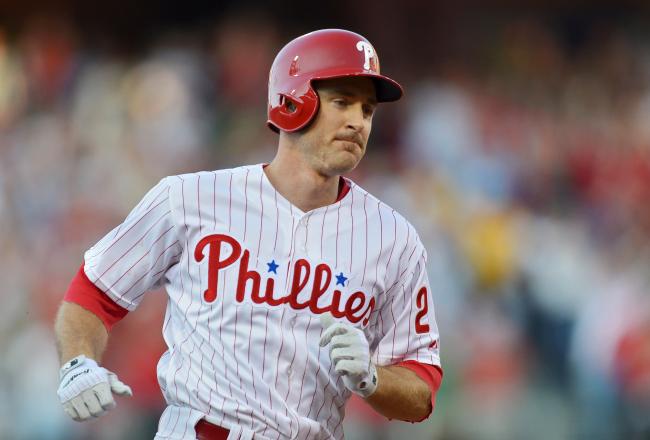 Chase Utley is only one piece to the puzzle that is the rest of the Phillies' 2012 season.
Drew Hallowell/Getty Images
The Philadelphia Phillies have been one of the National League's most disappointing teams this season, but they're getting better.
Chase Utley returned to the Phillies' lineup on Wednesday, and in style to boot. He homered in his first at-bat, and went on to collect three hits on the day. Talk about a sight for sore eyes.
Ryan Howard will also soon be back. As the Phillies announced via Twitter on Wednesday, Howard will start a rehab assignment on Thursday, meaning he could be back in the big club's lineup in a week or two.
So yeah, the Phillies are getting better.
...Just not that much better.
Watching Utley return in style was a pretty awesome thing to see even for non-Phillies fans, but Phillies fans have to be ultra-careful with their expectations where he's concerned. Utley was not in the starting lineup for Philly's matinee contest against the Pittsburgh Pirates on Thursday, and the word from the Philadelphia Inquirer is that Charlie Manuel's plan is to give Utley every third game off for the time being.
Phillies fans have been waiting for Utley to return and be an everyday player once again. He's back, but he's not going to be an everyday player for a while longer, if at all.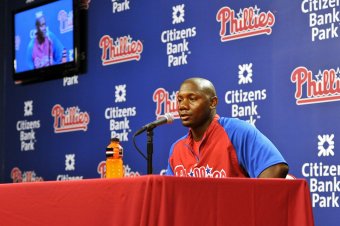 And remember, Howard was declining as a hitter even before he got hurt.
Drew Hallowell/Getty Images
Phillies fans must also have modest expectations for Howard. His return is approaching, but John Finger of CSNPhilly.com has reported that Howard will be at less than 100 percent healthy when he does return. He'll be able to hit, but he won't be able to move well. In fact, Howard has admitted that he still runs with a limp.
So what the Phillies are getting in Utley and Howard is not two superstars coming to the team's rescue. What they're getting is more like an extra pair of hands to help the salvaging effort.
If the Phillies are to raise their ship from the depths, they're going to need a lot more help.
Much of the focus this season has been on the Phillies' offensive struggles, but their pitching hasn't been very great lately, either. Per FanGraphs, Phillies starters entered Thursday's action with a record of 7-11 and an ERA of 4.78 in the month of June. They had an ERA over 4.00 in May, too.
Don't be so surprised. As much as the Phillies have missed Utley and Howard, they're missing Roy Halladay even more right now. Or at least, they're missing the version of Halladay that they came to know and love in 2010 and 2011, when he was one of baseball's best pitchers.
Halladay hasn't pitched since late May. And though Todd Zolecki of MLB.com reported on Wednesday that Halladay is making progress, his return is still a couple weeks away.
When Halladay does return, the Phillies will be banking on the notion that a few weeks of rest were just what his shoulder needed. They need him to be the ace he was in 2010 and 2011.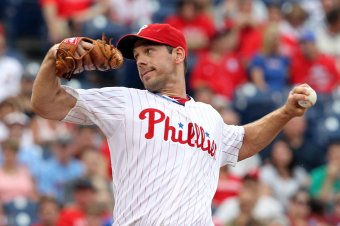 Cliff Lee deserves better.
Hunter Martin/Getty Images
In the meantime, they need to worry about propping up Cliff Lee's spirits by giving him a win. He hasn't been as brilliant this season as he was last season, but he's surely been good enough to deserve at least one win this season. His 3.72 ERA ain't bad. His 3.02 FIP (fielding independent pitching) is even better.
What made the Phillies so good last year was the fact that Halladay, Lee and Cole Hamels were so good so consistently. The three of them represented the best trio of starting pitchers in baseball, and they made life much easier for an offense that struggled to score runs like it did in years prior.
Hamels has been good all season this year, but the Phillies haven't gotten nearly the same enjoyment out of the Halladay-Lee-Hamels trifecta. That's something that absolutely needs to change in the final months of the season if the Phillies are going to recover to make a run at a postseason berth.
And yes, they need bullpen help, too. Philly relievers have a 4.67 ERA this season, third-worst in baseball. In June, they have an ERA of 4.71, which is par for the course.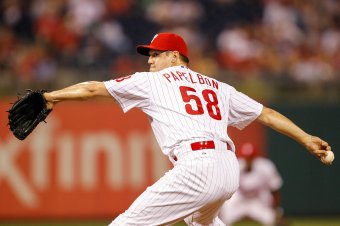 Even Jonathan Papelbon is struggling for the Phillies right now.
Brian Garfinkel/Getty Images
There's no clear answer to this problem. Veteran righty Chad Qualls was designated for assignment on Thursday, according to the Associated Press, and he is being replaced by righty Brian Sanches and lefty Jeremy Horst.
Sanches has already made three appearances for the Phillies this season, posting an ERA over 11.00. Horst has a grand total of 12 big-league appearances under his belt, and they all came last year for the Cincinnati Reds.
The Phillies better hope that Sanches and Horst beat the odds and stabilize the bullpen. Otherwise, they'll have to find relief help outside of the organization.
Good luck there. Trading for relievers is always risky business, and the Phillies are not blessed with an abundance of dealable assets.
That's a problem that will make life difficult for them not just in the pursuit of relief help, but other help in general.
The Phillies could very much use another bat, but they're going to have a hard time talking another team into giving up a good one for what the Phillies have to offer. Their minor league system is as barren as it's been in years (ranked No. 25 in ESPN's Keith Law's preseason rankings), leaving them with a shortage of young players that they can package up and trade for a veteran hitter or two.
Alas, there will be no Hunter Pence trade this year.
In all likelihood, Ruben Amaro won't be able to make a significant move of any kind before MLB's trade deadline. The Phillies are going to have to do what they can with what they've got.
The Phillies lost to the Pirates on Thursday to drop their record to 36-42 on the season. That puts them on pace to win just 75 games.
Over or under 85 wins for the Phillies?
In order to win 85 games, the Phillies will have to win 49 of their final 84 games, a winning percentage of .583.
And that's just to win 85 games. It could take as many as 90 wins to secure one of the National League's two wild-card spots, and the Phillies would have to play better than .600 ball the rest of the way this season to reach that mark.
To accomplish that, they'll need everything to go right. Utley and Howard will not only have to stay healthy. They'll have to hit, too. They'll also need the bullpen to settle down, and they'll need Halladay, Lee, and Hamels to be as productive as they were last season.
Good luck, Phillies.
If you want to talk baseball, hit me up on Twitter.
This article is
What is the duplicate article?
Why is this article offensive?
Where is this article plagiarized from?
Why is this article poorly edited?