US Olympic Trials Swimming: Rising Stars to Watch in Omaha
June 28, 2012

Jamie Squire/Getty Images
Many up-and-coming swimmers will be competing in the U.S. Olympic Team Trials in Omaha, Nebraska on June 25-July 2 to earn a spot on the U.S. Olympic National Team that will be competing in London, England later this summer. 
The two stars, Michael Phelps and Ryan Lochte, who have a combined 22 Olympic medals, will most likely steal the show once again, but these rising stars will certainly impress people and prove to be the future of U.S. swimming. 
Phelps has claimed this will be his last Olympic games that he will ever compete in, which leaves the door open for these newcomers to become the new faces of U.S. swimming, an honor Phelps has held the past eight years. 
On the women's side, the field is wide open. The two stars from the 2008 Olympic team that competed in Beijing and took home a combined eight medals, Rebecca Soni and Natalie Coughlin, both will have their hands full when attempting to qualify for the Olympics once again. 
Here are three rising stars you must watch in Omaha who will earn spots on the U.S. Olympic National Team.  
Missy Franklin 
This 17-year-old has had a lot of hype surrounding her rise to stardom. 
She has certainly lived up to expectations though. She had an astounding 2011 season, where she took home five medals at the 2011 World Aquatics Championships in Shanghai, China.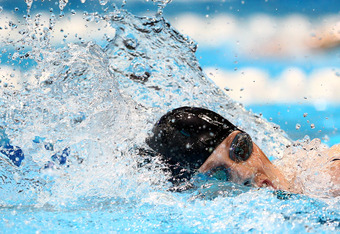 Al Bello/Getty Images
Franklin capped off her stellar year by setting an American record in the women's 100m backstroke with a time of 58.85 to cement her place on the Olympic National Team. What makes this win even more impressive is that not only did she set an American record, but she also defeated Natalie Coughlin in the process, the only women's swimmer to ever win gold in this event in back-to-back Olympic games. 
Missy Franklin has already qualified in one event and will be looking to earn a spot in the Olympics in at least three more. Remember the name Missy Franklin, as she will certainly be on top of the sport for years to come. 
Matt Grevers 
With so much hype surrounding Phelps and Lochte, some of the other men's swimmers usually go unnoticed.
Matt Grevers is one of these guys.
The 27-year-old competed in the 2008 Olympics in Beijing but only took home gold medals in relay events, coming in second and winning a silver medal in his one individual event, the 100-meter backstroke. 
This summer, Grevers is dedicated to earning his first individual gold medal at an Olympic games. At the Olympic Trials, he punched his ticket to the Olympics with a victory in the 100-meter backstroke with a time of 52.08. After his victory, Grevers told NBC Sports, 
"Ryan Lochte, (Michael) Phelps, they know they are going to make it. I didn't," Grevers said. "Of course, I'm going to get pumped up. (The world record) is in my sights now. It's not just a dream."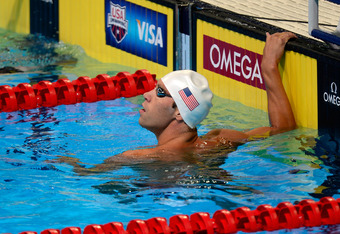 Jamie Squire/Getty Images
Make sure to watch Grevers, as he is determined to not only earn a gold medal but set the World Record once he reaches the Olympics in London.
Breeja Larson
Breeja Larson shocked everybody when she upset favorite and 2008 Olympic gold medalist Rebecca Soni in the 100-meter breaststroke. 
The Texas A&M star set an American Record in the 100-yard breaststroke while competing in college at the NCAA Championships. Now she will get her first chance at Olympic gold in this event, competing alongside Soni once again. After the race, Soni had this to say about her upcoming rematch with Larson:
"I expected to be able to pull away at the end, but (Breeja) held me off, so I'm real proud of her and I can't wait for us to race again in London. I'm just really happy to have that ticket booked. I'm happy to be going, that's all I can be saying. I'm so happy for Breeja, she did so well."
These two may not be rivals by the sound of that, but you can be certain Larson has her focus set on taking Soni's medal once they reach London later in the summer. It will make for great competition, but the rising star Larson should be able to pull off the upset once again.