Alabama Football: Defense's Strengths, Weaknesses and Secret Weapons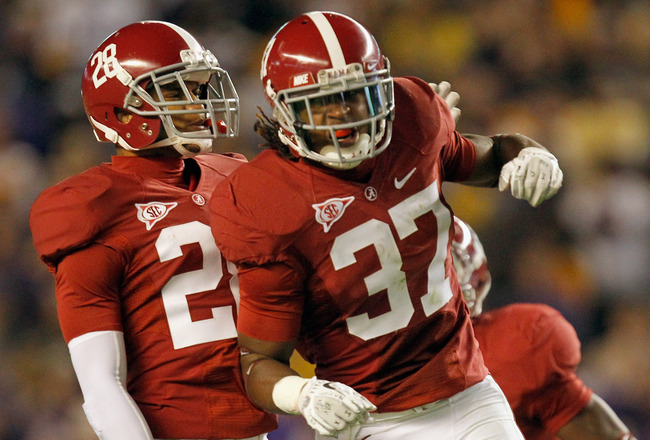 Streeter Lecka/Getty Images
The strengths, weaknesses and secret weapons of Alabama's offense have been examined and now it's time to take a look at the defense in the same light.
Alabama lives off its defense which is among the very best in the nation every single year.
Here are some key players that make the Tide one of the best defenses as well as some things they could improve on.
Robert Lester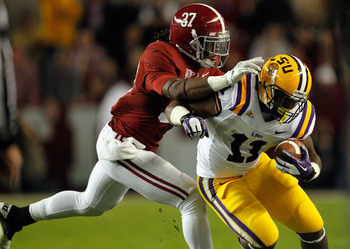 Streeter Lecka/Getty Images
Safety, 6'2", 210 lbs.
Strength: Coverage
Lester is one of the best coverage safeties in the nation.
Alabama allowed only 15 passes to go more than 20 yards in 2011, which was first in the SEC, and allowed 11 fewer than LSU.
Much of that had to do with Lester's coverage of receivers and his assisting of cornerbacks.
He plays his safety position like a shutdown cornerback.
Weakness: Run support
As great as Lester is against the pass, he leaves a bit to be desired against the run.
Lester is an elite safety and is expected to recognize a run play as soon as the handoff occures but he often hangs back much more than he should.
Some of that had to do with with safety Mark Barron assuming that role, but against the run Lester could certainly play closer to the line of scrimmage in those situations.
Secret Weapon: Interceptions
Lester is a true ball hawk through there air.
In 2010 he led the SEC with eight interceptions, and though he only came up with two in 2011, he was always a danger to cause a turnover.
His knack for turnovers can be a double-edged sword, however.
Lester's tendency to go for the interception has limited his tackling ability and could have really caused problems in the past if not for his teammates picking up the slack when he missed both the pick and the tackle.
After years of coaching and tutelage under Mark Barron, however, it should be safe to say that Lester can now discern when it's better to go for the turnover or just make the tackle.
Jesse Williams
Nose tackle, 6'4", 319 lbs.
Strength: Run Stuffing
You can mark it down now that Jesse Williams will be the best 3-4 run-stuffing defensive tackle in 2012.
Williams moves opposing offensive linemen with ease and will fully control the options that running backs have between the tackles.
He has incredible upper body strength and will dominate the line of scrimmage on every play. He will be the best hole-clogger at the Capstone since Terrence Cody.
Weakness: Pass Rushing
Williams is effective when trying to get pressure on the quarterback but he has had little success actually getting to his target compared to his predecessor Marcell Dareus.
A lot of that had to do with his raw technique and lack of an adequate swim-move when he arrived at Alabama.
It's the only weak part of his game, but I would hardly call it a true weakness, and it will certainly have improved by the fall of 2012.
Secret Weapon: Motor and Versatility
Williams played as Alabama's left defensive end last year and now will play nose tackle. It displays his versatility both inside and outside.
Even though rushing the passer is the "weakest" part of his game he is better at it than most nose tackles out there.
He can play both the pass and the run, and he has the motor to keep him on the field.
Opposing offenses aren't going to simply tire this one out.
Trey DePriest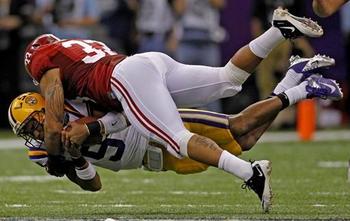 Linebacker, 6'2", 242 lbs
Strength: Quickness
By the time he leaves Alabama Trey DePriest could likely be the quickest (not "fastest") middle linebacker Nick Saban has had—Rolando McClain included.
His reaction time and ability to change direction is nearly unrivaled, which is why he was one of the most highly-coveted linebackers of his class and saw plenty of playing time in 2011.
Running backs that try to bounce to the outside will have little to no chance of out-stepping DePriest.
Weakness: Experience
DePriest's potential is through the roof, but it will be limited by his experience in 2012.
He was limited mostly to special teams play in 2011 with a dash of regular downs here and there.
Talent only goes so far for a player, especially in the SEC. By November it won't be an issue, but until then DePriest is one of the Tide's most inexperienced linebackers.
Secret Weapon: Brutality
If Tide fans thought Dont'a Hightower was a brutal tackler, they just need to wait to see DePriest in full time action.
During his limited playing time, DePriest has made a name for himself a ferocious defender that will make the opposition pay. Their debt will be paid with chunks of grass from their facemask.
Adrian Hubbard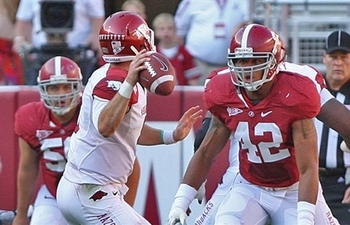 Photo: 247sports
Jack Linebacker, 6'6", 237 lbs.
Strength: Pass Rushing
Adrian Hubbard proved me wrong by becoming the clear front-runner as Alabama's next Jack linebacker.
I was fully convinced that Xzavier Dickson would win the position, and while the battle is far from over, Hubbard will likely win the honors.
Hubbard's speed gave Alabama's offensive line a serious run for its money in the spring game. Against weaker lines in 2012 he will wreak havoc.
Weakness: Size
Hubbard will use his speed to get the better of most opposing linemen on the blind side, but against quicker opponents he won't be able to out-muscle them like his predecessor, Courtney Upshaw, was able to.
He has great height at 6'6", but 237 lbs. just isn't a lot of muscle.
If he can hit 250-plus by the time fall rolls around, he should be quite alright.
Secret Weapon: Length
Hubbard has something that no other Alabama Jack linebacker (Courtney Upshaw and Eryk Anders) has had under Nick Saban: incredible length.
His reach and sheer arm length is going to allow him to place some serious pressure on opposing quarterbacks.
He is going to force some fumbles if he can't get the sack. Book it.
Nico Johnson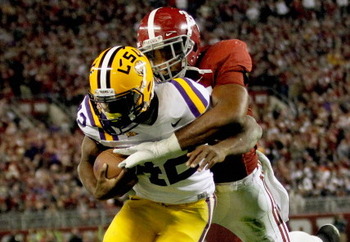 Streeter Lecka/Getty Images
Linebacker, 6'3", 245 lbs.
Strength: Experience
Nico Johnson has been a heavy contributor since the 2009 championship season, and most of it was in the shadows of bigger name players like Rolando McClain and Dont'a Hightower.
He will enter 2012 as the Tide's most experienced linebacker, and he is one of the few players on the team that had extensive contributions on the field to earn both championship rings.
Weakness: Coverage
Johnson isn't a bad in pass-coverage, but he's not great either. He proved he was capable when his counterpart, C.J. Mosley, was out for a few weeks with a dislocated elbow in 2011.
It's the only part of his game that Johnson needs to improve upon.
Secret Weapon: Run Stuffing
Johnson may need to work on his coverage and he's not exactly the best pass-rushing linebacker the Tide has either, but he stops the run like none other.
Stopping rock-toters at the line of scrimmage is his M.O., and he performs that role as well as anyone in the nation.
The Alabama defensive thrives when the run is shut down, and Johnson will be the most important piece to make that happen.
Deion Belue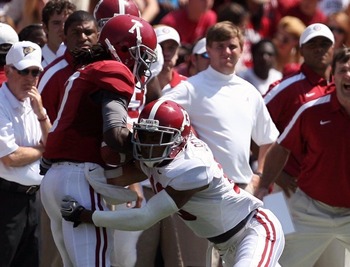 Deion Belue tackling receiver Kenny Bell
Cornerback, 6'1", 170 lbs.
Strength: Speed
When it comes to flat-out speed Deion Belue may be unmatched by anyone on the Tide's roster. Scout has him clocked at running a 4.3 40-yard dash.
Belue has experience and instincts to match that speed which will make him a dangerous shutdown corner.
His chance of direction speed may see him get a look as a returner as well.
Weakness: Size
Belue has great height for a cornerback at 6'1", but his most dire need is adding muscle to that lanky frame.
He proved to be a solid tackler in the spring game but he will be nearly incapable of jamming any average-sized receivers at the line, an important part of being an every-down cornerback.
Secret Weapon: Elusiveness
The most important part of a cornerback is his ability move quickly and chance direction in a fraction of a heartbeat, especially after an interception.
Belue can do that.
His 97-yard interception returned for a touchdown during the spring game speaks volumes.
He may not see a repeat of that during the 2012 season, but when he comes up with turnovers in 2012 expect a pretty big chunk of yardage to follow.
Those kind of plays are called "game-changers."
C.J. Mosley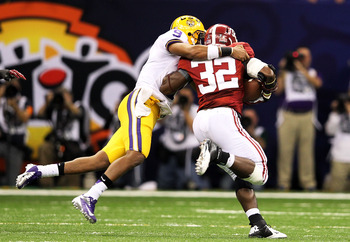 Mosley after intercepting a pass from LSU quarterback Jordan Jefferson, January 9, 2012.
Andy Lyons/Getty Images
Linebacker, 6'2", 234 lbs.
Strength: Coverage
Nick Saban prefers his front seven to focus completely on the run or the pass rush while the defensive backs do their thing, but C.J. Mosley is just too good in pass-coverage to not use in that aspect.
Mosley is the best coverage linebacker on the team and might be on of the best in the nation. He's really more like an oversized safety.
He is better than any other Tide linebacker at watching his zone/man while simultaneously keeping an eye on the quarterback.
Weakness: Rubber joints
This isn't exactly a "weakness" as injuries can happen to anyone, but Mosley dislocated two joints in 2011.
First, he dislocated his right elbow while tackling bulky Arkansas running back Ronnie Wingo, Jr. and then dislocated his left hip after being tackled by LSU quarterback Jordan Jefferson (whom he intercepted a pass from).
Maybe it was just bad luck or maybe Mosley just has rubber joints.
Secret Weapon: Interceptions
Mosley has an eye for the ball and he stalks quarterbacks while he is performing his regular duties.
His ability to find the ball in the air and make a play rivals Rolando McClain's record at Alabama.
He also returned both his 2010 interceptions for touchdowns.
That's the main difference between Mosley and McClain; Mosley can make something happen after he comes up with the pick.
DeMarcus Milliner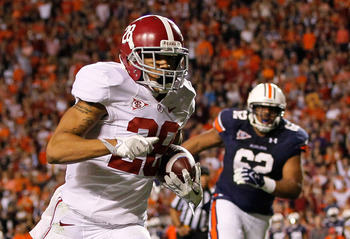 Kevin C. Cox/Getty Images
Cornerback, 6'1", 196 lbs.
Strength: Coverage
DeMarcus Milliner enters 2012 as the Tide's best cornerback, and he just may prove to be the best cornerback Nick Saban has had at 'Bama—Dre Kirkpatrick included.
He had a rough ride in 2010 as an inexperienced true freshman forced onto the field early, but he developed into a fantastic coverage corner in 2011.
Milliner will effectively create his own little island in 2012.
Weakness: Tackling
Milliner covers his targets well, but when it comes to bringing someone down, he tries a little too hard.
He has a penchant for going for the big hit which can really limited his ability to effectively bring someone to the turf.
It's great to ring someone's bell, but sometimes it's just better to make a sure, soft tackle.
Secret Weapon: Hands
Milliner was picked on all year when teams tried to avoid Dre Kirkpatrick and DeQuan Menzie (when Milliner was the nickelback) and all he did was make them pay.
He led the team with three interceptions and also broke up nine passes.
Opposing quarterbacks better be cautious when throwing around Milliner as he is quickly developing into one of the best shutdown corners in the nation and will surely get a hand on everything thrown his way.
Vinnie Sunseri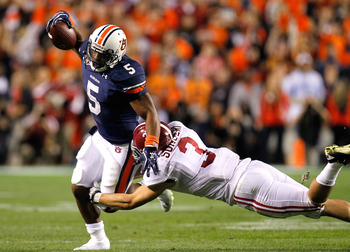 Kevin C. Cox/Getty Images
Safety, 6'1", 217 lbs.
Strength: Instincts
Vinnie Sunseri is far from the most physically gifted safety in the nation (as well as his team), but his instincts rival that of any other player.
He has an eye for the ball, whether it is in the air or on the ground. The way he tracks the football is like a sixth sense, both on regular downs and on special teams.
Sunseri is a true headhunter and will find the ball and make someone hurt.
Those instincts also allow him to find turnovers whenever he can, just like a honey badger finds food wherever it can.
Yeah, I went there.
Weakness: Coverage
Sunseri has had little opportunity to prove his ability in coverage, so until he has, it must be assumed as a bit of a weakness considering he played linebacker in high school.
He's a lot like Auburn linebacker Daren Bates (Bates is slightly smaller) in the fact that he plays more like a rugged, undersized middle linebacker.
He is deadly against the run and the turnover department, but his unproven ability in coverage could prove to be a liability, especially if he becomes the starter.
Secret Weapon: Blitzing
Alabama fans and opponents came to know Sunseri's aggressiveness and tenacity as the 2011 season progressed, but no one knew he could be so effective behind the line of scrimmage.
It was Sunseri that forced an errant pass from quarterback Jordan Jefferson in the national title game. On a safety blitz he hit Jefferson just as he threw and the pass wobbled its way down field.
Even though it looked like a lop-sided Tim Tebow pass, it was Jefferson's best pass of the game and a split-second sooner it would have been a very big play for the Tigers.
I feel that Sunseri has a good chance to win the starting position opposite of Robert Lester, but he may prove to be more valuable as the Tide's nickelback.
The creative options with Sunseri in that position are limitless.
Keep Reading

Alabama Crimson Tide Football: Like this team?