Why the Dodgers Were Never as Talented as Their Scorching Start Suggested
June 28, 2012

Thearon W. Henderson/Getty Images
The Los Angeles Dodgers have hit a low point. They just got swept in three straight games against the San Francisco Giants, scoring a grand total of zero runs in the process. They have lost eight of their last nine games overall.
Gone is sole possession of first place in the NL West. Same goes for the sky-high sense of giddiness that so many Dodgers fans got to enjoy while the team was winning under the benevolent gaze of Magic Johnson and the team's new ownership group. 
In times such as these, a lot of peoples' first impulse is to blame the manager. It's always the manager's fault, after all. As an old-timer from Brooklyn might say, "dem bums are good for nothing."
But whatever you do, Dodgers fans, don't pin the team's recent struggles on Don Mattingly. He's a big reason why the Dodgers were flying so high in the first place. He took an undermanned roster and cleverly molded it into the National League's best team.
The "undermanned" part isn't news to you, right? The Dodgers had a good vibe going for most of the season, but at no point were they blessed with an abundance of talent. On paper, they never looked strong, hence the reason the experts were picking them to finish third, fourth or even fifth in the division when all was said and done.
Good vibes are all well and good, but they're only worth so many wins in the grand scheme of things. As Sparky Anderson once said, via Baseball-Almanac.com:
If a team is in a positive frame of mind, it will have a good attitude. If it has a good attitude, it will make a commitment to playing the game right. If it plays the game right, it will win—unless, of course, it doesn't have enough talent to win...
That's the Dodgers' problem. They don't have enough talent to win now, and they've been lacking talent ever since day one.
Shoot, just take a look at their Opening Day lineup. Here it is, complete with career batting statistics entering this season, courtesy of Baseball-Reference.com:
Dee Gordon, SS (.304/.325/.362)
Mark Ellis, 2B (.266/.331/.397)
Matt Kemp, CF (.294/.350/.496)
Andre Ethier, RF (.291/.364/.479)
Juan Rivera, LF (.277/.327/.449)
James Loney, 1B (.288/.346/.432)
Juan Uribe, 3B (.253/.298/.423)
A.J. Ellis, C (.262/.360/.330)
Clayton Kershaw, P
A bad lineup? Not really, but certainly a far cry from, say, the 1927 Yankees. Of the eight hitters Mattingly trotted out there on Opening Day, only Kemp and Ethier stood out as true stars.
The best word to describe the other six is "meh."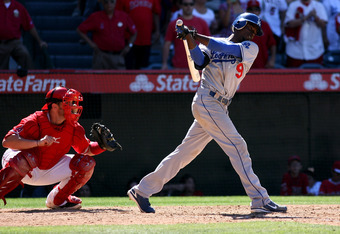 Jeff Golden/Getty Images
Dee Gordon is a promising young player, but he still has a ways to go in his development. Until he learns how to get on base more efficiently, he's a guy who should be at the bottom of the lineup every day, not the top.
Though he's a good defensive player, Mark Ellis has never been an elite offensive second baseman. He's also injury-prone, a reality that has already bitten the Dodgers this season.
At this stage of his career, Juan Rivera is lucky to be getting a chance to start. He's a good guy to have, but he's by no means one of the game's top left fielders.
As far as first basemen go, James Loney is the very definition of mediocrity. No further argument is needed there.
A.J. Ellis was basically a career minor leaguer who finally got his big break this season at the age of 30 (now 31).
Much of the attention concerning the Dodgers now is focused on how awful their lineups are every day, but their lineup wasn't great to begin with. They never had a lot of talent around Kemp and Ethier, and Kemp has been out of the picture for basically half the season at this point.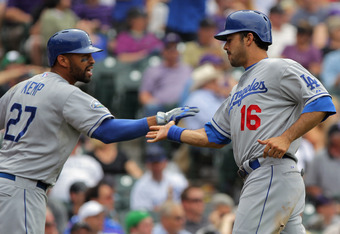 Doug Pensinger/Getty Images
The Dodgers were so hot early in the season because Kemp and Ethier did all the heavy lifting. Kemp, of course, hit .404 with 12 home runs and 26 RBI through May 4, and Ethier held up his end of the bargain by hitting .289 with six home runs and 28 RBI through that very same date, when the Dodgers ended the day with a record of 17-9 and a 3.5-game lead in the NL West.
What's amazing about the Dodgers, and indeed something they deserve credit for, is the way in which they kept rolling during Kemp's 14-game absence between May 14 and May 28. They went 10-4 without him, running their record to 32-16 and upping their NL West lead to 6.5 games.
Ethier was money in that span, hitting .360 with two homers and 10 RBI. A.J. Ellis pitched in as well, hitting .310 with two homers and eight RBI.
The Dodgers' starting pitching, meanwhile, kept rolling right along. Dodgers starters went 10-3 with a 2.85 ERA in April, and 11-10 with a 3.36 ERA in May. The guys on the mound made it so the guys with the bats didn't have to do too much on a nightly basis. All undermanned offensive teams should be so lucky.
When Kemp returned to action on May 29, the Dodgers looked poised to take off. They had their MVP candidate back, and that was bad news for the rest of the NL West (and indeed the rest of the National League in general).
Kemp went back on the DL a couple days later on May 31. The Dodgers lost that day, dropping their record to 32-19.
Since then, they're 11-14.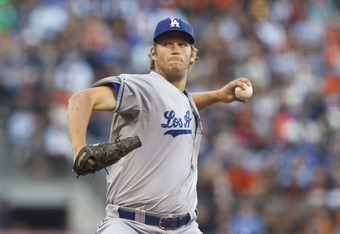 Jason O. Watson/Getty Images
The Dodgers' pitching is still hanging tough, as the team's starters have a respectable 3.77 ERA in the month of June. The bullpen has performed well too, posting an ERA under 3.00 this month.
In other words, the Dodgers' pitching is once again making it easy on the guys with the bats. They're not asking for a lot. The Dodgers' bats just aren't giving them anything.
The Dodgers have scored 81 runs this month. Only the Marlins have scored fewer. The Dodgers have also only hit six home runs this month, fewest in baseball. Jose Bautista, Robinson Cano, Trevor Plouffe and David Ortiz are just four of 11 individual players who have hit more home runs in June.
A.J. Ellis is hitting .228 with three RBI this month. Loney is hitting .228 with five RBI. Gordon's OBP is below .300 this month (again). Uribe has more strikeouts (12) than hits (five). Tony Gwynn, Jr., who is filling in for Kemp in center field, is hitting .216 with a .266 OBP. Bobby Abreu, who has been spending a lot of time in left field lately, is hitting .217. 
The team-wide slump has gotten to Ethier too. He's hitting .218/.306/.322 with one home run in June. As if his slump wasn't bad enough, he suffered an oblique injury on Wednesday. Via MLB.com, Mattingly said that he is expecting to lose Ethier for 20 days.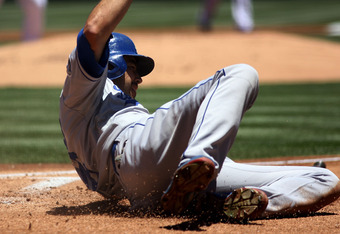 Jeff Golden/Getty Images
And according to Dylan Hernandez of the Los Angeles Times, Kemp isn't due back until after the All-Star break. That means there's a very strong likelihood that the Dodgers will have to tough it out without Kemp and Ethier until later in July.
Things have been bad for the Dodgers ever since Kemp had to go back on the DL. They're about to get a whole lot worse.
Few teams in the majors have the kind of depth that could compensate for the losses of two star players like Kemp and Ethier. The Dodgers aren't one of them. Beyond Kemp and Ethier, they don't have much. They're essentially a collection of has-beens and Quadruple-A players.
It would be a stretch to say that the Dodgers are showing their true colors right now, but all the cracks in their armor that have existed since the first game of the season have certainly been revealed. To stay afloat, the Dodgers are going to have to be a lot better than the sum of their parts.
Which, of course, is exactly what they were earlier in the season when they were beating up on the rest of the NL. That was Mattingly's doing, and you also got the sense that the team itself was energized by the franchise's new ownership and new direction.
That all seems like ancient history now, and for good reason. The Major League Baseball season is a grind, and the all-for-one-and-one-for-all thing that the Dodgers had going on earlier in the season is a trick with a limited shelf life. The Dodgers are going through the exact same thing now that fellow undermanned teams like the Cleveland Indians, Tampa Bay Rays and Chicago White Sox are going through.
Presently, the Dodgers are on pace to win 92 games, and they're only getting to that number if Kemp and Ethier come back strong. 
Remarkably, we're talking about a team that was once on pace to win 110 games, a total that would have broken the franchise record for wins in a single season. That ship has sailed. Truthfully, it was a mirage in the first place. A ghost ship.
The Dodgers are a quality ball club, but they were never as good as their torrid pace said they were. That version of the Dodgers wasn't real. 
The current version of the Dodgers isn't real either, but it's a heck of a lot more real than the team we saw in April and May.
If you want to talk baseball, hit me up on Twitter.