UFC 148: Chad Mendes Through the Fire and Back
June 28, 2012

In the competitive world of mixed martial arts, contenders rise and fall frequently. Prospects are battle tested in the hopes that one day they will become champions.
Chad Mendes carried his unbeaten record into the lion's den of Rio de Janeiro to face a fighter heralded as one of the pound-for-pound best in Jose Aldo. The featherweight champion was able to finish the bout in the closing seconds of the opening round and Mendes found himself in the unfamiliar territory of the loss column.
He knows the way to the top of the division, but now Mendes will be fighting to work his way back. That journey begins at UFC 148, when he steps into the Octagon with TUF alum Cody McKenzie, and the Team Alpha Male fighter is eager to return to his winning ways.
"I can honestly say going into the fight with Aldo was the best I've ever felt," Mendes said in an exclusive interview with Bleacher Report. "I was the most mentally clear I've ever been. Physically, I felt I was so prepared. Going over to Brazil was something I knew I had to do and I factored that into my preparation. Leading up to the fight, I had already traveled there for the press conference, so I knew what the flight was going to be like and how to adjust.
"For whatever reason, the press in Brazil loved me and treated me great. I had a lot of support going into that fight and the fans in Brazil were awesome. I was super ready and honestly, fighting in that environment didn't bother me. When I was standing in the cage, waiting for Aldo to come out, my mind was clear. I can remember everything.
"Normally, that isn't the case because nerves take over and you rely on instinct. It just wasn't my night and I got caught. Hopefully, that was a huge learning experience for me and my mind will be clear like that for every fight. I'm definitely working on the things I messed up on and I'm ready to get in there and destroy people."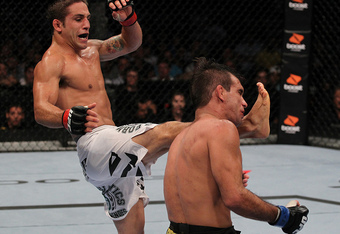 When Mendes steps back into the Octagon in Las Vegas, he will be standing across from Cody McKenzie. The Alaskan is known for his awkward style and his ability to catch his opponents in his signature version of the guillotine submission known as "The McKenzietine."
Mendes is well aware of the dangers McKenzie presents and is prepared for whatever comes his way.
"It is a very weird matchup with McKenzie, but I'm not taking him lightly at all," Mendes said. "Cody is a very funky fighter. Growing up as a wrestler, there are types of wrestlers you would look at and think you were going to destroy them, but they have some weird, funky way about them where they either keep it close or find a way to win.
"I learned that lesson in wrestling and I'm not looking past him at all. I've trained hard, as I always do. Obviously, I've worked a lot on guillotines because I know that is his bread and butter. He catches a lot of guys with it. I'm going into this fight like it is for the world title.
"I pride myself on conditioning. I'm a very high-paced fighter and I like to break down my opponents. I started wrestling when I was five years old. I've wrestled my entire life; it's my base, and I have that wrestling mentality. When I step into the Octagon, fans are going to see a fast pace and I'm going to grind down my opponent. Whether it is elbows, punches or big knees, it doesn't matter. I'm going to do whatever it takes to get the win."
A victory at UFC 148 will put Mendes back on track and return his focus to the ultimate goal of becoming a world champion. Whereas the featherweight divisional elite was just a handful of fighters, over the past six months, the landscape has changed, as several future contenders have emerged. Mendes is excited to face the challenges ahead and feels his weight class is long overdue for center-stage attention.
"The division is starting to get more recognition," Mendes said. "I think we should have been getting the recognition all along, but it was the WEC then and it is what it is. People looked at the WEC like it was a minor league, but now the two organizations merged and it's the UFC. People look at things differently. Now that it's all under one umbrella, people are starting to realize how exciting this division is.
"A lot of the 155 pound fighters are starting to drop down to featherweight and that is only making the weight class more competitive. Bigger names are coming into the division and that is helping build it up as well. The fans are going to see some excellent fights."