Andre Ward: 9 Fighters Most Likely to Be Living Legends Before Their 30th Fight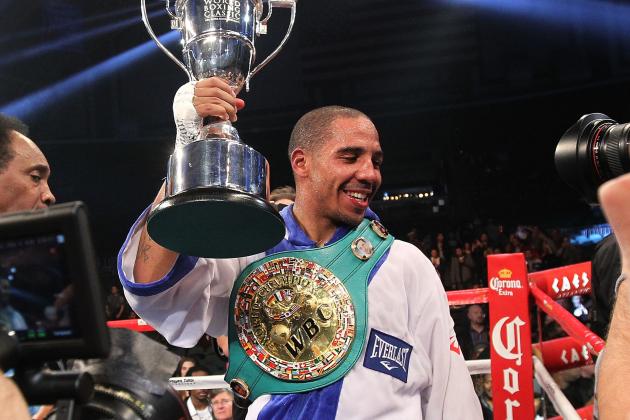 Nick Laham/Getty Images
Andre Ward
In boxing, it's not about how many punches are thrown. The statistic that counts is how many land. What counts to boxing fans after that is who those punches were landed against and how hard they were.
The current new crop of boxers go through their careers trying to make every punch count, because there's a realization that they're one bad injury-plagued night from having to quit the sport they love forever.
While the past may have included the likes of Sugar Ray Robinson (173-6-2, 108 KO) fighting 200 times, the future will likely see shorter careers compacted with very good fights while they lasted.
Take for example, Kostya Tszyu (31-2, 25 KO). With only 34 fights (including a no-contest), he managed to carve an intriguing resume.
He blasted many undefeated fighters with their first loss including Zab Judah, Hugo Pineda, Oktay Urkal and many more. Tszyu also knocked out legends such as Julio Cesar Chavez and Jesse James Leija.
Other legends with short careers include James J. Jeffries (19-1-2, 14 KO), whose only loss came after he tried to come back after nearly six years of inactivity.
So here's a look at boxing's next crop of nine who may become living legends before their 30th fight.
Begin Slideshow

»
Erislandy Lara (16-1-1, 11 KO) is a monstrous Cuban technician with a powerful left hand.
At 29 years old, Lara has suffered a draw to Carlos Molina (19-5-2, 6 KO) and a lone loss to Paul Williams (41-2, 27 KO) that many journalists and fans believe was a robbery.
Now Lara is campaigning for a world championship shot. The likes of WBC champ and Mexican favorite Saul Alvarez (40-0-1, 29 KO) and knockout king James Kirkland (31-1, 27 KO) are Lara's stablemates.
They all belong to Golden Boy, therefore future big money and fan-friendly matchups are quite possible in the near future.
Adrien Broner (23-0, 19 KO) is a super featherweight world champion and already has impressive wins over Jason Litzau (28-3, 21 KO), Eloy Perez (23-1-2, 7 KO) and Daniel Ponce De Leon (43-4, 35 KO).
The champ may move up to 135 after his next fight against tough opponent Vicente Escobedo (26-3, 15 KO) in July.
If so, he can expect a challenge some day from Yuriorkis Gamboa (21-0, 16 KO), who is also moving up from 126 to possibly 135.
A clash between the two undefeated speedsters would instantly propel the winner to mythical heights of acclaim and fandom.
Dereck Chisora (15-3, 9 KO) is a vicious angry 28-year-old with anger management issues, but he knows how to put on a great fight.
His battles with Tyson Fury (18-0, 13 KO), Robert Helenius (17-0, 11 KO) and Vitali Klitschko (44-2, 40 KO) may have cost him three decision losses, but they have also gained him a very dedicated fanbase.
Chisora impresses even in a losing effort. He doesn't quit. He just keeps coming forward with speed and aggressive determination like few fighters in the heavyweight division.
Chisora is just a few wins away from amassing something special in recent heavyweight careers. Should he win his upcoming clash with David Haye (25-2, 23 KO), he'll have a great start.
Avenging losses to Fury and Helenius seems quite possible, and clashing with WBA regular champ Alexander Povetkin (24-0, 16 KO) would certainly enhance his legacy as the king of the new school.
Yuriorkis Gamboa (21-0, 16 KO) is another great Cuban defector and former featherweight world champ. He's 30 years old and a free agent after a dispute with his previous promoter.
Gamboa is ready to challenge himself against great fighters at higher weight classes such as junior lightweight king Adrien Broner (23-0, 19 KO).
If Gamboa can climb a few divisions, win a couple of belts along the way and make sure to defeat a fierce rival or two, becoming a legend before fight no. 30 will be a relatively simple path with his talent.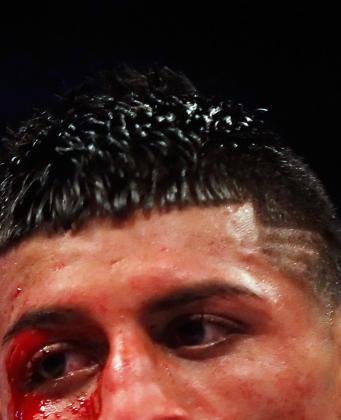 Jeff Gross/Getty Images
Abner Mares going through war for another big win
Abner Mares (24-0-1, 13 KO) is a former bantamweight world champ with a draw against Yhonny Perez (20-2-1, 14 KO) and wins over Vic Darchinyan (37-5-1, 27 KO) and Joseph Agbeko (28-4, 22 KO) (twice).
In his super bantamweight debut, he won the WBC title against Puerto Rican legend Eric Morel (45-3, 23 KO). Now his name is being bounced around with the best of his current division.
WBO champ and pound-for-pound monster Nonito Donaire (28-1, 18 KO) and WBA champ Guillermo Rigondeaux (10-0, 8 KO) are among the names Mares could take on if the discussions turn serious.
Mares penchant for classic battles, brutal brawls and beating the best will endear him to his fans and make those who write boxing history take favor to any major victory he's able to net in the future.
Exciting battles against the likes of living legends Toshiaki Nishioka (39-4-3, 24 KO) and Jorge Arce (60-6-2, 46 KO) also await the young warrior if he can continue to do great things in the ring.
David Haye (25-2, 23 KO) is already one of the best cruiserweights to ever step in the ring, but his heavyweight accomplishments are nowhere near as impressive.
While Haye didn't look his best in a loss to current unified heavyweight champ Wladimir Klitschko (57-3, 50 KO), he is facing the young and talented Dereck Chisora (15-3, 9 KO) in a huge British grudge match.
If the July showdown between the two Brits can actually live up to the hype and become a classic, it may deliver the type of impression Haye needs to go out on, win or lose.
If he does defeat Chisora in devastating fashion and is feeling brave, a final bout against a Klitschko in search of revenge for his lackluster loss might be the trick.
While it's a tall order to be a Klitschko, it'll be rewarding to Haye's career and likely push him over the hump as a certified legend.
Another possibility could open up, as current WBC champ Vitali Klitshko (44-2, 40 KO) plans to retire soon, leaving his little brother to dominate the division.
American standout Chris Arreola (35-2, 30 KO) is ranked No. 1 on the WBC's rankings. He'll likely get the chance to take the vacant belt.
Then Haye can have a big American fight against a fighter who delivers action and drama whenever he fights.
If defeats Chisora and Arreola impressively, the sour taste of his lost to Klitschko could be washed away enough for him to leave an unquestioned legend.
The 23-year-old Kazuto Ioka (10-0, 6 KO) has won not one, but two world titles in just 10 fights.
First, he beat Oleydong Sithsamerchai (41-1-1, 15 KO) for the WBC strawweight world championship by TKO in Round 5 with a beautifully timed left bodyshot at only 21 years old.
Most recently, he defeated Akira Yaegashi (15-3, 8 KO) by unanimous decision for the WBA strawweight world title.
Both champions were young men in their late 20s, when Kazuto came in and swept their championships up like a Japanese typhoon.
Where he goes from here will be interesting as he'll likely have to travel to take on some of the other world champions in his division.
Judging by his talent, he shouldn't have anything to worry about in his travels. He's ready.
Guillermo Rigondeaux (10-0, 8 KO) has been exclaimed by the likes of 5x BWAA Trainer of the Year Freddie Roach as "the greatest talent I've ever seen."
Rigondeaux defected from Cuba after winning two gold medals at the Olympics for them and amassing an extensive amateur career of over 400 fights.
Now he is trying to blast through the super bantamweight division as a pro and is doing a good job thus far. Having earned the WBA world title within his first 10 fights, now he awaits a unification opportunity.
Nonito Donaire (28-1, 18 KO), WBO champ, is currently unifying his title with IBF champ Jeffrey Mathebula (26-3-2, 14 KO) in July.
So long as Rigondeaux chases the winner as well as young WBC champ Abner Mares (24-0-1, 13 KO), he can most definitely become a legend of professional boxing as well as a legend of amateur boxing.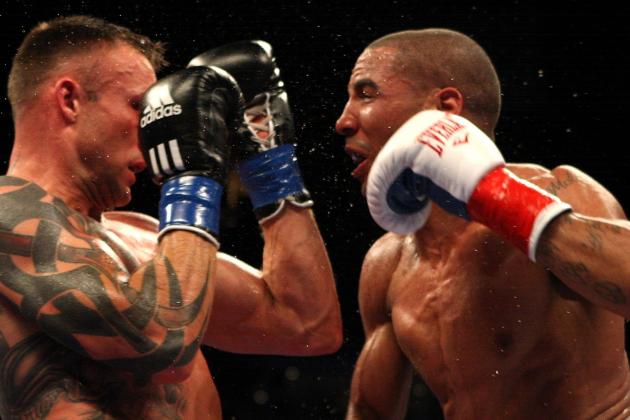 Jed Jacobsohn/Getty Images
Mikkel Kessler braces for an Andre Ward punch
After winning the Super Six Tournament and dominating the likes of Mikkel Kessler (45-2, 34 KO) and Carl Froch (29-2, 21 KO), the big question is who can challenge Andre Ward (25-0, 13 KO)?
Enter Chad Dawson (31-1, 17 KO), the light heavyweight king. Dawson is moving down to super middleweight to face Ward on Sept. 8. Should Ward win, the sky is the limit.
Dawson is the last great challenge between super middleweight to light heavyweight who could be expected to give Ward a big run for his money.
If Ward can beat Dawson in dominating fashion, a rematch at 175 could solidify Ward's previous victory and give him a championship in another division.
Rematches against Kessler and Froch could help clarify just how dominating a champ Ward is. When Ward does move up to 175, a victory over the Pascal-Cloud winner could be a great way to top things off.
Jean Pascal (26-2-1, 16 KO) has an extensive resume of awesome fights and respectable title fights. Tavoris Cloud (24-0, 19 KO) is a young knockout king one credible win from greater acknowledgement.
Beating either one gives Ward true king status at light heavyweight to go along with his status at super middleweight.
Another big fight to look for in the future is middleweight champ Julio Cesar Chavez Jr. (46-0-1, 32 KO). Chavez has an upcoming battle with pound-for-pound great Sergio Martinez (49-2-2, 28 KO).
Chavez is a fighter constantly having to prove himself to his critics. If he defeats Martinez on Sept. 15 on HBO pay-per-view, especially without controversy, his critics will be silenced.
Considering Chavez's weight problems at 160, it's expected he'll have to move up within a year. When he does, Ward will be waiting on him to fight in a big-money, legacy-enhancing fight of the century.
Follow me on Twitter @justindavidtate for more sports news, analysis and more