Arsenal: Euro 2012 and Contract Delays Could Lead to RVP Bargain
June 28, 2012

Lars Baron/Getty Images
Robin van Persie's no show at Euro 2012 has come at the worst time for Arsenal manager Arsene Wenger as his club battle to entice their star into signing a new contract.
Last year's Premier League leading scorer was in the best form of his life heading into this summer's tournament and, aside from a fairly barren final month of the season, Arsenal fans were getting very worried that a new contract for RVP had not yet been finalised.
Van Persie had told his employers that he wanted to hold off on contract talks until after the Euros, but with Holland crashing out in the group stage after a series of miserable performances, the Dutch superstar is unlikely to be in a good mood when he sits down at the bargaining table.
Had RVP finished his season on a high note with his international side, van Persie would have been in a far better mood to talk business and may have been more responsive to any promises Wenger would make about winning trophies and continuing to build a title-challenging squad around him.
But now with van Persie being forced to face the backlash of a shoddy Dutch showing at Euro 2012, the Arsenal striker could very well become frustrated beyond his breaking point with the lack of silverware in the trophy cabinet, and a move to a real title-challenger could be the perfect solution to ease the troubles of the 28-year-old star.
Manchester City have been dropping hints that a bid for the Gunner is ready and waiting to be placed, and RVP will no doubt know that there is at least one title-challenging side in Europe waiting for his arrival.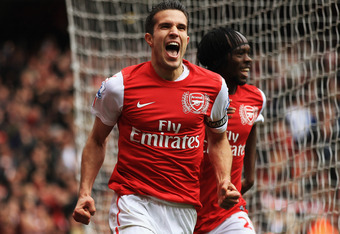 Bryn Lennon/Getty Images
With their first Premier League title in the bag, City now want to move out some of the more troubling characters in their locker room and replace the likes of Mario Balotelli and Carlos Tevez with the slightly more grounded Dutchman.
Potential suitors will be queuing up around the block for a chance to sign the Premier League's No. 1 striker, and Arsenal now face the decision of whether or not to cash in on their greatest asset, an action they appear to be preparing for with the signings of Olivier Giroud and Lukas Podolski.
If they're going to sell Van Persie, it has to be quick because the striker's asking price could be at a low after his dry final weeks of the season and a shoddy Euros campaign. The dip in form could give other clubs the opportunity to argue that RVP has peaked and therefore isn't worth splashing out £25-30 million on, especially if the forward starts announcing that he is so unhappy at the Emirates that he wants out.
With his contract running out at the end of the upcoming season, Wenger—who continues to believe that his striker will not be leaving this year—could face losing the forward without receiving a penny in return if the two parties are unable to reach a new deal, something that will upset the Gunners manager, board of directors and the striker himself.
An unhappy player is worthless to Wenger, and however much he wants to keep him, Arsene may have to let his one-man show leave for around £20 million.
It may be time to let go, and the sooner the better. The longer it takes to find a new deal with his current club, the quicker Arsenal need to cash in on their asset.
There's a high possibility that RVP will be available at a cut price, and he could become the bargain deal of the summer.