Buffalo Bills and the Hall of Fame: How Close Are Key Players to Canton?
June 28, 2012

Bob Levey/Getty Images
Are there any Buffalo Bills who could eventually wind up in Canton?
Sure there are, but their success has been so short-lived that it's impossible to say with any degree of certainty that anyone on the Bills roster will be in the Hall of Fame.
The only player who is even relatively close to the Hall of Fame is defensive end Mario Williams, and truth be told, he'd have to have a stellar career from here on out to make the cut.
Pro Bowls and All-Pro selections aren't the end-all, be-all of Hall of Fame nomination, but it's worth noting that most of the defensive ends in Canton have spent the better half of their careers at the head of the class at their position.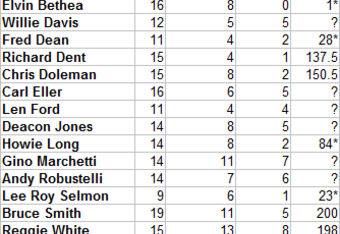 Those accolades help decorate a resumé, but in the end, the NFL is a production league. In his first six years, Williams has recorded 53 sacks. On his current pace, he'd need to play 18 seasons in the NFL to match the production of many Hall of Fame defensive ends.
Can he get there faster? Tough to tell. He's only recorded double-digit sacks in a season twice in his career thus far. 
It's safe to say that would have to happen at least a handful more times if Williams wants his bust in Canton.
Erik Frenz is the AFC East lead blogger for Bleacher Report. Be sure to follow Erik on Twitter and "like" the AFC East blog on Facebook to keep up with all the updates.