US Olympic Swimming Trials Results 2012: Missy Franklin Sets Tone with US Record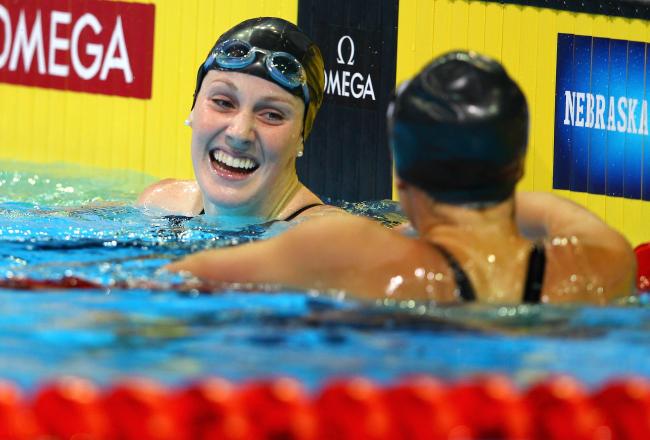 Al Bello/Getty Images
The 2012 U.S. Olympic Swimming Trials is going to be remembered as the moment that Missy "Missile" Franklin announced herself as swimming's newest star. The 17-year-old set a new American record Wednesday, while winning the 100-meter backstroke and officially, inevitably, punching her ticket to the London Games.
To pull this off, she had to chase down the two-time defending 100-back gold medalist, Natalie Coughlin, in the event that Coughlin has owned for the better part of a decade.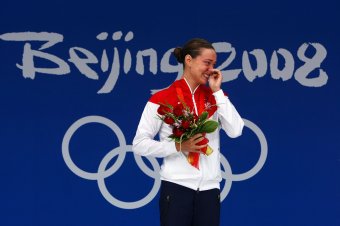 Natalie Coughlin
Clive Rose/Getty Images
Coughlin got off to a great start and looked like she was ready to make it three Olympic golds in a row. As she hit the turn, Coughlin was in the lead and setting a pace ahead of world-record time, but she could not hold on.
Coughlin, 29, was chased down by youth. Franklin and Rachel Bootsma, 18, both caught and passed her on the return stretch. This third place leaves Coughlin on the outside looking in at the Olympic team for this event—only the top two finishers advance.
Franklin finished in a time of 58.85 seconds, Bootsma posted a 59.49 and Coughlin was just behind with a time of 1:00:06.
This spectacular performance by Franklin is made even more amazing by the fact that Franklin hit the pool for this event just 20 minutes after participating in the semifinal of the 200 freestyle.
Franklin was ecstatic after her huge win, and Nancy Kercheval of Bloomberg News offered up this post-race quote from Franklin: "I can't even put it in words. It means so much to me."
Judging by this performance, this will be just one of many moments Franklin will have a hard time putting into words.
Meanwhile, Coughlin must now pin her hopes on equaling Jenny Thompson and Dara Torres as the most decorated U.S. female Olympians, by qualifying and then medaling in the 100 freestyle.
You can view a full list of results for the swimming trials here.
Other Wednesday Highlights
Phelps Wins Round 2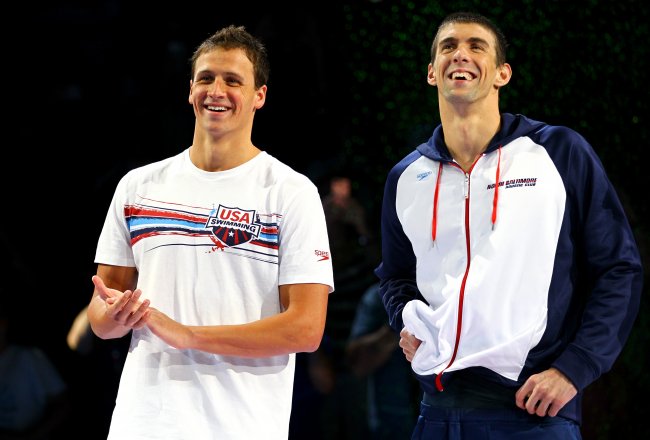 Al Bello/Getty Images
Reports of Michael Phelps' demise, which might have been made by yours truly, were just proven to be premature.
After coming in second to Ryan Lochte in the 400 individual medley earlier in the trials, Phelps returned the favor by edging out Lochte by .05 in the 200 freestyle. By taking first and second, both men qualified for the Olympics in this event.
Phelps won with a time of 1:45:70. While the goal was clearly to just secure one of the two top spots, this is a big mental victory for Phelps. Lochte has been getting the best of him, and with this win, Phelps has just proven to himself and everyone else that he is not ready to pass the torch just yet.
Phelps did not have long to enjoy this triumph. He was back in the pool minutes later and qualified for the 200-butterfly finals.
Phelps and Lochte could face each other four more times before the trials are over.
Larson Edges Soni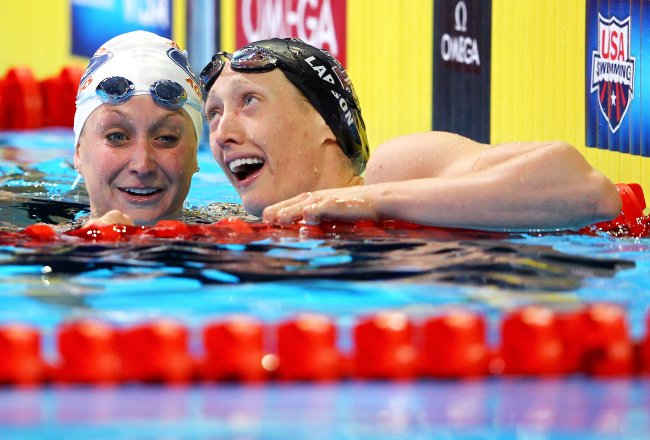 Al Bello/Getty Images
Breeja Larson, the Texas A&M sophomore, took the 100 breaststroke by barely edging out defending world champion Rebecca Soni. Larson posted a time of 1:05:92, which was just .07 ahead of Soni.
Soni was closing quickly at the end of the race, and likely would have won if this was the 105-meter breaststroke—but as it is, Soni can't be too saddened by the result. She still earned her spot on the Olympic team with her second place finish.
The same cannot be said for Jessica Hardy, who finished third at 1:06.53.
Grevers Sets the Water on Fire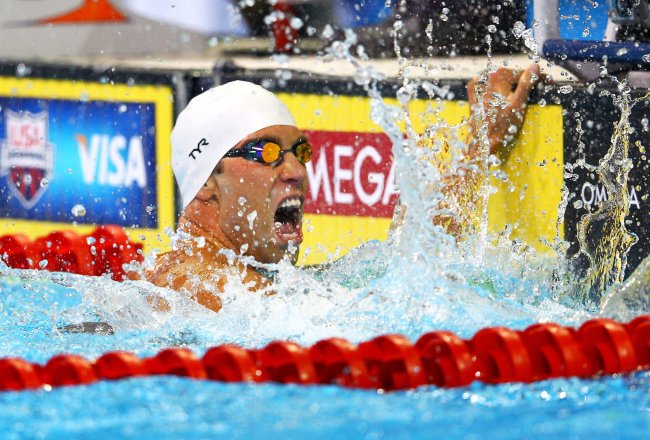 Al Bello/Getty Images
Matt Grevers made the Olympic team in style. He took the men's 100-backstroke top spot with a time of 52:08. That is the second-fastest time ever for this event.
Nick Thoman came in second and earned the other Olympic spot offered from this event.
This article is
What is the duplicate article?
Why is this article offensive?
Where is this article plagiarized from?
Why is this article poorly edited?