Tiger Woods Gears Up for Majors Stretch and Top Storylines at AT&T National
June 28, 2012
Chris Trotman/Getty Images
The world's top golfers are gearing up for the AT&T National Championship at Congressional and it's setting up to be a weekend filled with intriguing storylines.
Tiger Woods will be in the field fighting for his third win of the season, which could make him a favorite for Player of the Year honors in a season where no major winner has been consistent.
It will be an eerie feeling with the absence of Rory McIlroy, who tore up the U.S. Open at Congressional last year at a record-setting pace with a 16-under score of 268. McIlroy will be at home in his native Northern Ireland while his peers are battling the course he dominated just a year ago, leaving the field wide open without the recent dominator. 
Let's take a look at the most interesting headlines heading into the weekend.
Can Tiger Gain Some Momentum and Actually Use It?
After the type of season Tiger Woods has had, it'd be foolish to assume that a win this weekend means that Woods is the favorite going forward to July's British Open.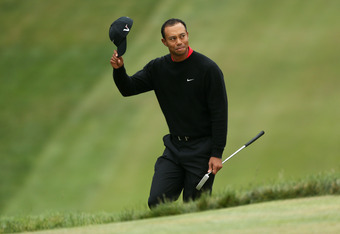 Andrew Redington/Getty Images
He won the Arnold Palmer Invitational in March just before the Masters, and we crowned him as a heavy favorite to take it home at Augusta. He didn't.
Then, he won the Memorial in spectacular final-round fashion just before the U.S. Open. Once again, he was assumed to be an overwhelming favorite, and he didn't deliver.
Are we expecting too much of Tiger? Are we just overreacting? 
Whatever it is, there's no doubting that a win at Congressional would be a big boost to his game and further prove his re-emergence in the sport.
Woods won the last time he played at Congressional, but that was back in 2009 at the same tournament. 
Is Beau Hossler a Contender or Pretender?
The arrival of Beau Hossler to the PGA Tour could not have happened in much bigger fashion.
Hossler, a 17-year-old amateur and a rising senior at Santa Margarita High in Orange County Calif., somehow found himself vying for a major championship in the final round at the U.S. Open. He ended up finishing tied for 29th, but finds himself invited to the PGA Tour event.
The youngster captivated the millions who tuned in to the final round at Olympic Club and will be among the biggest storylines heading into weekend play.
It's unrealistic at best to assume Hossler is a contender to win, but he's surprised us before. Last time we caught a great player this young it was Tiger, so you have to keep an eye on him. 
Is K.J. Choi on His Way Back, or Slowly Receding?
South Korean golfer K.J. Choi has become one of the more well-known players on the tour in recent years, but we've not seen his career blossom the way it was once anticipated.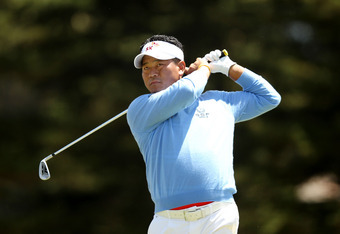 Ezra Shaw/Getty Images
He's now 42 years old and is slowly losing chances to win his first major, and has only won eight PGA Tour events. Forty-two is not old by golf's standards due to golf players' slow declines, but his time is slowly running out.
Choi has missed three of his last seven cuts and is going through an average 2012 season, but Congressional is just the place to turn it around.
Though, he quietly finished tied for 15th at the U.S. Open despite not being talked about at all. He's played well at Congressional in the past, and this could be the first step in the movement to win his first major.