MLB Trade Rumors: Players Cincinnati Could Move to Acquire Trade Deadline Help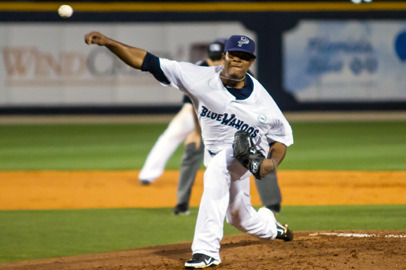 Photo Courtesy of Google Images
Recently, we have found ourselves discussing some possible trades that the Cincinnati Reds should pursue before the trade deadline. With all of that discussion underway, now is the time to begin looking at the Reds and what kind of bargaining chips that they can bring to the table.
This article takes a look at some of these chips—dividing them into three categories: minor league pitchers, minor league position players, and players from the Big League roster.
We will follow that up with a look at some players rumored to be available and attempt to predict what it would take to acquire them.
Let's have some fun and be sure to chime in with your thoughts.
Begin Slideshow

»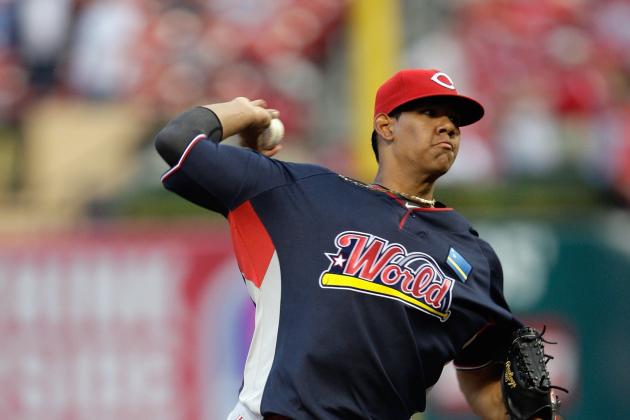 Jamie Squire/Getty Images
J.C. Sulbaran is pictured here in the 2009 All-Star Futures Game.
Pitching prospects will most likely need to be a part of any deal of major significance—that is just how the trading game is played. Here are three Reds minor league pitchers that I speculate could find themselves as trade bait in the coming days and weeks.
J.C. Sulbaran: Sulbaran is a hard throwing right-hander with plenty of potential. His control and pitch location are the only things that really hold him back. His potential must have been thought of highly enough though for him to have been invited to the MLB All-Star Futures Game in the past. He struck out 155 in 137 innings last season to go with a 4.60 ERA. He currently boosts a 4.32 ERA with 84 K's in 77 innings pitched.
The Reds should be willing to part with Sulbaran since the team has a pretty good stock of young arms and he has been slow to develop.
Kyle Lotzkar: Lotzkar is a left-hander that was a supplemental first-round pick in 2007. He was drafted with rave reviews only to be hampered by injuries his entire career—until this year, that is. Lotzkar owns a 3.08 ERA with 83 K's in 73 innings pitched at Double-A (already a career high innings pitched). These stats have earned him an invite to this year's MLB All-Star Futures Game. Kyle has a ton of potential and could be considered a "B-plus" prospect with "A" potential.
The Reds would probably be willing to part with Lotzkar for someone who is not a rental player. He is a high-risk/high-reward type of prospect.
Daniel Corcino: Corcino has the name recognition. He tossed eight of the nine innings of no-hit ball in a June 16th Blue Wahoos no-hitter. He has been compared regularly to Johnny Cueto and his stats resemble Johnny's minor league stats. He owns a 3.41 ERA with 71 K's in 74 innings pitched at Double-A. Corcino is a "Type A" prospect.
The Reds think very highly of Corcino but, with the right player in return, he could be available and carries tremendous value.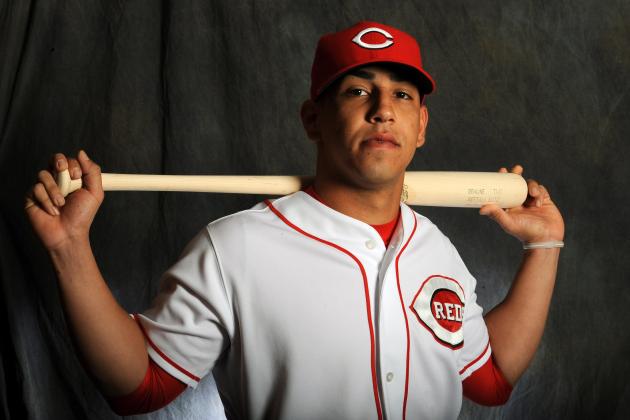 Rich Pilling/Getty Images
Neftali Soto is beginning to heat up at Triple-A Louisville after a slow start.
Aside from a right handed power-hitting left fielder, the Reds are pretty set with their starting-eight. The have talent to spare, especially in the middle infield. Here are three minor league position players in the Reds' farm system that could be used as bargaining chips.
Didi Gregorious: Gregorious continues to be a prospect that draws attention. The left-handed hitting shortstop finds himself in a long line of Reds middle-infield prospects. With Cozart at short for the Reds and Billy Hamilton and Ryan Wright behind him, Gregorious is suddenly the odd-man out. He projects to be a serviceable Major Leaguer, so he maintains trade value. Didi is currently hitting .286 with a .700 OPS at Double-A
The Reds like Gregorious but, should be willing to deal him with the log-jam of talent at the position.
Neftali Soto: Soto has been steadily progressing and had a true break-out season last year with 31 home runs in 396 at-bats. He struggled for the first couple months of this season but has really began to turn things around. The right-handed Soto could find himself Major League ready by September. Soto could provide a young power talent to a team looking to rebuild or stock their system.
The Reds should be willing to part with Soto because of his position - he is a first baseman. His high strikeout totals and low walk totals are also a concern for the Reds who need more contact bats in the lineup.
Ryan LaMarre: LaMarre is a speedy outfielder who stole 55 bases last season. He would make an excellent fourth outfielder for the Reds as soon as late next season if needed. He is great defensively but has been slow to develop power on the offensive side. He will be a serviceable Major League player and could become a defensive specialist.
The Reds could add LaMarre to the chip collection. The team has current young talent at all outfield positions and plenty of young guys following LaMarre that could easily fill his shoes.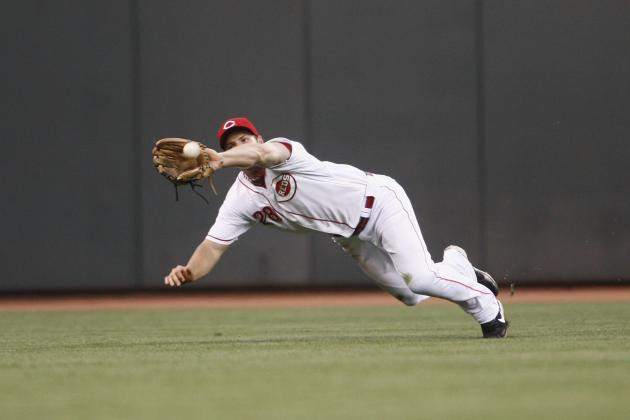 John Grieshop/Getty Images
Chris Heisey could be used as a pawn to draw in another power bat.
Sometimes teams are looking for current Major League talent. The Reds have a few players that could be expendable for the right players in return. Here are three players on the Big League roster that could find themselves available for immediate upgrade.
Bill Bray: Bray is a great talent, but his inconsistency and injury proneness is not what this club needs. They have had a very stable bullpen and Bray is threatening to interrupt that. This is not the time for it. The Reds have another lefty in Donnie Joseph at Triple-A who is ready for the call. The team should be in the market for another reliever to sure up the pen and utilize Bray as bait.
Chris Heisey: Heisey's offensive abilities can be frustrating. He is very talented and if he ever puts it all together, he has the potential to be a 20-plus home run guy with a .270-.280 average. He is an above average defender in the outfield. Because of his potential, what he has already achieved, and his age, teams in need of outfield talent would definitely be interested in the Reds' outfielder.
Alfredo Simon: Simon has turned into another great Rule 5 pickup for the Reds. His 1.78 ERA and BB/K ratio have been excellent. A team that is looking to unload some salary would show interest in the low-cost Simon. Since he normally pitches when the Reds are behind, he isn't as crucial of a piece to the club as others in the bullpen, though he does play a great role in keeping the games close and eats up innings doing it.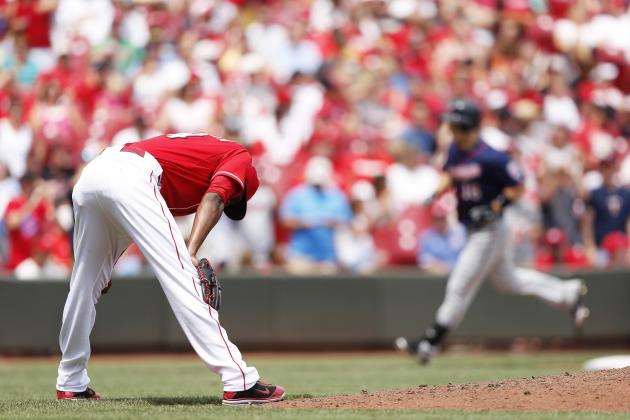 Joe Robbins/Getty Images
Josh Willingham took Aroldis Chapman yard for a game-clincher, could he find himself back in Cincinnati and in a Reds uniform?
The Reds are in definite need of a right handed power-bat. Especially, one that can play left field. Brandon Phillips has begun to produce as of late and leads all second baseman in RBI. But, the most pressing problem is that runners are not getting on in-front of Joey Votto and teams still do not fear Phillips.
With Phillips in the leadoff spot, the team begins to address one disturbing fact—that Joey Votto ranks 3rd in the most at-bats without any runners on base, among all players batting third in the order. Less people on means less run-producing opportunities for Votto.
Potential suitors for the Reds clean-up role could include Carlos Quentin and Josh Willingham.
ESPN's Buster Olney continues to list Cincy as a possible landing spot for Carlos Quentin. but what would the San Diego Padres want in return and would the cost be worth it?
San Diego will most likely be asking for a grade A "pitching" prospect in whatever deal they agree to. Hear are a couple of scenarios that I could see San Diego accepting for Quentin:
Ryan LaMarre and Kyle Lotzkar to SD,
Didi Gregorious, Kyle Lotzkar to SD,
or Daniel Corcino to SD
As much as I like Quentin, I wouldn't pay any more for him. He is a rental player after all. But, if they feel that he can truly put them over the top for this year, then maybe you do pay more. I would almost certainly nix the Corcino trade, unless they were able to work out some sort of contract extension in the deal.
Quentin is a bat that I really believe would make this team N.L. Pennant favorites because of the immediate domino affect in the order and the protection he brings to Votto.
Josh Willingham on the other hand comes with a little less name recognition. MLB Trade Rumors continues to report that the Twins are in the market for pitching and they are willing to use Willingham to get it. Josh is signed through next season and could also make an immediate impact.
Here are some possible scenarios that the Twins may accept for Willingham:
Bill Bray, J.C. Sulbaran, and another pitching prospect (Pedro Villarreal) to MN,
or Kyle Lotzkar and Alfredo Simon to MN
Josh Willingham is probably the way to go here. He is less costly in terms of what you give up and in salary. You get only slightly less production but unlike Quentin's low strikeout rate, Willingham fans at a much higher rate. Either trade proposal for Josh are both win/win deals.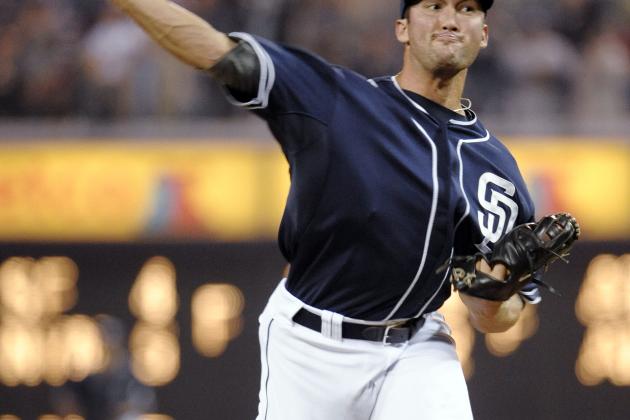 Denis Poroy/Getty Images
Could the Reds target Padres closer, Huston Street?
As I have stated before, the Reds need a sixth starter ready to step in when injury strikes. That guy needs to be Aroldis Chapman. But, in order for that to happen they need to bolster the bullpen. MLB Trade Rumors Reports that Grant Balfour, Huston Street, and Brett Myers are all on the market.
All three of these relievers would benefit the Reds. Balfour will come the cheapest, while Street and Myers will cost more in return and salary.
Oakland should be looking to pick up arms, shortstops, and defensive speedsters like Ryan LaMarre to cover the large grounds in their stadium. The Reds could probably pick up Belfour for:
Didi Gregorious and Ryan LaMarre to OAK,
or Didi Gregorious and Bill Bray to OK
San Diego will be in the market for Major League ready outfielders to replace a departing Quentin, young arms, and bullpen help. Cincinnati could land Street for:
Didi Gregorious, Bill Bray, and J.C Sulbaran,
or Chris Heisey, Gregorious and Alfredo Simon
Houston should be in the market for potential power bats and young pitching. Chris Heisey and Neftali Soto could thrive with the short left field fence in Houston. The Reds may be able to grab Myers for:
Neftali Soto and a minor league relief pitching prospect,
or J.C. Sulbaran, Chris Heisey, and minor league relief pitcher
All of these trades are within reason. Depending on the competition, there could be other minor prospects included in deals. Relief pitching is usually pretty reasonably "priced" during trade season.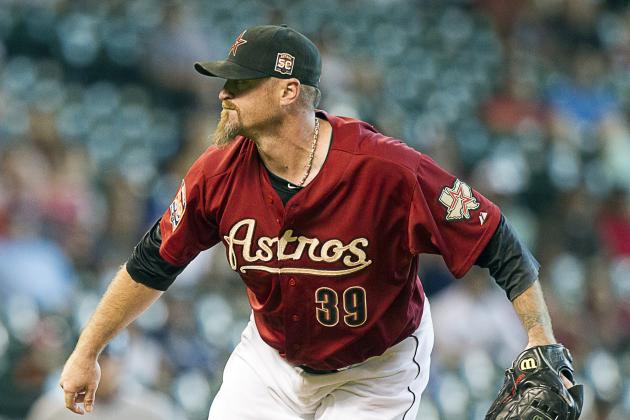 Bob Levey/Getty Images
Brett Myers would look good in a Reds uniform.
The Reds have plenty of pieces that they could move and use to fill in the gaps. The players that I have listed seem to make the most sense and would definitely draw interest from other clubs. What I have tried to do is create a gauge as to the caliber and type of players that other teams would want in return.
One item to contemplate when determining trade value is—are you looking for immediate benefit, long term benefit, or both?
I honestly believe that this team right now has a wide open window to march late into October. But, like I said in my previous article, 5 Moves to Push the Reds Into October, this team is very good, but they need to make some moves to be great.
Do the Reds play the lottery here, take on some risk, and take advantage of good odds by going after Quentin and a ring this season? Or, do they play it safe and hold onto talent hoping they did enough and save that talent for further down the road, when there is no definite that they will be in this same position down the road?
Don't forget that the Reds were supposed to repeat last season, but injuries got to them and closed the window of opportunity.
Make sure to chime in with your thoughts and trade proposals. Is there a player that you think the Reds should pursue that was not listed here? Let us know.