Euro 2012 Spain vs. Portugal: La Roja Deserve Win, but Not Praise
June 27, 2012

Alex Livesey/Getty Images
Let's get something out of the way early—Spain deserve to be in the final. Everything I write from here on out is in no way meant to diminish their victory over Portugal in the Euro 2012 semifinals, which gives them a chance to defend their title Sunday against the winner of Germany and Italy. But there is nothing that comes away from this game to suggest that they are the team they have been built up to be.
This incredible footballing revolution began over six years ago as Spanish power houses Real Madrid and Barcelona developed brands of football that would be superior to any other competition out there. The fluidity in their passing was sublime, lulling the opposition asleep and manipulating them out of position. That translated into international success first in 2008, winning Euros, and then again in 2010 at the World Cup.
The style was more than just the flavor of the month; it had become a cultural phenomenon in the game.
The fact that the cyclical nature of sports, that which follows the laws of cause and effect, has been slowed by Spanish tactics is a testament to its greatness. The reason why sport history is defined by eras is because there is always a reaction attempting to counter the current trend.
For much of the past four years, every country who has faced the Spanish has tried to beat their passive approach by building a wall of defense. In truth, this is the best way to defeat them as no one can beat them in the conventional form. Spain is just too good.
But Portugal did not out play Spain anymore than the Spanish did Portugal. In fact, by the end of the 120 minutes, the stats looked much more familiar to a Spanish game, dominating in pass accuracy and possession.
So then why, if all the figures suggest this was a normal Spanish game played by the best Spanish players, did they need penalties after a nervy 0-0 draw to advance?
Hubris
As I watched Spain look bewildered by what is arguably one of the "lesser" defenses (purely in terms of player talent on paper) left in the tournament, it struck me that perhaps the kings have sat too long unchallenged on the throne, and the expectation of the team to sit back and allow them to have their way was too engrained in their approach.
Portugal pressed hard and made Spain need perfection to win, something they were far from.  They did not attack their weaknesses, like forcing them through the air, but rather their strengths by getting into their feet and cutting off passing lanes.
It was a pedestrian performance by Spain's standards and capped with a horrendous coaching job. You can say the play of players was done out of ego, but Vicente del Bosque's coaching job was nothing more that arrogant.
In three of the five matches Spain has played, Del Bosque has decided to go with a different forward lineup, twice with Fernando Torres, today with Alvaro Negredo and finally opening the tournament with midfielder Cesc Fabregas in the forward role.
Besides one moment when Fabregas got in behind Italy and scored the team's only goal, it was a debacle not having a striker up top. Torres came on later in that match and made a vast difference getting two breakaways which he should have scored.
Torres started the next two games, playing well in the first against Ireland with two goals and okay at best against Croatia, before going back to Fabregas against France.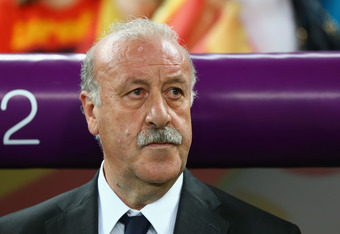 Martin Rose/Getty Images
Then out of the blue, against a very tough Portugal team, Negredo gets the start? A 26-year-old who has featured for only a minute to waste time against Croatia and only a dozen times before this tournament for Spain?
It's as if Del Bosque is trying to make the team's history his history. That when this is all said and done, the Spanish triumphs of the past four years will be remembered by his innovative tactics, which are looking more and more like guess-work out of egoism.
Being the smart man he knows he is, he is well aware of the lack of perspective that fans have for sports. That should they win Euro 2012 without fielding a striker, he will be deemed a genius of the game and canonized for the fresh approach, much the way Alf Ramsey was for his "wingless wonders" in England 1966.
Yet, this is just making him look like a foolish egocentrist who is more concerned with his legacy than the teams'.
Thuggery
It has started to creep into the fans subconscious over the past few years and is finally reaching their tongues—this team can play very ugly football.
This is not so much in the style of their play as it is the way they present themselves. So many times do we lay praise on the beauty of what they do with the ball that we often dismiss the malfeasance they perform off it. They dive, whine and look for calls more than any other team I can picture.
Now, this is of course a very smart weapon that benefits them in the biggest moments. That much skill and talent is rewarded with the benefit of the doubt from officials and fans. When you can pass and move with such speed and grace, any time you are put off your stride, the assumption must be foul play.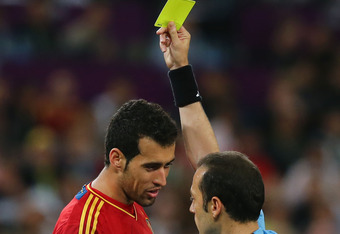 Martin Rose/Getty Images
But today, there was no sugar coating the manure they produced at every foul or indiscretion. It ran the gamut from diving to unsportsmanlike mockery when Portugal was merely playing a physical and tough game. Never once could I recall a player of Portugal making a malicious move that would seem outside the reasonable limits, yet as the tension rose for Spain, you could see them begging for calls that were not there.
A few instances were Sergio Ramos got a phantom foot to the face (to his credit he did get up quickly, but more because he saw his own stupidity in such a reaction), Sergio Busquets mimicked Ronaldo going down in the box, despite being a known diver himself, and Pedro fished for a penalty near the end.
What really had me raise my eyebrow was the hypothetical hypocrisy. In extra time, Xabi Alonso was booked for a high tackle aimed to take down Ronaldo who would have been gone with the ball. It was the right call and a smart play by Alonso. But had it been a Spanish player getting hit like that, you would be almost certain to see the players shamelessly maraud the official until given what they want, something they had done a few minutes earlier on a Portuguese foul.
Let's be real about this for a moment and put some perspective on this team—They are great players and Spain is one of the best national sides ever assembled, but they are not immune to criticisms of thuggery.
Randomness
This game was won in penalties, the most random way to decide the outcome of a sport, any sport. The fact that Spain are in the Euro finals can be attributed to the same exact reason England are not.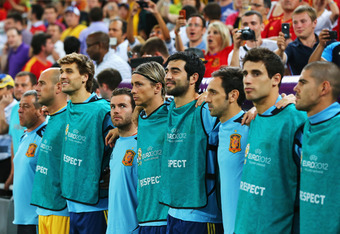 Martin Rose/Getty Images
I would prefer that another method be used to decide such high stakes in terms of fairness, but for entertainment, nothing beats this. And after all, sports are entertainment, nothing more. But to lap on praise to a team that needed a side with two center-backs taking shots and a horrendous managerial error that kept the world's best player from taking one is just foolish.
All credit to Iker Casillas and all the Spanish players who scored their PKs. It is an easy task right up to the moment you put the ball on the spot and the enormity of it all sets in. But to suggest that these players had "nerves of steel," more character or are better players is attempting to find reason to the randomness rather than just letting it be.
All postgame commentary is benefited with the aid of hindsight. We are able to justify the results by the actions of the players and managers who we criticize, yet who must make those actions justify the results. However, in the unique case of penalties, the results are the product of a different game where the 120 previous minutes of play matter not the slightest.
England did not lose their shootout because they were outplayed by Italy. They lost because two players missed their shots. Similarly, Spain did not win theirs because of a flurry of chances in extra time. They won because they made their shots.
Attempting to find a link between the two will leave you a flawed argument and place an artifice of admiration that Spain do not deserve.
Once again, Spain deserve to defend their title, but not for how they played. It's simply because they won. In the results based industry of sports, process will never supersede outcome. However, it can be a decent indicator of the future.
Whether Spain play Italy or Germany, they should be favored to win it all once again. There is too much recent history to suggest otherwise. But nothing from this game should be repeated. Luckily for them, there is time to recognize these shortcomings and bring back the champion mentality they posses.
For all my articles, follow me on Twitter: @thecriterionman