US Olympic Trials 2012, Track and Field: 5 Must-See Events When US Trials Resume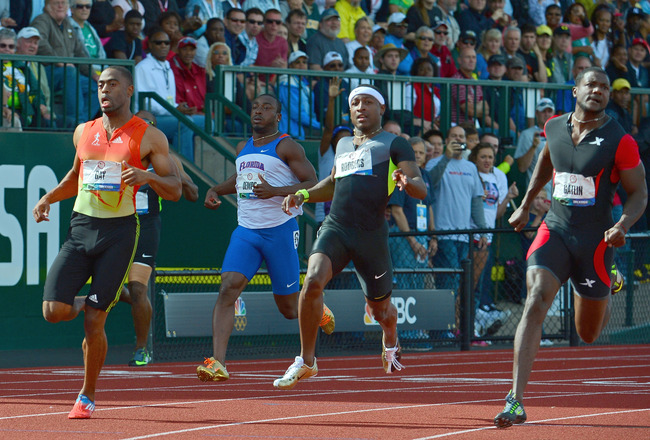 Michael Heiman/Getty Images
With four days remaining, there are still a lot of exciting events to watch at the 2012 U.S. Olympic track and field trials.
Athletic competitions such as the pole vault, steeplechase and 1,500-meter run are among them.
However, there are other must-see events remaining that take the cake. A prime example is the 200-meter dash.
It's fast, yet athletically compelling, as sprinters are not just moving in a straight line from the start.
As we dive more into the 200, we'll also find what the top five events are when the trials get back in action.
5. 200-Meter Dash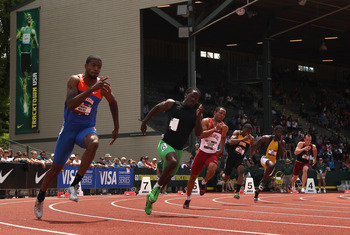 Christian Petersen/Getty Images
Athletes to Watch
Women: Allyson Felix (two-time Olympic 200-meter silver-medalist), Lashaunte'a Moore (2004 NCAA 200-meter champion)
Men: Walter Dix (2008 Olympic bronze medalist), Wallace Spearmon Jr. (200-meter third place in 2008 U.S Olympic Trials)
One of the most overlooked aspects about the 200 is sprinting the turn.
It's much easier to run full speed and accelerate into a straight line, but possessing the agility to lean and remain balanced while exploding out of the blocks takes work.
Here, the athletes will be using their core muscles more than any other sprint because of how quickly each must engage the turn.
In an event like the 400-meter dash, athletes may use the core muscles for each turn, but nowhere near to the extent of the 200.
After the turn, those who can smoothly transition their body weights at such a high speed have the edge. The final 100 meters is just that dead sprint toward the end.
However, propelling out of the turn and into a line is where we'll see the better sprinters pull away.
4. Men's Discus Throw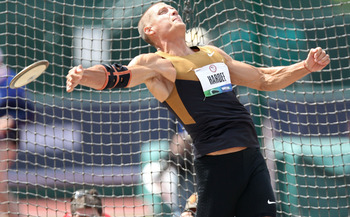 Christian Petersen/Getty Images
Athletes to Watch
Ian Waltz (2008 U.S. Olympic Trials champion), Jason Young (two-time U.S. outdoor runner-up)
Big, strong men tossing a little disc is fun to watch.
Even more impressive, though, is how much kinetic energy a discus thrower must accumulate before releasing the disc.
On top of kicking into a spin and exploding upward from a squatted position, a thrower must also be keenly aware of not fouling. The discus ring is not a significantly large area, and the slightest misstep could prevent an athlete from making the perfect toss or maintaining balance.
That said, when a thrower does perform a technically sound kick, spin and release, it's an amazing sight to see how far the disc carries.
And, when watching the athletes, there is a noticeable enough of a difference in technique between the best and mediocre.
3. Men's Triple Jump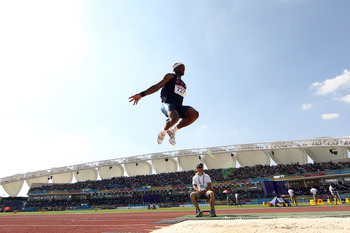 Scott Heavey/Getty Images
Athletes to Watch
Men: Christian Taylor (2011 U.S. outdoor champion), Walter Davis (three-time U.S. outdoor champion) (The women's triple jump was completed Monday.)
Easily one of the more underrated events in track and field, the triple jump requires a lot of tangible attributes like balance, speed, quick explosiveness and control.
Another attribute the triple jump also requires more than other events is dexterity.
Obviously more dexterity with the legs but, when watching long-jumpers and high-jumpers, each athlete has to leap from one leg.
The triple jump forces an athlete to have confidence in bounding off both feet to gain distance. Regardless of which foot the jumper first uses, each leg has to be equally strong in order to maximize potential.
Then, while leaping from each foot, the jumper must also maintain momentum and control. It's easy to lose balance when bounding at near full speed.
Getting the most from each jump can only happen with continued momentum.
2. 400-Meter Hurdles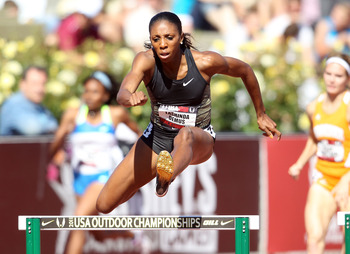 Andy Lyons/Getty Images
Athletes to Watch
Women: Lashinda Demus (three-time U.S. outdoor champion), Queen Harrison (two-time U.S. outdoor runner-up)
Men: Bershawn Jackson (four-time U.S. outdoor champion), Angelo Taylor (two-time Olympic gold medalist)
The 400-meter hurdles is arguably the toughest and most physically demanding event in track and field.
For one, the 400-meter dash is tough. Adding hurdles to it only enhances the difficulty. These are the athletes who possess arguably more stamina and overall strength than anyone else.
Here, maintaining a flawless running form and minimizing the effort to get over the hurdles is key. Once an athlete bounds over a hurdle, he or she immediately loses critical distance from the other competitors. A big advantage comes from taking the same number of steps between the hurdles.
In turn, this keeps speed and gets the athlete into a rhythm, which decreases the effort needed to maintain momentum. The better competitors in this race will have a connected flow between running and hurdling.
1. Women's Heptathlon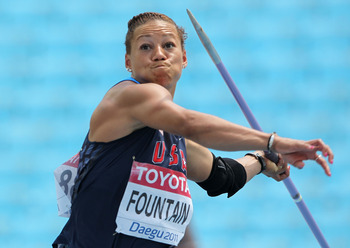 Andy Lyons/Getty Images
Athletes to Watch
Hyleas Fountain (four-time U.S. outdoor champion), Ryann Krais (2011 U.S. outdoor runner-up)
An eclectic event, the women's heptathlon puts the most well-rounded athletes together in seven various competitions.
The entire event consists of the 100-meter hurdles, 200-meter dash, 800-meter run, long jump, high jump, shot put and the javelin throw.
Now, these athletes may not be as great as a true 200-meter sprinter or long-jumper.
But, we have to keep in mind that this event is not narrowed to any one strength. In order to have a chance at winning each, a competitor must be good at everything—as opposed to great at one specific area.
The 800 simply requires strong lungs and stamina, whereas the sprints and jumping events need more acceleration and explosion.
Nonetheless, watching how well athletes can transition between varied events displays impressive versatility.
Follow John Rozum on Twitter.
Keep Reading