NBA Free Agents 2012: Players Who Will Be Biggest Bargains of Offseason
June 28, 2012

Jim Rogash/Getty Images
Even at 36 years old, Ray Allen has drawn interest from the Miami Heat per Brian Windhorst of ESPN. After an injury-filled season, I expect to see Allen come back in even better shape the he normally is.
Allen is known for his amazing conditioning and he'll do everything he can to come back strong.
It'll help that he won't have to worry about another rigorous schedule next season. Without the lockout, players will have more time for their bodies to bounce back between games.
That's key for older players like Allen. With the Heat, he would undoubtedly come off the bench to play anywhere from 15 to 25 minutes per game. That is perfect for his skill set and this stage of his career.
Allen could only get a contract from Miami in the neighborhood of $3 million per year. But it would be well worth it considering his potential impact as a three-point shooter.
Allen to Miami isn't a done deal, but it makes the most sense.
No matter where he goes, he isn't likely to get more than the mid-level exception. But his impact will be far greater than that, especially for a contender like Miami.
Here are two other free agents whose impact will exceed their contract:
Gerald Green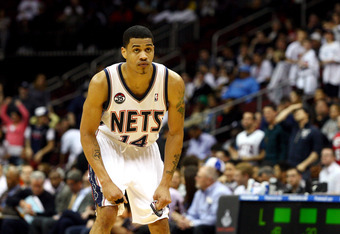 Chris Chambers/Getty Images
Green was already supposed to have made his impact in the NBA, at least three years ago. He came out of Gulf Shores High School in Houston and was a first-round pick of the Boston Celtics.
Green displayed his crazy leaping ability by winning the 2008 Slam Dunk contest, but his game was still a bit raw.
Green bounced around the D-League and has been out of the NBA for the last two seasons.
He finally got another shot and had a solid stint in the NBA late last season. He made the D-League All-Star Game, and received the call-up to the Nets at the end of February.
The former 18th overall pick in 2005 made the most of it.
He averaged 13 points per game in just over 25 minutes. Green was productive and exciting, he threw down this sickening alley-oop slam that earned him his share of highlights:
Green made only $150,000 last year, but you can bet he'll make more next season. He hasn't done quite enough to earn a significant deal, but I believe he's ready to make a real impact.
He's only 26 years old, an unrestricted free-agent, who is obviously athletic and he can score. But most important of all, he's ready to stay in the NBA this time. 
Eddy Curry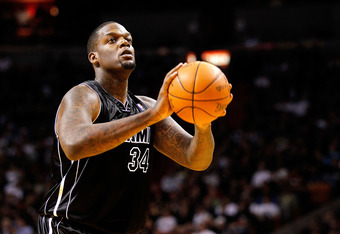 Mike Ehrmann/Getty Images
I know you may be snickering right now, but many have forgotten that Curry has always been a talented offensive player. He averaged double figures six years in a row, and as much as 19.5 points per game.
Personal problems and a lack of discipline did a job on his career, but he's only 29 years old. 
According to an article from Chris Tomasson of Fox Sports, at one point Curry weighed almost 400 pounds. Now he weighs less than 300. No matter how you look at it, weight-loss like that takes dedication.
Curry wants to get back on the floor and if he stays in shape, the hard work he put in this year will pay off. The NBA champions didn't use him much this year, and head coach Erick Spoelstra says that was due to the truncated training camp, and the fact that Curry had only 10 practices with the team.
He expressed interest in having Curry come back next year, but Curry is non-committal.
It seems the conditioning and being in a winning environment has lit a competitive fire under him. With the amount of big men who can score at a premium, a fit Curry will draw some interest.
I believe that if he gets the minutes, he still has some good basketball left in him.
Follow Brian Mazique and Franchiseplay.net for reactions, analysis and news from the world of sports and sports video games.