NBA Draft Rumors: Thunder Eye Brad Beal, but Don't Bet on a Deal
June 27, 2012

Doug Pensinger/Getty Images
The Oklahoma City Thunder have done their homework on Florida shooting guard and blue-chip draft prospect Bradley Beal. In fact, according to ESPN's Andy Katz, Oklahoma City has examined different ways to move up in the draft to select Beal. But given the Thunder's late position in the first round (No. 28), and the way Beal's stock has soared, a trade to move up in the draft is unlikely.
Beal is the third-best draft prospect on ESPN Insider Chad Ford's top 100. Recent projections and rumors have him slated to go No. 2 to the Charlotte Bobcats, meaning Oklahoma City would have to move up considerably to land Beal.
A trade to move up high enough in the draft to get Beal would also mean that the Thunder would have to trade James Harden.
To get Beal, the Thunder would undoubtedly have to move James Harden, the NBA's Sixth Man of the Year. League sources said the Thunder wouldn't be able to avoid serious tax issues if they had to pay lucrative contracts to all four of their marquee players in Kevin Durant, Russell Westbrook, Serge Ibaka and Harden. The first two won't be moved. But to trade Harden to a team such as Charlotte would be a risk for the receiving team since there is no guarantee Harden would sign a long-term deal beyond the one year remaining on his contract. Also, the Thunder would be disrupting a team that was three wins away from winning an NBA title.
As Katz points out, the moving parts involved in making such a trade make it unlikely to go through. The only reason for the Thunder to trade Harden is because he's only got one year remaining on his contract, and the Thunder can't afford to pay Harden, Durant, Westbrook and Ibaka without paying a huge amount in luxury tax.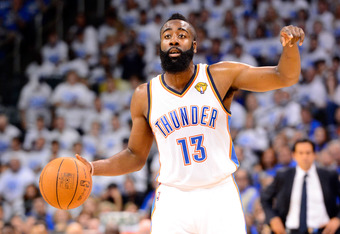 Ronald Martinez/Getty Images
After coming so close to winning a title, why would the Thunder want to break up the team by getting rid of one of its best three players? Furthermore, it's not like Harden is an old player. At 22, Harden is not yet in his prime and is likely to only get better.
Beal, though a great prospect, is still only that—a prospect. Why would you trade a proven commodity like Harden, who's only going to get better, for an unproven player?
The Thunder are in a position to win now. Anything that takes them further away from that goal, as this trade would, is counterproductive.
As far as Charlotte is concerned, the Bobcats aren't in a position to contend any time soon. So unless they have a guarantee that Harden is willing to sign an extension, the trade makes no sense for them.
Even then, acquiring Harden and signing him to an extension is going to cost a lot of money. Are the Bobcats close enough to contending to justify giving a player a max deal, even one as young as Harden? It's debatable at best.
Let's assume that the trade goes through for a second and that Charlotte signs Harden to an extension. Even if things pan out well in next year's draft, the Bobcats—who posted the worst winning percentage in NBA history—are probably still two or three years away from making the playoffs. But until that time, they'd be paying Harden upwards of $15-20 million.
Is it really worth it to spend that much money in the first few years of Harden's deal so that you can possibly compete in the last few years?
While a draft pick like Beal might not necessarily pan out for Charlotte, at the very least you're not committing much money to him.
It sounds like Oklahoma City is just kicking the tires on Beal. But ultimately, it doesn't make much sense for the Thunder to part with Harden, and it might not be in Charlotte's best interest to take on that much salary, even if Harden is willing to sign an extension.