Heartbreak for Ronaldo and Portugal as Stubborn Spain Reach Euro 2012 Final
June 27, 2012

Spain won't wake up to plaudits for their team's beautiful football tomorrow morning, but that won't matter a tiki-taka tot to a nation that finds itself in a third successive major final at Euro 2012.
Great teams find a way. And for Vicente Del Bosque's revered, ball-playing conquistadors, the way against Portugal was as much about blocking the road as it was about making inroads of their own.
Portugal can feel aggrieved they lost on penalties. Paulo Bento's men gave Spain their fiercest test of the tournament and rightly showed no respect for their reputation. Their high-pressing game succeeded in unsettling Spain's rhythm for long periods, and we saw little of the tiki-taka torture that's been inflicted on many of their hapless victims these past four years.
Soon enough, it was clear Bento's Portugal would not be resigned to a walk-on role in Spain's latest possession show-reel. These were two teams playing at the same level, and had the game been called at 90 minutes, a points decision would have been split right down the middle.
In extra-time, Spain grew stronger and finally began to resemble the team who won Euro 2008 and the 2010 World Cup. As Portuguese legs wearied, gaps appeared and both Andres Iniesta and Jesus Navas had chances to win the game outright.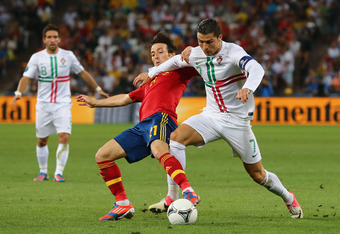 Martin Rose/Getty Images
Maybe if Del Bosque had deployed a natural striker where Cesc Fabregas was stationed from the 54th minute onwards, we might not have reached extra-time at all.
By the time we did, it was Spain or penalties. Portugal's attacking resources were otherwise engaged, and their best chance had come and gone when Cristiano Ronaldo sliced wide at the death after a swift counterattack.
To say Portugal failed to score is an understatement. Ronaldo and Co. managed just two efforts on target in 120 minutes—and thus took Spain's remarkable record to nine successive tournament knockout matches without conceding a goal.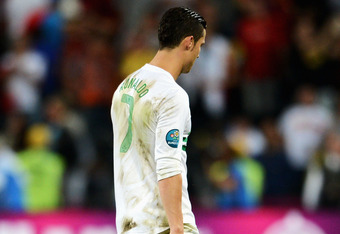 Jasper Juinen/Getty Images
The last man to score against Spain in a knockout match remains Zinedine Zidane, who finished the job for France in their 3-1 second-round victory at the 2006 World Cup.
For that, the Spanish deserve every plaudit. You can be critical of their tactical approach going forward, and Del Bosque's reluctance to play a forward. And you can bemoan the tiki-taka passing game as "boring" or overindulgent.
But as Spain proved tonight, football matches that aren't lost are always there for the winning.
They'll be the first to admit they weren't at their best. But for all their relative shortcomings against Portugal, they still managed to shut out a team boasting the best attacking player in Europe, and enjoy the better of the goalscoring opportunities themselves.
When it came down to penalties, Bento made a huge mistake in putting Ronaldo down for the fifth kick, because there was always the danger he might not be needed. And when Bruno Alves confused his number in the lineup, you knew exactly what would happen next.
Alves missed, and it was left to Fabregas to win for Spain—and keep them on course for a historic third successive major-tournament victory.
As the red shirts rushed the goal in riotous celebration, Ronaldo looked to the heavens and cursed his luck. He didn't test Iker Casillas over 120 minutes and he wouldn't get the chance in the shootout, either.
Portugal came close, but matching the champions just wasn't enough in the end. Boxing fans would make the argument there's justice in that.