Kansas City Chiefs: Most Exciting Game on the 2012 Schedule According to Fans
June 27, 2012

Doug Pensinger/Getty Images
The NBA and NHL seasons have completed, and the Major League Baseball campaign is rounding second base into its halfway point (the All-Star Break). But don't fear, because NFL Training Camps are right around the corner.
With the bulk of the offseason behind us, it is now time to shift focus and become armchair quarterbacks for our favorite teams. We will borrow the ears of whoever wants to listen as we evaluate talent and prepare for each and every game as if we are actually the ones on the sidelines directing the traffic.
The Kansas City Chiefs are coming off a disappointing 2011 season, finishing 7-9 and last place in the AFC West. They narrowly missed the playoffs, but most of the problems that prevented back-to-back division titles are in the rear-view mirror; former head coach Todd Haley was sent packing and is the new offensive coordinator for the Pittsburgh Steelers, and we hope the law of averages means that ACL injuries to key players are long gone.
While we can all agree that a return trip to the postseason would have been the more desirable outcome, the last place finish actually sets the Chiefs up to have a great season.
Every game is just as important as the next, with some that obviously stick out more than others. However, what is said about the importance of each matchup can also be equated to the excitement factor as well.
I get amped up for every game, but I also know that the entertainment value for each is different.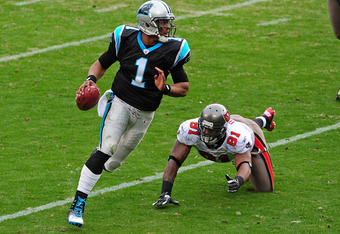 Scott Cunningham/Getty Images
I posed this question to a few fellow die-hard Chiefs fans on Twitter: In 140 characters or less, what is the most exciting game on the Chiefs' schedule in 2012?
You will see below that there is an overwhelming theme amongst fans and game(s) they might be gearing up for the most.
To answer the question myself, though: The Panthers and Cam coming to Arrowhead in Week 13. I'm interested to see how the Chiefs' defense will contain him.
Thanksgiving weekend vs Denver. I hope the Chiefs lay a 42-10 beatdown on the Donkeys & show Manning what a mistake he made in ignoring KC.
The first one. I am just ready to see this thing come together.
Denver at Arrowhead. The crowd will be jacked for Manning's first showing as a Bronco. Want to see him get knocked around in a Chiefs win.
The Chiefs' most exciting games in my opinion will be against division rival Broncos. As long as we win division, no other games matter.
New Orleans, because I'm going to the game and they are a great team that will measure our ability!
Contact Jeremy at jeremy@popflyboys.com, on Twitter @KCPopFlyBoy and at popflyboys.com.