Carolina Panthers: Mike Tolbert's Impact on the 2012 Season
June 27, 2012

Harry How/Getty Images
When the Carolina Panthers announced the signing of Mike Tolbert this offseason, I'll admit, I was skeptical. 
Is something wrong with DeAngelo Williams or Jonathan Stewart? How necessary is it to pay a third-string player $8.4 million over four years? Why does Cam Newton need another running back?
But that's just it. The front office wants to re-establish the running game of old that was once the trademark of the Carolina Panthers.  
Carolina used to be the team with two different 1,000-yard rushers. They used to be the ones scoring every touchdown on the ground, and they used to be the team with Smash N' Dash.
Last season, the Panthers fell in love with Cam Newton and the air attack. It had been years since they had that kind of success passing the ball. Smitty (Steve Smith) looked like he was 26 again, so they threw it to him as often as they could. Opposing defenses couldn't keep up, but then again, neither could Carolina.
The Panthers' defense ranked 27th in total yardage and total scoring. Every time Carolina scored, opponents would storm back and score themselves. It may have felt like the Panthers were far from the 2-14 season of 2010, but they only won four more games.
Remember that old saying…how does it go? Oh yea, "Defense wins championships." Well the inverse works as well. A team without defense loses them.
As long as Carolina struggles on defense, it won't matter how successful Cam Newton and the offense is—that is, unless they extend their time of possession dramatically.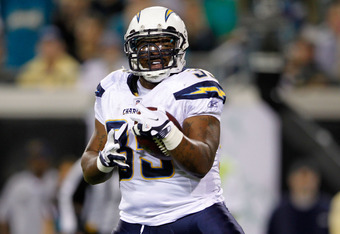 Mike Ehrmann/Getty Images
Ron Rivera and the rest of the coaching staff may have figured out a way to solve the nightmare in the secondary—keep the defense off the field as long as possible. 
How do you do that? Run the ball.
Bringing in Mike Tolbert emphasizes the coaching staff's desire to do just that. His versatility will allow Carolina to play in a multitude of two-back sets without limiting the option to throw.
Tolbert proved to be an exceptional receiving back in San Diego—something that Williams and Stewart have struggled with in the past. Think of all the talk this offseason of who will step up as Newton's No.2 receiving option. Why can't a running back be that guy?
With two backs in the backfield, Williams or Stewart could stay in for protection while Tolbert runs bubble routes or quick little flares.
And think about how many formations Carolina will have while maintaining a dual-threat before the snap. They could run the ball in shotgun with backs on both sides of Newton, and they can now throw the ball in a power-I formation. Opposing coaches are already drawing up ways to slow down Cam, but this adds a ton of complexity to Carolina's game. 
With Tolbert, Carolina's weapons are now fully loaded. It's time to bring back the days of Smash N' Dash and have the most feared running attack in the game. 
It's time to go back to the playoffs and finally start making some noise down south again.