Another Sad Chapter in the Terrell Owens Saga: Are You Still Reading?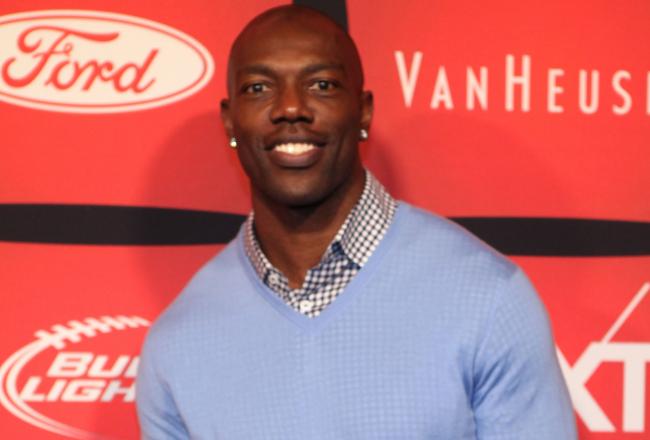 Robin Marchant/Getty Images
If the most intriguing and successful pieces of literature and entertainment are those that contain tragedy, sorrow and continuous drama, then the story of Terrell Owens has the recipe to become a New York Times bestseller.
And now, that's not the only element T.O.'s story would have in common with Fifty Shades of Grey.
That's because the Philadelphia Daily News, which is above paying for photos that purportedly show Owens naked and masturbating yet is cool with running a story on the subject alongside a picture apparently provided free of charge, spoke with a woman on Tuesday who claims she had about 10 rounds of cybersex with the second-most prolific receiver in NFL history.
On Tuesday we spoke with a woman who showed us several photos of Owens she says were taken via video chat service Skype while he apparently masturbated in front of her.

The woman, who is 27 and asked not to be identified, spent Tuesday trying to sell the photos to TMZ and other celebrity media outlets. The Daily News does not purchase such material.

T.O.'s Skype buddy said she met him on Twitter when she complimented his appearance and they began direct-messaging there before moving to Skype.
Open for debate is whether this is fair game. Owens told the Daily News that "this is a case of extortion, this is a waste of my time and you're wasting your time because I have nothing to say." And he's right about the extortion part. Why further embarrass a man who is already down and out while giving credence and attention to a starstruck damsel?
No crimes were committed here, and it's only a story because it's Terrell Owens. Yet it's out there now, and it again sheds light on how far Owens has fallen from the top.
Some thought T.O. had hit rock bottom when he overdosed on hydrocodone in a rumored suicide attempt in 2006. Up to that point, he was merely a nuisance in locker rooms—a caricature of a 21st-century, me-first wide receiver who divided teams and disparaged quarterbacks.
But then there was another reported suicide attempt. There was a TV shrink chastising him for failing to support his four "baby mamas." There was the embarrassing revelation that he'd become so toxic that what seemed to be a make-believe team in a low-level "pro league" we'd never heard of was releasing him. And now, for what it's worth (which is only something because of the previous follies), there's this.
This is by no means the straw that broke the camel's back in regard to Owens. Whether the camel in question is already six feet under depends on your perspective. But at this point, it's safe to worry about what this latest series of mishaps will do to Owens' reputation as a man and a football player.
Setting aside the obvious-to-everyone-but-Owens fact that he'll likely never get another NFL job, you have to wonder what kind of impact these problems will have on his Hall of Fame legacy.
Will the latest series of embarrassing incidents affect Terrell Owens' Hall of Fame chances?
Michael Irvin had character concerns, too, and he's enshrined in Canton. But Irvin won three Super Bowls despite his failures as a teammate and a citizen, and he still had to wait longer than expected to be inducted.
Considering the way he's viewed by the media as well as the logjam of receivers waiting to get into the Hall of Fame, there's a chance Owens—in spite of his gaudy numbers—is kept out much longer than we'd have imagined five or 10 years ago.
That we're almost becoming desensitized to Owens' stories of shame might actually help, because these incidents are almost being lost in the shuffle. Yeah, yeah, we know he makes terrible decisions. Would anyone expect Owens to not stimulate himself for a fan via Skype?
Yet, for the sake of Owens—a man who's been linked, falsely or not, to two suicide attempts—I continue to become more concerned. It's obvious that he doesn't know a good choice from a bad one, and when you combine that with his thirst for attention and his growing lack of relevance, it's dangerous.
Junior Seau killed himself, and we all cried that the NFL had to start doing a better job taking care of former players. Whether he likes it or not, Owens is now a former player, and he needs care. Fading into the abyss is best for a lot of has-beens, but that might only exacerbate T.O.'s problem.
Few of us can turn away from a train-wreck, which is why gawking always prevails and tragedy always sells. But this isn't fiction. It's yet another sign that one of the greatest players and most misunderstood people in football history is in trouble.
This article is
What is the duplicate article?
Why is this article offensive?
Where is this article plagiarized from?
Why is this article poorly edited?