Fantasy Football: Why Brandon Marshall Will Be the Top Receiver in 2012
June 27, 2012

Kent Nishimura/Getty Images
The last two years, Brandon Marshall has had sup-par seasons while playing for the lowly Dolphins. However, being signed to a very good Chicago Bears team and having the opportunity to play with Jay Cutler once again, should drastically improve his production in 2012 and make him one of, if not the best fantasy receiver in the league this upcoming season.
Marshall has never really played for a true contender.  In Denver, Cutler was still a very young quarterback, their defense could not stop anybody and the Chargers were in their prime, dominating the AFC West.  In Miami, Marshall was on not only one of the worst teams in the league, but also the team with one of the worst quarterback situations, in Matt Moore and Chad Henne. 
Being a part of a team with a stifling defense, a reliable running game and a solid offensive line like the Bears do, Marshall will have the all the more opportunity, as well as motivation to make big plays.
Furthermore, adding Alshon Jeffery to a receiving corps of Devin Hester, Johnny Knox, Devin Thomas, Earl Bennett, and even Matt Forte to a degree, provides the Bears with a fairly deep group at the wide receiver position that can draw attention away from Marshall. 
If Marshall's teammates can draw double teams away from him and leave him in single he is free to do what he does best—make plays and put up big numbers.
But forget the rest of the team, just reuniting Marshall with Cutler will instantly improve Marshall's numbers.  Each of the last two seasons in which they played together, Marshall had over 100 catches, 1,200 yards receiving, and at least six touchdowns.  Moreover, when that happened, both the quarterback and receiver were youngsters in the NFL—only three years removed from college. 
Fours years after Hurricane McDaniels ousted the two young pro bowlers and diverged their promising careers, both Cutler and Marshall have been greatly humbled and have matured immensely as football players.  To say the least, it will be very interesting to see what these two veterans can do for a team like the Bears, when their talents and chemistry converge on Soldier Field in 2012.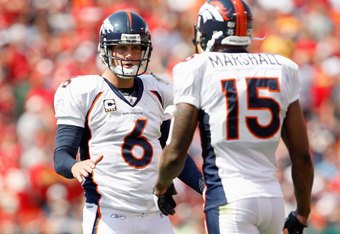 Jamie Squire/Getty Images
Cutler, his big arm and his gunslinger attitude have been desperate for a premier receiver ever since he arrived in Chicago in 2009, and Brandon Marshall is just that. 
He is a big, crazy athletic, receiver who not only extends the field with his speed, leaping ability and seeming magnetic hands, but also is one of the best in the game at creating his own offense, with yards after catch on slant routes or screen plays.  In addition, Marshall gives Cutler a big, rangy target in the red zone.  To away, Marshall provides Cutler with what Megatron provides Stafford. 
Yet another aspect of playing in Chicago that will help Marshall's output in 2012 is the very fact that the Bears play the NFC North. 
The Packers had the worst passing defense in the league last year, allowing 299.8 yards through the air each game. The Vikings had the 7th worst passing defense in the league with 251.2 yards allowed per game, and the Lions, who had the best pass defense in the division, allowing 239.4 passing yards a game, 21st in the league.  In addition, throughout the Bear's inter-divisional schedule, they play only one of the top ten passing defenses from last year—the Houston Texans.
While Marshall is a bit of a risky pick as the top fantasy receiver this year, he has a lot going for him in Chicago and is entering the peak of his career along with another very talented player in Cutler. Moreover, playing on a team that could very well contend for a championship should motivate Marshall in the weight room and on the practice field as well as keep him away from his off-the-field drama, allowing him to have a very productive year.