Lions' Martin Mayhew Needs to Own His Team's Perception and Change It
June 27, 2012
Kevin C. Cox/Getty Images
Back on June 22nd, in what was an attempt at levity, I wrote "While we wait and see which Detroit Lion gets arrested next..."
Turns out, our wait lasted less than a week.
Three days, to be exact. 
Per the Associated Press, Lions cornerback Aaron Berry was arrested this past weekend for driving under the influence at approximately  4 a.m. Saturday after driving into several parked cars and attempting to flee the scene.
Berry's arrest marks half a dozen arrests of Detroit Lions players this offseason, starting with offensive tackle Johnny Culbreath and followed by running back Mikel Leshoure and defensive tackle Nick Fairley being arrested twice—each.
Leshoure has been suspended two games by the league after pleading guilty to marijuana possession back in May, and you can bet Fairley will be given at least as many games in street clothes after being arrested for driving under the influence and attempting to elude police—this after being arrested for marijuana possession only two months earlier. 
Throw in Titus Young sucker-punching teammate Louis Delmas, and it seems pretty clear that it is well past time for general manager Martin Mayhew to make a bold statement about what is and what isn't acceptable when it comes to the conduct of his players.
Yes, make no mistake—these are his players. No matter how much Jim Schwartz may be the one in the media's glare whenever another Lions player's name inevitably ends up on a police blotter, this is Mayhew's roster.
According to his bio over at the team's official website, the opening-day roster of the 2010 season represented a 74-percent turnover from when Mayhew took over as general manager. This was prior to drafting Fairley and Young, definitely his guys. 
While much of the public discussion lately has been centered around the status of Schwartz's contract not being renewed and the possibility that the off-field problems are more than a small contributing factor, not much is being made of Mayhew bringing in many of the players who have been causing the problems off the field. (NOTE: Since this writing, the Lions have given Schwartz a "multi-year" extension.)
Of course, there are plenty of positive stories happening off-the-filed when it comes to the Lions this offseason, from Calvin Johnson landing the cover of Madden and throwing out the first pitch at Comerica Park to Matthew Stafford making a remarkable gesture in the name of charity.
Stafford's actions, unfortunately, were lost among a stream of negative headlines generated by the likes of Fairley, Young and Leshoure.
Even after the arrests in April and May, you could almost understand Mayhew leaving well enough alone and letting his coaches try to deliver the necessary messages about staying out of trouble when the team broke their final minicamp practice.
It's a time-honored tradition for NFL coaches to impress upon their teams that this slog between late June and the start of training camp in late July is the most fertile ground for players getting into trouble with the law. Lions players in particular needed a shot across the bow from Schwartz prior to heading on their merry way for summer break. 
Clearly, whatever Schwartz imparted to the men in his charge didn't leave the desired impression.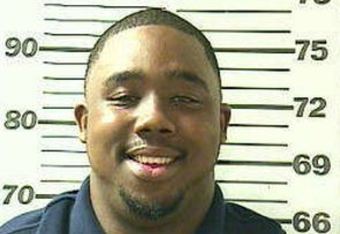 After Fairley's second arrest, local lightning rod Drew Sharp of the Detroit Free Press called for the Lions to cut Fairley in order to send a message to the rest of the team. Most observers, including myself, dismissed the column as hyperbole at the time. 
Maybe it's time to reassess that stance. 
Look, do I think cutting Fairley—or any player, for that matter—is instantly going to change the behavior of grown men when they are out and about in their free time? No.
It might, however, draw their focus where it should be, which should be on realizing that being a pro doesn't end when you leave the team facility. 
Mayhew and the Lions have issued press release after press release. Indeed, following their press release playbook, the Lions trotted out more seemingly empty rhetoric after Berry's arrest, issuing a statement that read:
This is not the standard of behavior we expect from any member of our organization. We have strongly and repeatedly emphasized the need to be accountable on and off the field, which makes this incident with Aaron all the more disappointing.
I'm sorry, but whatever method the Lions are using to "emphasize" accountability is clearly not working.
Empty words won't cut it any more. It's time for the general manager to own the perception of his team and do something to stop it from becoming a reality. If that means cutting a player to send a message, so be it.
Because right now, the public and the team's players think all those words are hollow and that the Lions, while publicly proclaiming disappointment, could clearly care less about the conduct of their players off the field. 
Now is the time for Mayhew to start changing the perception that there is a complete lack of accountability when it comes to playing for the Detroit Lions.