Detroit Pistons: Ben Gordon Trade Restores Faith in Joe Dumars, for Now
June 27, 2012

Once upon a time, the phrase "in Joe we trust" was uttered on a daily basis by the fans of the Detroit Pistons. Joe Dumars could do no wrong after a string of shrewd moves that ultimately resulted in a championship in 2004.
Turning unknown players like Ben Wallace and Chauncey Billups into All-Stars made Dumars a hero. Not even the colossal fail that was the Darko Milicic pick could sully the GM's reputation.
My, how things have changed. After Dumars decided to dismantle the championship core back in 2008 (it was time), the Pistons have struggled to be relevant. A string of bad drafts and even worse deals have made fans forget the reverence they once had for the Pistons legend.
A succession of losing seasons has transformed Dumars from genius to pariah. Many are simply waiting for him to be shown the door.
He might be sticking around a little longer though. Dumars did the impossible on Tuesday. He unloaded a considerable weight that had been slowing down the Pistons' progress—Ben Gordon and his mammoth contract—and actually got something of value in return.
The Charlotte Bobcats were the team that Dumars duped. They may have needed a perimeter scoring threat, but is there any surprise that the worst team in the NBA was the one to get Gordon?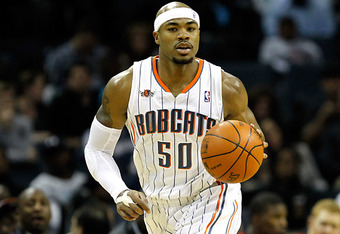 In return the Pistons get Corey Maggette who, like Gordon, had once been considered one of the best young scorers in the NBA. Perhaps the old "change of scenery" theory applies here. Both had regressed and with different teams they could begin to resemble their former selves.
Not enough can be said about Dumars for making this deal happen though. He's unloading a player who never lived up to his contract, and he's saving the Pistons roughly $14 million in cap space. He's also narrowing his choices for whom he'll eventually use amnesty on.
Charlie Villanueva might now be considered the automatic amnesty target, but don't overlook Tayshaun Prince. He's owed approximately $23 million over the next three years while Villanueva is due $16.5 the next two (spotrac.com).
Prince isn't the player he once was, and the contract will become even worse if his play declines further. If the Pistons land a scoring threat like Jeremy Lamb in the draft, Prince would vault to No. 1 on the amnesty list.
Amnesty is not the crux of the deal. Make no mistake. It was all about salary cap space. Maggette and his $10 million contract will only be in Detroit for one year. He'll help them with scoring—if he can stay healthy—but he isn't a part of their long term plans.
The Pistons could even ship him to a championship contender at the trade deadline next season and recoup their draft pick.
The Gordon-Maggette deal is likely the first step of many aimed at freeing up cap space so Detroit can make a run at a top-tier free agent in 2013. Josh Smith, David West and Paul Millsap might be players Dumars will target.
For now, he is smelling like a rose and should get all the credit in the world. He did what needed to be done for the future success of the franchise.
He can't get too comfortable though. The NBA Draft is less than 48 hours away, and he'll need to add players capable of making a major impact next season.  
If not, Dumars will find himself on the hot seat again, and the credibility he recaptured from the Gordon deal will be long gone.