Guillermo Moscoso Shows Why Bob Apodaca Fled Rockies' Pitching Coach Job
June 27, 2012

Justin Edmonds/Getty Images
It's probably safe to say that Guillermo Moscoso had Tuesday night's worst game in the National League. The Colorado Rockies right-hander allowed eight runs and eight hits in 1.2 innings en route to a 12-5 blowout loss to the Washington Nationals.
Moscoso served up three home runs—a three-run bazooka shot by Tyler Moore, a solo homer by Ryan Zimmerman and a two-run blast by Adam LaRoche—in what may have been the worst pitching performance in a miserable Rockies season that's already seen plenty of them. 
Elsewhere in Coors Field, or perhaps within the sanctuary of home, former Rockies pitching coach Bob Apodaca surely leaned back in his chair with a refreshing beverage, thankful and relieved that he didn't have to deal with this nightmare anymore.
Earlier in the day, Apodaca essentially asked for his release, requesting to be reassigned from pitching coach to another position in the organization. As our Bleacher Report colleague Mike Rosenbaum said on Twitter, who knew that a coach could even make such a request?
According to the Denver Post, Apodaca will serve as an assistant to general manager Dan O'Dowd. 
A friend once said to me that if it takes more than one person to replace you, then you were probably doing a good job. If that's the case, Apodaca must have been doing one hell of a job, as two people will take over his pitching coach duties. 
Anyone who can keep a job as the Rockies' pitching coach for 10 years, with all the difficulties Colorado pitchers have had in the 17-year existence of Coors Field, must have been doing something right. But it all fell apart this season, and the poor performance of the Rockies' young pitching staff appears to have broken the man.
The initial impulse is to think that Jim Tracy's idea of going to a four-man rotation and limiting his starters to 75 pitches was a scheme that Apodaca wanted no part of. But according to MLB.com's Thomas Harding, this idea has been bounced around the Rockies front office for years.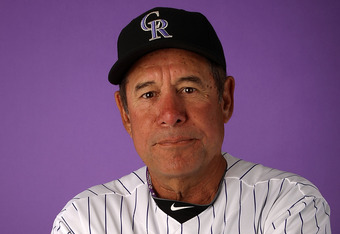 Christian Petersen/Getty Images
Tracy himself said Apodaca was on board with the plan. But really, what else was he going to say? "Yeah, Dac thought it was stupid. He looks pretty smart now, doesn't he?" Yeah, probably not.
The four-man rotation was as bold an admission of failure, a move of total desperation, as we've seen from a major league team in quite some time. Even if Apodaca said he was in favor of the move, once he saw it in practice, it was clearly more than he felt he could deal with. 
On one hand, you could say the Rockies had no choice but to try something drastic. Their team ERA was dead last in the majors, as was their opponents' batting average. 
On the other, this season is lost, so why not just take a look at the future? Why is Drew Pomeranz still in Triple-A Colorado Springs? Why was Alex White just demoted?
Yes, there has to be some penalty for not succeeding. There needs to be a place where young pitchers can work on their games without getting blown to bits by major league hitters. But if keeping those pitchers in the minors forces the big league club to go to a four-man rotation (one the Rockies can barely keep staffed), is it really the best move? 
At this point, the Rockies look as if they're just making it up as they go along. Maybe that happens for a lot of teams as they progress through a season. But there has to be an underlying plan to follow, doesn't there?
Even if the Rockies couldn't have foreseen injuries to Jhoulys Chacin and Juan Nicasio, signing Jamie Moyer to anchor a young staff was poorly conceived from the start.

Without a plan, you're just...well, take a look at the Rockies right now. Bob Apodaca had seen all he could stand, apparently. 
Follow @iancass on Twitter.