Dewayne Wise Fakes Catch, Umpire Misses Call as Yankees Fan Displays Foul Ball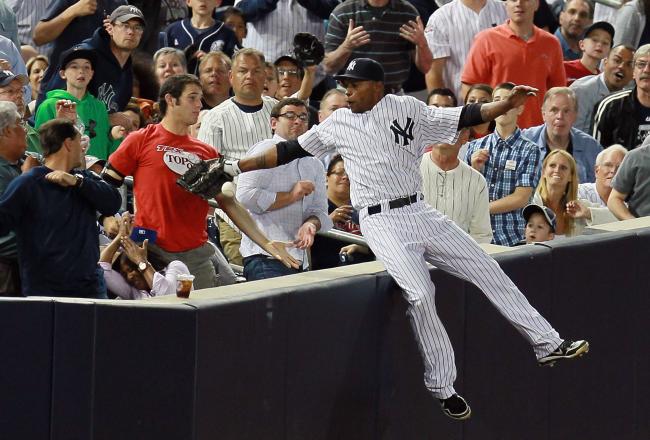 Catch or no catch? Keep your eye on the ball!
Mike Stobe/Getty Images
In yet the latest call that will undoubtedly reignite the instant-replay debate, an umpire has missed—nay, blown—a call whose level of clarity and obviousness rivals that of Tim Welke's missed call in Colorado for the biggest missed call of the 2012 MLB season.
To say that third-base umpire Mike DiMuro's missed call in New York Tuesday night was incorrect may be a bit of an understatement. After all, according to The Star-Ledger, DiMuro admitted not actually seeing the full play before signaling out on a Dewayne Wise running catch attempt as the Yankees left fielder leapt into the foul-line stands at Yankee Stadium.
Now that I see the tape it's obvious that the ball fell out of his glove. In hindsight, I should have asked him to show me the ball since he fell into the stands and out of my line of vision. [In the 8th, Hannahan] told me to reference the tape replay and that is why I ejected him
Hold the phone, what? Let's recap the insanity.
In the top of the seventh inning with two outs and a runner on third during Tuesday's Indians vs. Yankees game, Phil Hughes was in the midst of his first considerable jam of the night.
Facing Cleveland third baseman Jack Hannahan, Hughes threw a few fastballs before forcing a protect-the-plate hack on his 1-2 heater, the defensive swing sending the baseball careening high in the air down the left field foul line.
Enter Dewayne Wise.
With the ball tailing toward the spectator area in shallow left, Wise knew he had to act quickly, diving into the stands, while attempting to come up with the sinking fly ball.
When the dust settled and Wise emerged from the stands, DiMuro held up his arm to indicate "out" and send Yankee Stadium into a frenzy.
There was, of course, just one problem.
Meet Yankee fan Vinnie Pellegrino—the man who—if you were watching the video—also responds to the name, "guy in the red shirt."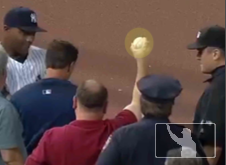 This Umpire Ejection Fantasy League photo shows fan Vinnie Pellegrino clutching Jack Hannahan's 7th inning foul ball. Meanwhile, Yankees outfielder Dewayne Wise has duped umpire Mike DiMuro into calling the out.
As Wise was climbing out of the stands courtesy of an impromptu NYPD escort and DiMuro was preparing to clench his fist high in the air, Pellegrino had found something.
Merely feet away from where he was standing, the baseball that had come off Hannahan's bat was rolling on the Yankee Stadium concrete straight toward the West Islip resident.
Naturally, Pellegrino retrieved the glowing white orb and raised it in the air as if he had just won the World Series, and this was his trophy—"I came up with it."
OK, there were two problems.
While Pellegrino very publicly celebrated his new souvenir, no one seemed to care—only one fan in the area seemed to notice Pellegrino's round present, and more crucially, neither Wise nor DiMuro paid him any attention.
As Yankees broadcaster Michael Kay described Wise as shining, "a little bit of a smile on his face," it soon became painfully obvious why, for Wise never did have that ball.
Unfortunately, this isn't scholastic ball and sportsmanship sadly seems to have no place at the professional level. If you have any doubts, I invite you to refer to Miami manager Ozzie Guillen, who picked up his first ejection as Marlins skipper on Tuesday night.
Let's just say Guillen's tantrum-like comments toward plate umpire Dan Bellino were about one-half PG-13 and one-half R-rated.
Still, all the trickery, deceit and gamesmanship in the world should ideally be no match for the fair arbiter of the game—the umpire.
Unfortunately, DiMuro committed a cardinal sin in the officiating world Tuesday night. As he readily admitted, he took his eye off the ball—er, fielder and glove.
Whether the ball left his eyesight because of the short wall, because of his delayed saunter to the outfield, or otherwise, DiMuro will be the first to admit he missed the call because of substandard mechanics.
Yet, this masterpiece of nightmarishly abysmal proportions didn't end there.
In the middle of the eighth inning—one full inning later—Hannahan returned to the field, armed with instant-replay confirmation that DiMuro had unjustly dared to declare him out on the staying-alive foul ball, challenging DiMuro to consult the tape, as if video review could have changed anything at that point.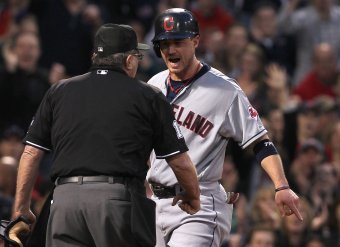 In this file photo, Cleveland third baseman Jack Hannahan takes exception to umpire Derryl Cousins' out call at home plate.
Jim Rogash/Getty Images
Wham-o! Credit both Mike DiMuro and Jack Hannahan with their second ejections of the 2012 season, DiMuro having previously run Bruce Bochy on April 8, while Hannahan got the boot for fighting the Royals on April 14.
Though the Indians attempted a comeback with a four-run ninth inning, it just wasn't good enough and the Yankees escaped with a 6-4 win while Cleveland and Hannahan were left pondering what could have been.
Yet, not all parties, tonight, were left brokenhearted. This story does have a happy ending, however small.
Pellegrino, the generous New Yorker he is, found a young child nearby and gave the Denville, New Jersey youngster what could prove to be a very sentimental and valuable foul ball.
Gil Imber is Bleacher Report's Rules Featured Columnist and owner of Close Call Sports, a website dedicated to the objective and fair analysis of close or controversial calls in sports.
This article is
What is the duplicate article?
Why is this article offensive?
Where is this article plagiarized from?
Why is this article poorly edited?

New York Yankees: Like this team?