Euro 2012: Semifinals Odds, Preview and Prediction for Germany vs. Italy
June 27, 2012

Alex Grimm/Getty Images
GERMANY vs. ITALY
Date: Thursday, June 28, 2012
Location: National Stadium (Warsaw, Poland)
Time: 2:45 p.m. ET/11:45 a.m. PT
TV: ESPN, ESPN Deportes
Computer: ESPN3
Satellite Radio: SiriusXM Channel 92
Odds To Advance: Germany -250, Italy +210
90 Minutes + Injury Time Odds: Germany -½ -115, Italy +½ -105
Total: 2o -140
Three-Way Odds: Germany -115, Italy +350, Draw +235
First Half Odds: Germany -½ +165, Italy +½ -185
First Half Total: ½o -200
To Win Euro 2012: Germany 8/5, Italy 11/2
Odds: Las Vegas SuperBook

Although Germany has never beaten Italy in a competitive game, I think it's important to point out here that the only side the Azzurri has completely dominated in Euro 2012 has been the Republic of Ireland—a side many think shouldn't have been in the tournament.
Italy hasn't lost yet either, with 1-1 draws against Spain and Croatia and a penalty-kick shootout win over England on Sunday, but the Italians will surely be put to the test in Warsaw against a very deep and very motivated German squad.
Against England, Andrea Pirlo (Juventus) played a superb game for La Nazzionale, which completely dominated time of possession and shots in the match.
Goalkeeper Gianluigi Buffon (Juventus) has allowed just three goals in four matches so far—one coming on a penalty kick—and has been his usual incredible self for Italy. And if you ever wondered how Juventus went so long last season without losing a game in Series A and bested AC Milan, well, now you know.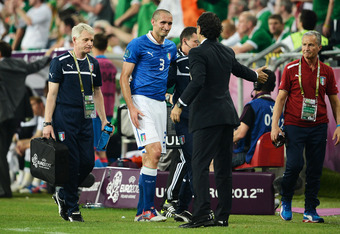 Claudio Villa/Getty Images
One thing manager Cesare Prandelli and Italy need to work on is scoring from open play, as six of their seven goals in this tourney have come from set pieces. And the best bet to get that done is through Pirlo and the dangerous Mario Balotelli (Manchester City).
Another concern for Italy is the health and availability of Giorgio Chiellini, Daniele De Rossi and Ignazio Abate, who have been undergoing treatment in an effort to be ready for this match. With so much at stake, I expect all of them to be available.
One guy who won't be on the pitch is right-back Christian Maggio, who was suspended in the after being given his second yellow card on a tackle from behind on England's Ashley Young in the quarterfinals.
Prandelli may move Leonardo Bonucci (Juventus) or Andrea Barzagli (Juventus) to Maggio's spot, but his absence, combined with the injury concerns, is not a good thing heading into a match against a powerhouse like Germany.
Italy, currently ranked No. 12 by FIFA, will have to play a near-perfect game and, unlike they did against England, capitalize on their scoring opportunities in order advance to Sunday's final in Kiev.
Ranked No. 3 by FIFA—Spain is No. 1 and Uruguay No. 2—Germany has been on an absolute roll of late, winning a team record 15 straight competitive matches.
And in Germany's last 28 major tournaments, they have now reached the semifinals an incredible 20 times, including the last four straight (2006 World Cup, Euro 2008, 2010 World Cup, Euro 2012).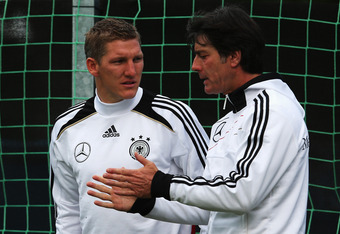 Joern Pollex/Getty Images
German manager Joachim Low has been brilliant from the bench this tourney, keeping opponents confused with his starting XI choices and substitutes, but when you have a roster as deep and talented as he does, whoever you put out there is bound to get the job done.
Low has said defender Bastian Schweinsteiger (Bayern Munich) will play against Italy, and his presence will be significant in trying to contain the talented Pirlo.
For Low, choosing who to start at striker between Mario Gómez (Bayern Munich) and Miroslav Klose (Lazio) is a nice problem to have, and with Marco Reus, Lukas Podolski and Thomas Müller, Germany is certainly not short on scoring threats or players who can create, such as Mesut Özil (Real Madrid) and Sami Khedira (Real Madrid).
And whereas almost all of Italy's goals here have come from set pieces, 11 of Germany's 12 goals have come from open play, something the Azzurri and Buffon should be really concerned about.
Besides Schweinsteiger, German goalkeeper Manuel Neuer (Bayern Munich) will get help from a backline that should also feature Mats Hummels, Holger Badstuber and the talented Philipp Lahm (Bayern Munich).
In short, this team is so deep that it's scary, and in my opinion, they are the team to beat in this tournament.
Even though this match on Thursday features two of the best goalkeepers in the world in Neuer and Buffon—both of whom have been brilliant in these Euros—I think there will be plenty of scoring.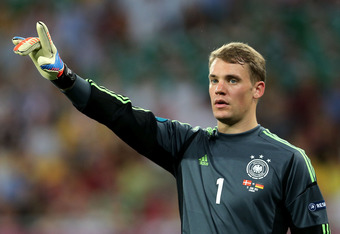 Joern Pollex/Getty Images
For Italy, the absence of Chiellini, the reality of the three injured players and the fact it could be a bit worn out after the penalty-kick shootout win over England adds up to some serious doubts in my head about them being 100 percent.
Toss in the fact that this  deep German side will have gotten 48 hours more rest than Italy, is chock full of Bayern Munich players still bitter about the loss to Chelsea in the UEFA Champions League Final and the fact that they haven't won a major in some time despite coming close, this seems like a good game to try to really make some money—at least from where I'm sitting.
This rare combination of depth, momentum and motivation is something bettors look for, and to me, Germany has it all going for them heading into this huge match.

PREDICTION: Germany 2 Italy 1
BETS: Germany -½ +165 First Half, Over ½ -200 First Half, Germany -½ -115, Germany -115 (Three-way line), Over 2 -140  > ALL BE$T BET$
Follow me on Twitter: @KevinStott11