Fantasy Football Preview 2012: Detroit Lions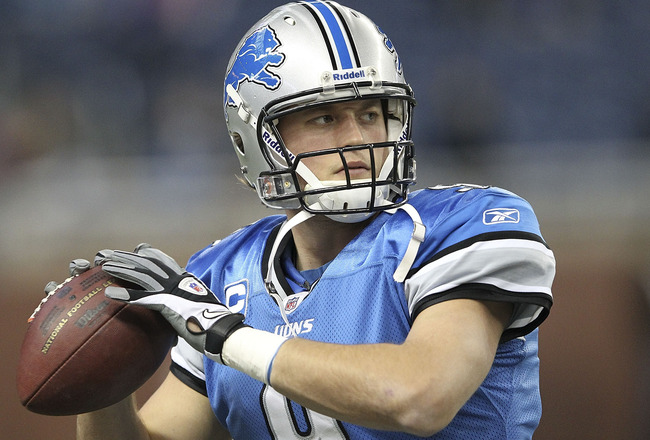 Leon Halip/Getty Images
With the 2012 NFL draft and free agency over, NFL rosters are pretty much set. Fantasy football drafts are going to be taking place starting in the middle of August, and it is time to start looking at every team's fantasy options for the 2012 season.
We begin an in-depth series that will examine the NFC North. I will look at what the team did in 2011, as well as what they added in the 2012 NFL draft and free agency. I will preview what the team will do in 2012, as well as what I think the players will be from a fantasy perspective.
All information in this series is fantasy football related, meaning the focus is heavily on the offensive side of the ball. Be sure to check back often, as we will have a new team each week leading up to the middle of August.
2011 Season Wrap-Up and Statistics
Jonathan Daniel/Getty Images
The Detroit Lions had an outstanding season in 2011, both from an offensive standpoint and from a winning perspective. The Lions were one of the best offenses in the NFL—they won 10 games, all the while qualifying for the playoffs.
The Lions finished No. 5 in total offense last year, and they did it on the strength of quarterback Matt Stafford's right arm. The Lions struggled to get anything going in the running game. They truly relied upon the short-to-intermediate passing game.
The Lions finished No. 4 in points per game, averaging 29.6 points per contest. The offense was explosive and resilient. They were down in games, but managed to find a way to get back into these games because of the passing game.
They managed to win 10 games in 2011, and qualified for the playoffs. The Lions were eliminated in the Wild Card Round by the New Orleans Saints. The Lions were volatile, but they showed a lot of character, winning games that mattered last year.
Here are the numbers:
Matt Stafford
421/663, 63.5%, 5038 yards, 41 TD, 16 interceptions, 97.2 passer rating.
Jahvid Best
84 carries, 390 yards, 4.6 yards per carry, 2 TD, 27 receptions, 287 yards, 10.6 yards per catch, 1 TD reception.
Mikel Leshoure
DNP
Maurice Morris
80 carries, 316 yards, 4.0 yards per carry, 1 TD, 25 receptions, 230 yards, 8.8 yards per catch, 1 TD reception.
Kevin Smith
72 carries, 356 yards, 4.9 yards per carry, 4 TD, 22 receptions, 179 yards, 8.,1 yards per catch, 3 TD receptions.
Calvin Johnson
96 receptions, 1681 yards, 17.5 yards per catch, 16 TD.
Nate Burleson
73 receptions, 757 yards, 10.4 yards per catch, 3 TD.
Titus Young
48 receptions, 607 yards, 12.6 yards per catch, 6 TD.
Ryan Broyles
DNP
Brandon Pettigrew
83 receptions, 777 yards, 9.4 yards per catch, 5 TD.
Tony Scheffler
26 receptions, 347 yards, 13.3 yards per catch, 6 TD.
2012 Rookie Addition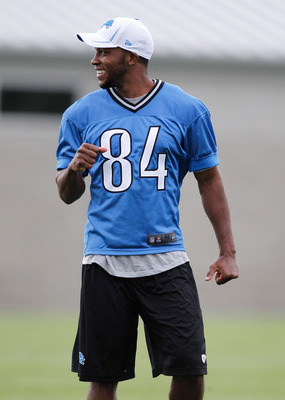 Gregory Shamus/Getty Images
Ryan Broyles
In Round 2, the Lions surprised most analysts by selecting wide receiver Ryan Broyles out of Oklahoma. This pick is a stroke of genius, as Broyles has the skills to complete the Lions' offense. He is going to be a fantasy monster, perhaps as early as 2013.
Broyles does all of the dirty work underneath and across the middle of the defense. He could be a PPR (points per reception) dynamo because of his willingness to work in traffic. The Lions have weapons everywhere, and now Broyles gives them another option, an option that they have not had with Stafford at quarterback.
2012 Free Agency Additions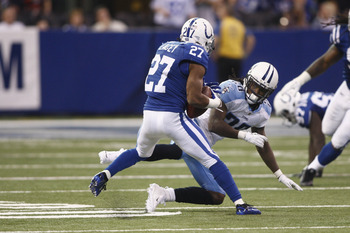 John Grieshop/Getty Images
The Detroit Lions signed no players in 2012 free agency that will impact them in fantasy football this season.
2012 Season Preview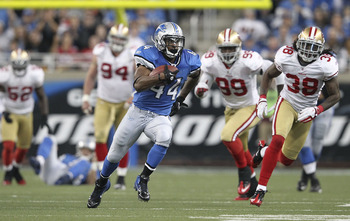 Leon Halip/Getty Images
Quarterback Matt Stafford had a phenomenal 2011 season, and he will look to build on that success in 2012. In 2011, Stafford threw the ball more than anyone would have thought, and the Lions will try to do a better job balancing the running and passing games this year.
Stafford will continue to put up terrific numbers, as he is one of the best young quarterbacks in the NFL. Stafford has weapons everywhere, and he is going to run one of the NFL's best offenses. Another outstanding season is in store for Stafford.
The Lions are hoping for more out of the running game, as they struggled to get anything going on the ground on 2011. The Lions need more balance, and they are going to try to get that balance from a committee, using Mikel Leshoure and Jahvid Best as their primary weapons.
Leshoure is returning from a torn Achilles suffered in training camp last year. He needs to show that he is healthy and that he is fully recovered from the injury. Leshoure needs to prove that he is back to his pre-injury form.
Best is returning from a season-ending concussion. He has proven to be injury-prone, but he is incredibly dynamic when he is healthy. Best has to show that he is recovered from his concussion and that he can stay healthy throughout the 2012 season.
The Lions want to have their own version of thunder and lightning.
The power presence is with Leshoure. Leshoure will get more carries, and he will be the player that gets the call when the Lions need to bang out first downs to finish games. He is the running back who will get the tough yards.
Best is a player who will be highly productive with a limited number of touches. Between carries and receptions, he should be limited to a maximum number of 10-12 per week. He can hopefully stay healthy, and keep his legs fresh over the long haul of the 16-game NFL season.
If the Lions' running backs are healthy in 2012, they will be much more productive than they were last year.
The Detroit Lions have one of the best wide receiver groups in the entire league. It is an embarrassment of riches. They are young and loaded with talent. Each receiver's strength is different from the others, and it will make this offense successful.
Calvin Johnson is the best wide receiver in the game, and he should continue to dominate defenses with his size, speed and playmaking ability. In this offense that features weapons everywhere, Johnson will continue to see double teams, but he might have a little more room to operate in 2012. Look for Johnson to have another strong season.
Nate Burleson is technically the No. 2 wide receiver for the Lions, but realistically he is going to get pushed down the depth chart. He will still make plays, and he is still going to be a nice part of the offense, but there is competition here.
Titus Young is a player who could go off in 2012, and he has a chance to become a secondary target that defenses have to account for. Young caught six touchdown passes over the last nine games that he played in and that production should carry over into 2012. Young has a chance to score a lot of touchdowns in this offense.
Rookie Ryan Broyles is a Wild Card for the 2012 season. He enters the offseason having had ACL reconstruction on his knee. There is some speculation that Broyles will not be ready for the start of the season.
Broyles gives the Lions another option in the passing game. He does things that no other Lions player does, as he will make plays in traffic. He is tough, and he is willing to give up his body to make plays. Broyles could lead this team in receptions in a few years.
The tight end position is another position with some genuinely talented players on the Lions' depth chart. Brandon Pettigrew is a remarkably talented tight end, and he should continue to make plays in the short-to-intermediate passing game.
Tony Scheffler will make plays also, and as a depth tight end, he will be productive.
2012 Fantasy Preview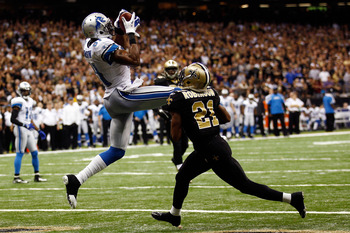 Chris Graythen/Getty Images
Quarterback
According to footballguys.com, Matt Stafford finished the 2011 season as the No. 4 fantasy quarterback. He was incredible in 2011, as he displayed his arm strength and accuracy all year.
There is talent everywhere for Stafford on offense, and it sets up the Lions to have one of the most explosive offenses in the NFL. NFL defenses will try to make it difficult for Stafford to hook up with wide receiver Calvin Johnson, as they have done for years. The Lions have weapons elsewhere, and Stafford should be able to make defenses pay, as they will not be able to cover everybody.
Stafford is a clear No. 1 fantasy quarterback. He is a reliable option who should start every week.
Shaun Hill is the Lions' backup quarterback, and he can be productive if he has an opportunity. Hill would be a highly productive fantasy quarterback also, and he is an excellent handcuff to Stafford. Hill should be drafted late in fantasy drafts as a backup.
Running Back
There is a lot of talent at the running back position for the Detroit Lions. The Lions are going to use a committee approach, with Mikel Leshoure and Jahvid Best as the main actors.
Leshoure and Best will not split carriers—Leshoure will get about 65 percent of the touches as long as he gets healthy and stays there. Leshoure is a truly intriguing option, as he has an opportunity to be a crucial part of the Lions offense going forward.
Leshoure is a power back, and a player who can handle a large workload. If he can get healthy in camp, he could be a real nice value in 2012. Leshoure is a depth player coming into the 2012 fantasy football season, but he does have a tangible amount of upside. Leshoure is a low-end No. 3 running back coming into 2012.
Best is a dynamic athlete, a player who can make enormous plays as a running back. He is at his best in space, and when he does have some room to operate, he will make extraordinary things happen. He is going to have his touches limited in 2012, but this is a great thing. It will keep Best fresh and healthy.
Best is going to have a fantastic opportunity during the first two games, as the NFL has suspended Leshoure for the first two games of the 2012 season. Best makes an excellent trade candidate if he gets off to a nice start, which he will. The Lions host the St. Louis Rams in week No. 1 and travel to San Francisco for week No. 2.
Best is a little more valuable in a PPR format, but he has good value in traditional leagues. Best is also a depth running back for fantasy purposes. He is going to have particularly large games, but is not a player who can be relied upon from a week-to-week basis. Best is going to be significant trade bait early in 2012. Best is a No. 3 running back, with the potential to be more at certain points during the 2012 season.
Kevin Smith is a depth player also, and he should be viewed as a No. 4 running back for 2012. Smith has some upside, but he is limited because he is behind a few players on the depth chart. Smith should be drafted as a No. 4 or No. 5 running back entering the 2012 season.
Wide Receiver
The strength of the Lions offense is in their wide receiver group. There is talent and playmaking ability, from multiple players. There are weapons everywhere, and it will be tough for defenses to stop them all.
Calvin Johnson is the best wide receiver in football, and his value in fantasy football is phenomenal. He is the No. 1 wide receiver and should be drafted in the middle of the first round. Johnson is consistent, and he will produce week in and week out.
Titus Young had a phenomenal finish to the 2011 season, as he scored six touchdowns over the last nine games of the season. Young is an emerging player and a secondary threat for which defenses will have to account.
Young will emerge to become the Lions' No. 2 wide receiver in 2012, and there is exceptional value in that. As defenses roll coverage to Johnson's side of the field, it opens up things in other areas and Young needs to make defenses pay for trying to take Johnson out of the game.
Young is a player who is going to outperform his draft position, and that means value. According to footballguys.com, Young is currently the No. 107 pick, as wide receiver No. 40. Young should be considered a very high-end No. 3 wide receiver, with enough upside to play like a No. 1 at times.
Nate Burleson should be considered a depth player for fantasy purposes. Burleson should be viewed as a No. 4 wide receiver, with a little upside because of the offense in which he plays.
Rookie Ryan Broyles is a fantastic option in keeper/dynasty leagues. He is going to be an awfully vital part of their offense down the road, as he can do things that other receivers are not willing, or can't, do. Broyles is eventually going to be a PPR monster, but it will not happen in 2012.
Broyles is a player who should only be drafted very deep onto a fantasy roster. He should be viewed as a No. 6 wide receiver for 2012.
Tight End
Brandon Pettigrew is an extremely solid option as a receiving tight end, but he is not going to put up numbers like the elite tight ends. Pettigrew will catch a lot of passes, as he will be heavily involved in the short-to-intermediate passing game. He should be viewed as a low-end No. 1 tight end in fantasy football, but he can be drafted late.
Tony Scheffler is a player who is going to make plays, but he is behind Pettigrew on the depth chart. Scheffler is a depth tight end and should be viewed as a free agent for fantasy football purposes.
Team Defense
The Detroit Lions defensive unit should be viewed as a No. 1 option from week to week. The Lions are a terrific fantasy defense, and they should be started every game they play at Ford Field.
2012 Projections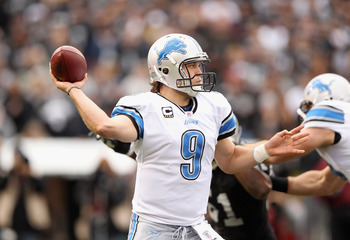 Ezra Shaw/Getty Images
Matt Stafford
393/625, 4750 yards, 42 TD, 14 interceptions.
Jahvid Best
95 carries, 437 yards, 4 TD, 35 receptions, 375 yards, 3 TD receptions.
Mikel Leshoure
150 carries, 705 yards, 8 TD, 14 receptions, 145 yards, 1 TD reception.
Kevin Smith
75 carries, 320 yards, 2 TD, 20 receptions, 125 yards.
Maurice Morris
30 carries, 125 yards, 1 TD, 5 receptions, 45 yards.
Calvin Johnson
92 receptions,1725 yards, 18 TD.
Nate Burleson
53 receptions, 505 yards, 3 TD.
Titus Young
65 receptions, 875 yards, 8 TD.
Ryan Broyles
23 receptions, 285 yards, 2 TD.
Brandon Pettigrew
70 receptions, 685 yards, 5 TD.
Tony Scheffler
22 receptions, 175 yards, 2 TD.
Keep Reading