Tim Lincecum's 2012 Season: The Agony and the Ecstasy of the Crooked Inning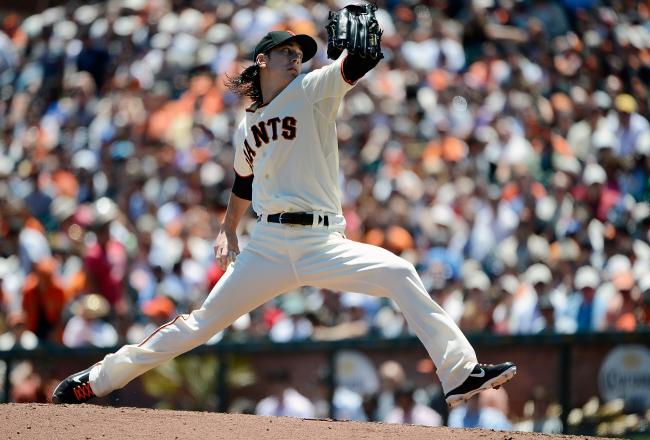 Thearon W. Henderson/Getty Images
Tim Lincecum's 2012 season has gone according to neither plan nor historical precedent.
The heretofore San Francisco Giants' ace and two-time Cy Young has looked like anything but those two distinctions, at least as far as the statistics are concerned. Despite a masterful trip to the bump in his last outing against the rival Los Angeles Dodgers, the Freak is still toting around an unattractive 5.60 ERA, an equally ugly WHIP of 1.50 and all manner of brutal ratios.
What's worse, the Gents have managed to win in only four of his 16 starts on the season. Lincecum's eight losses lead the National League; his three wins do not.
As the flurry of poor performances gathered in a mound of losses, panic and frustration set in.
There was talk of skipping a start or even (gasp) demoting the Franchise to the bullpen. The faithful generally held back their boos, but not all of them, and you could hear grumbling across The City.
Inevitably, Lincecum loyalists joined the fray—including the pater familias Lincecum—to point out (correctly) that the 28-year-old had earned a large margin for error based on his past contributions and brilliance. Then came the defense to the defense, and the game of he-said-they-said-I-said was afoot.
But as the volume of the debate cranked up to 11, much of the nuance was lost.
The narrative became one in which the diminutive right-hander was a total Charlie Foxtrot when that's not really been the case. The overall stats have certainly been that, but if you break Timmy's season down frame by frame, the majority of the body of work hasn't been that bad.
Instead of skipping straight to the comments to call me a moron and/or blind homer—both of which may be true—bear with me.
As the calmer heads have noted, Lincecum's been plagued by the big inning in '12. Some of them have been entirely of the pitcher's own doing while Lady Luck has conspired against him in others.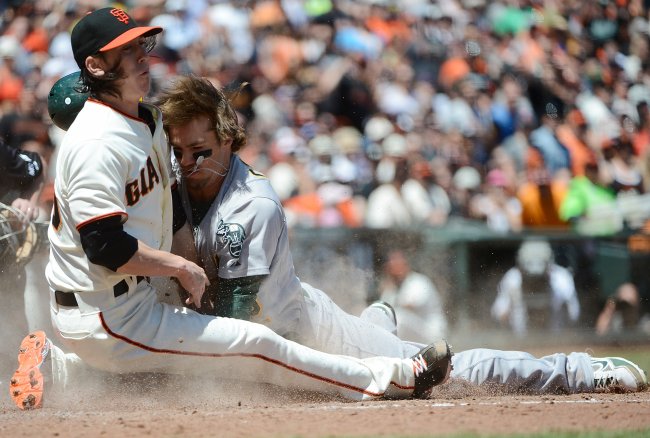 Thearon W. Henderson/Getty Images
Either way, take a look at his losses and no-decisions, and the most crooked number posted in each:
Game 1 vs. ARI—3 ER in the first inning
Game 2 vs. COL—3 ER in the third inning (only recorded one out)
Game 3 vs. PHI—4 ER in the first inning
Game 6 vs. MIL—3 ER in the first inning
Game 7 vs. LAD—4 ER in the fourth inning
Game 8 vs. COL—2 ER in the sixth inning
Game 9 vs. OAK—4 ER in the fourth inning
Game 10 vs. MIA—5 ER in the sixth inning (only recorded two outs)
Game 11 vs. ARI—1 ER in the sixth inning
Game 12 vs. SD—4 ER in the second inning
Game 13 vs. TEX—2 ER in the fourth inning
Game 14 vs. SEA—2 ER in the first inning
Game 15 vs. OAK—3 ER in the first inning
In those 12 innings pitched, Lincecum has surrendered a whopping 40 earned runs. On the season, he's tossed 90 innings and allowed 65 earnies. Do the math and you'll see that removing the right inning from each loss/no-decision changes the picture quite a bit—the numbers drop to 78 IP and 25 ER for a 2.88 ERA.
That's still a touch high by Big Time Timmy Jim's standards, but it's lovely by most others.
This is the part where the pragmatists in the audience chime in and point out, if your aunt had certain features, she'd be your uncle—which is obviously true.
Who cares about all that because you can't remove all that carnage; statistical manipulation is wonderful, but it's purely academic. Results are results, and they've been mostly disastrous for Lincecum.
Again, no argument.
Is Tim Lincecum out of the woods?
Except that the Giants' organization and fans should take solace in the fact that so much has gone sideways in such few innings. I've gotta believe it's easier to clean up one troublesome frame per start than it would be to right a ship that's in trouble every inning.
Additionally, with a slight bit of luck, there's nothing to clean up.
For example, take the third inning of his turn against the Dodgers at AT&T Park. The opposing pitcher (Chad Billingsley) hits a one-out double, a wild pitch moves him to third and another wild pitch sends him to the plate. If Billingsley scores there, it's easy to see all hell breaking loose as in Lincecum's previous starts.
Of course, that's not what happened.
The pitch was so wild, it caromed right back to Hector Sanchez, who threw to a covering Lincecum and a bang-bang play went in favor of the Giants. Armed with momentum and a bagel on the scoreboard, Timmy powered his way through seven scoreless innings for his third win of the year.
This is more good news because luck has a way of evening out.
And everyone—the fans, the organization, Lincecum himself and his pops—is anxious for his season to do the same.
This article is
What is the duplicate article?
Why is this article offensive?
Where is this article plagiarized from?
Why is this article poorly edited?

San Francisco Giants: Like this team?