San Jose Sharks Re-Sign RFAs: What to Expect of Braun, Wingels and Desjardins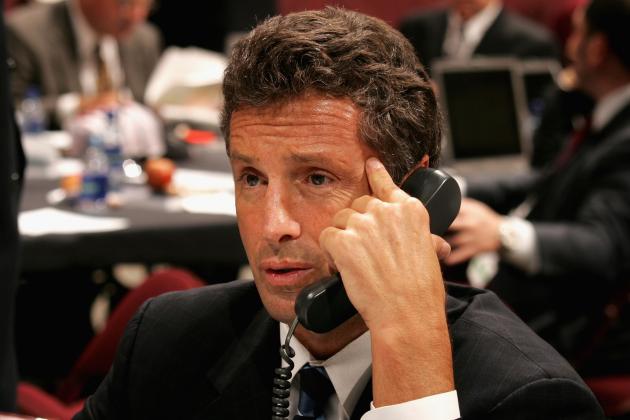 Bruce Bennett/Getty Images

The San Jose Sharks announced they have tendered qualifying offers to nine restricted free agents. This gives them the right to match any outside offers and possibly get draft picks as compensation for larger contracts.
They did not even want the temptation there for three other restricted free agents, re-signing Justin Braun, Tommy Wingels and Andrew Desjardins. In so doing, the roster is starting to take shape.
For a look at what to expect from those players who were tendered offers Tuesday, check out my companion piece at that link on San Jose Sharks Examiner. As for the three players they found important enough to get under a final contract, the following details their contracts and role in light of how they developed by the end of last season...
Begin Slideshow

»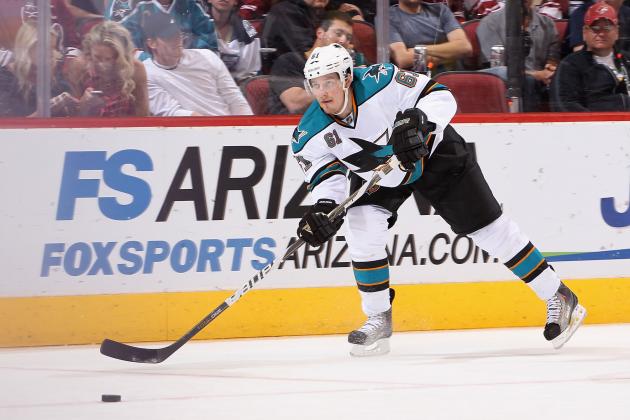 Christian Petersen/Getty Images

The San Jose Sharks re-signed Justin Braun to a three-year, $3.75 million contract. Doug Wilson admitted the team had to make a stronger offer because they were getting calls about him.
There is good reason for that.
Braun had looked good briefly in 2010-11, when he had 11 points in 28 games. However, his defensive liabilities were frequently exposed, most notably in his one playoff game in the first round against the Los Angeles Kings.
Last season, he managed the same 11 points in 66 games. But one would be almost as hard-pressed to find defensive lapses from Braun as from the Sharks' top defenders, Marc-Edouard Vlasic and Douglas Murray.
This is not to say Braun is an impact defensive player. He was fifth on the blue line in ice time because he was the team's fifth-best player—fifth in goals, assists and points per game, plus-minus, penalty minutes, giveaways, takeaways, blocked shots and assist-to-giveaway ratio. He was seventh in hits but first on the blue line in giveaway-to-takeaway ratio.
But a guy who plays his responsibilities and contributes in all areas of the game except hitting is already an asset. At 25 and with just 100 games under his belt, including the playoffs, Braun is capable of being a No. 3 or 4 defenceman somewhere.
There is every reason to expect him to be better than Murray or Jason Demers this next season, but he is not passing Vlasic or Brad Stuart. Thus, he will only manage the fifth-most ice time for the Sharks blue line, and see only a modest increase in his numbers: 79 GP, 4 G, 14 A, +7, 38 PIM, 63 hits, 98 blocked shots, 43 giveaways, 24 takeaways.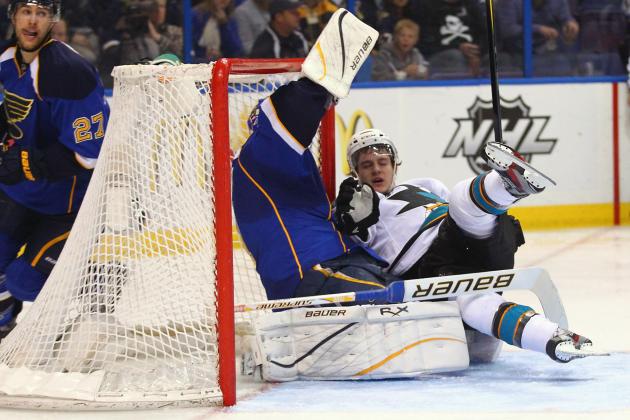 Dilip Vishwanat/Getty Images

Justin Braun is the best of the three re-signed San Jose Sharks restricted free agents. Tommy Wingels, who signed to a two-year, $1.55 million deal, is the most important.
On a franchise lacking in prospects or players with much chance of being anything more than role-players in the NHL, Braun and Wingels are the two for whom an increased role might be possible this season. But unlike his blue-line counterpart, Wingels plays a position that lacked enough players to fill out a starting lineup.
Wingels is only 6'0", 190 lbs, but he does not shy away from contact on either side of the ice. Two of his goals were right in front of the net, and he was the runaway winner in hits per game (102 in 33) despite playing under 15 minutes per contest he was in.
His three goals and six assists did include some time on the second line when Martin Havlat was out. Still, a point per 50 minutes of ice time is not bad for a player who still has only 43 games of NHL experience, including the playoffs.
More experience will help the 23-year-old develop into a top-six forward. However, save for a couple stretches as the inevitable fill-in for the injured Martin Havlat and Ryane Clowe, he will have to settle for being the best player on the third line: 76 GP, 13 G, 22 A, -2, 78 PIM, 143 hits, 58 blocked shots, 48 giveaways, 29 takeaways.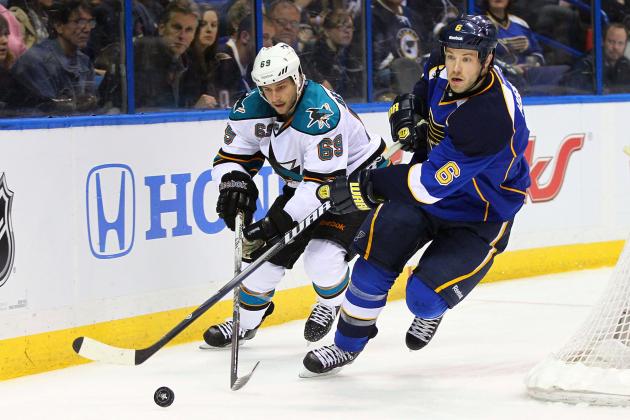 Dilip Vishwanat/Getty Images

Andrew Desjardins signed a one-year, $640,000 contract to remain with the San Jose Sharks. Doug Wilson wrapped him up because he was the sixth-best forward last season.
What?! Surely you jest?
No, I do not jest, and stop calling me Shirley!
In point of fact, Martin Havlat missed as much time as he spent in the lineup. Desjardins played 40 more minutes over the course of the season.
Sure, Desjardins had a modest 17 points in 76 games and has 22 over 102 in his NHL career, including the playoffs. Havlat had 27 in 39 games.
But Havlat lost all seven faceoffs he took, had six more giveaways than takeaways, managed just 14 blocked shots and a pathetic six hits. Desi had 93 hits and 49 blocked shots, was a plus-12 in giveaway-takeaway differential and plus-22 in the faceoff circle.
Desjardins will be a successful penalty killer once he has a system he can work with. He will be a mainstay of the third line or the anchor of the fourth, with 80 GP, 6 G, 15 A, +2, 74 PIM, 166 hits, 64 blocked shots, 44 giveaways, 57 takeaways and plus-40 or more on draws.