10 Signs New York Yankees' June Pitching Dominance Is No Fluke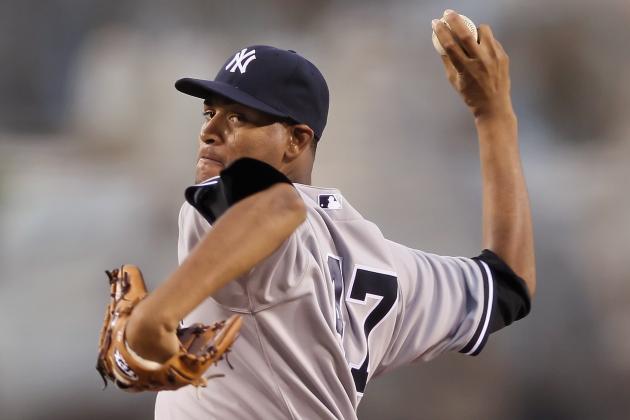 Jeff Gross/Getty Images

June seems to be the month when the New York Yankees put it all together. Their offense is blasting home runs, the bullpen is holding down leads, and the starting pitching is dominating opposing teams.
In the month of June, the Yankees have only lost five games out of 23 games so far. Some may think this hot streak is a fluke and that the Yankees can't keep it up throughout the summer. I believe otherwise.
Going into June, the Yankees didn't know what to expect.
Hiroki Kuroda had as many good games as bad. Andy Pettitte had just rejoined the team and was struggling to be his usual solid self. Ivan Nova had a run of games where he gave up way too many runs. Phil Hughes was giving up homers in every one of his start. CC Sabathia, the team's ace, wasn't his reliable self.
On top of that, the bullpen was wrecked worse than Manhattan in The Avengers. Mariano Rivera was out for the season, David Robertson was hurt as well, and big roles were being given to the likes of Cody Eppley and Clay Rapada.
With July coming fast, the Yankees' pitching turned itself around and became one of the most dominant staffs in the league. All signs are pointing to this trend continuing. Speaking of signs, here are 10 of them.
Begin Slideshow

»
Jim McIsaac/Getty Images

Dating back to 2009, the year the New York Yankees last won it all, the Yankees are 49-29 in the month of June alone. Easy to see that June is the Yankees' month.
Of course there are factors such as the opponents, the team's hitters, pitchers, and health, among other things. Generally speaking, the Yankees are just better in June.
June is the month when they dominate. Everyone remembers in 2009 when they got off to a torrid start, but by the time June came around, everyone forgot about it and were wondering if the Yankees could reach the World Series.
There are shades of that this season as the Yankees had another poor start. They are starting to turn things around in a hurry this month. One of the main contributors to that is the team's pitching staff.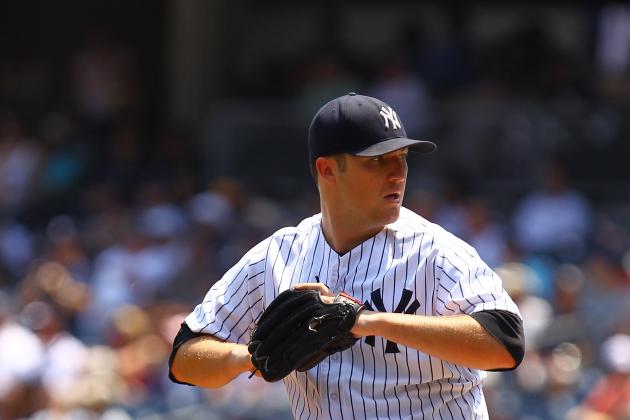 Al Bello/Getty Images

As a team, the New York Yankees have accumulated 596 strikeouts. That's good for sixth in the majors.
Everyone knows that a sign of a good pitcher, as well as the pitching staff, is if he is able to strikeout hitters. There are other ways to get outs, but strikeouts are sure things and are valuable in RISP situations.
Of course, it's one thing to be able to strike hitters out and another to be able to build on those numbers. In other words, all of those strikeouts wouldn't mean a thing if they were walking people all the time or if it was just one guy contributing to all those strikeouts.
The Yankees have stellar numbers when it comes to their strikeouts. Their K/9 is 8.33. That basically means as a team, the Yankees are striking out just a bit under nine hitters for every game.
Then there is their strikeout to walk ratio which is about 2.96. Rounding up, the Yankees are striking out approximately three hitters for every one they walk. That's a pretty good ratio for a team.
All of those stats show that the Yankees are able to control their pitches and get the hitter out. High strikeout stats are usually an good indicator of how well a pitcher is doing and will do during the season. With numbers like those, the Yankees are going to reach the postseason easily.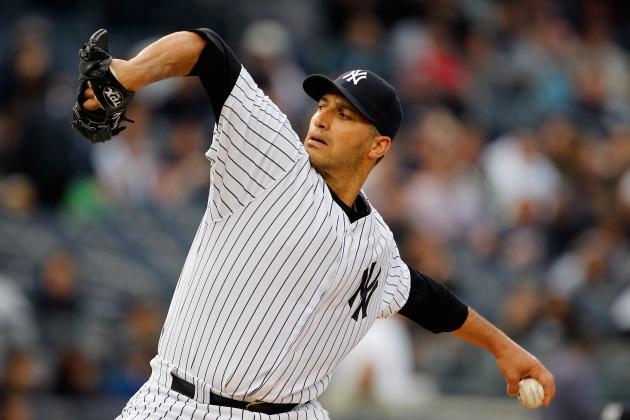 Mike Stobe/Getty Images

Being a good pitcher doesn't mean a thing if you're giving up runs in RISP situations. It's even worse if you do it with the bases loaded.
Luckily for the Yankees, they're as good as Houdini when it comes to escaping out of tricky situations.
With runners in scoring position, Yankee pitchers have a .224 batting average against. Ironically, that's about the same as their offense's average with RISP, but that's for another article. The Yankees do walk a bit as evidenced by their .306 OBP.
That's where the strikeouts come in handy. They have 164 strikeouts with RISP. Those strikeouts eliminate any chance the runners have of scoring. As a team, they've only allowed 13 homers in those type of situations which isn't bad at all.
The Yankees just need to cut down on their walks in runners in scoring position situations. If they can do that, they'll be even better. That's saying a lot considering they're already this good in these types of situations.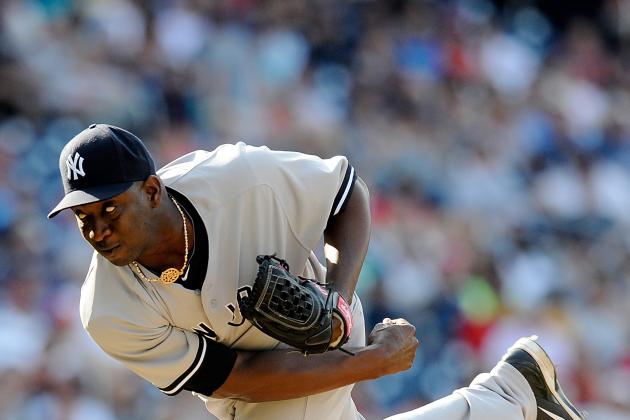 Patrick McDermott/Getty Images

Some say that the bullpen is the most important part of a team's pitching staff. As good as your starters are, they can't go nine innings every game. What good is a lead if your bullpen is just going to give it up? Just ask the New York Mets how important a bullpen is.
When Mariano Rivera went down, many Yankee fans worried about how the bullpen would recover. Those worries increased when David Robertson imploded as the team's temporary closer and then joined Rivera on the DL.
During Robertson's time on the DL, Rafael Soriano took over as the team's closer, and he's done an excellent job so far. The big roles went to the side-arming duo of Cody Eppley and Clay Rapada who quickly erased their no-name status to be two of the most integral parts of the bullpen.
Let's not forget Boone Logan and Cory Wade who stepped up admirably as well. Then Robertson returned to be the setup man, but everyone in the bullpen kept their production up.
The bullpen has an ERA of 2.63, a WHIP of 1.21, and 8.94 strikeouts through nine innings. The most telling tales of their dominance is their WHIP and K/9. The Yankees' bullpen isn't letting people on and is instead striking them out.
With those numbers, I wouldn't worry about the bullpen imploding any time soon.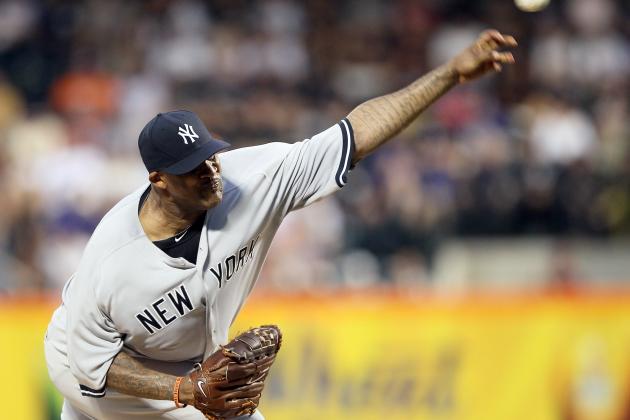 Elsa/Getty Images

The current New York Yankees' rotation consists of Andy Pettitte, Hiroki Kuroda, Phil Hughes, Ivan Nova, and CC Sabathia. Together, they're throwing up some pretty stellar numbers. They're erasing any memory of the troubles the Yankees had early on in the season.
This rotation has a record of 35-21, 3.83 ERA, 383 strikeouts, 3.21 K/BB ratio, 8.08 K/9 innings, 1.28 WHIP in 426.1 innings of work as of Tuesday. Dominant doesn't even do it justice.
Of course there are some flaws in this rotation, but right now, the level the rotation is pitching at is covering all of those holes. With the way they're pitching, any loss by the Yankees is considered surprising.
Looking at those numbers however shows that the Yankees will be able to keep up their June dominance. Their high K/BB ratio and K/9 indicate that the Yankees' rotation is in complete control of their pitches. They are striking hitters out at a high rate which is always a good thing.
The low WHIP means that barely any hitters are getting on base. A WHIP of 1.28 means roughly one hitter gets on per inning. Unless that lone hitter hits a home run, there's a low chance of that run scoring.
Those numbers are good indicators of the success the Yankees' rotation will experience in the future. Barring any unforeseen complications, the rotation should be able to continue to pitch at this level.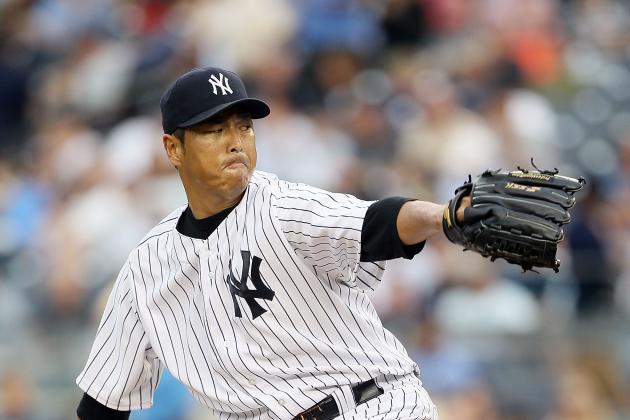 Jim McIsaac/Getty Images

Hiroki Kuroda was labeled as inconsistent coming into June. He had a couple of bad starts as well as a couple of good starts. The main reasoning behind his inconsistency label was his win-loss record which was split even.
Kuroda was actually a pretty weak pitcher prior to June. His ERA was over 4.50. Opponents were hitting .281/.345/.481 against him, numbers hardly worth bragging about. Then June comes and he turns things around.
In his six starts in June, he's averaging about seven innings per start, an ERA of 1.93, and a K/BB ratio of 3.5. Granted, three of those starts were against NL teams as opposed to say, the Texas Rangers or an AL East team.
Nevertheless, Kuroda was able to turn things around in June. While it's highly unlikely he'll be able to sustain an ERA of 1.93, he shouldn't revert back to his pre-June ways. Kuroda's part of the reason why the Yankees are having a strong June. Expect him to continue to contribute going forward.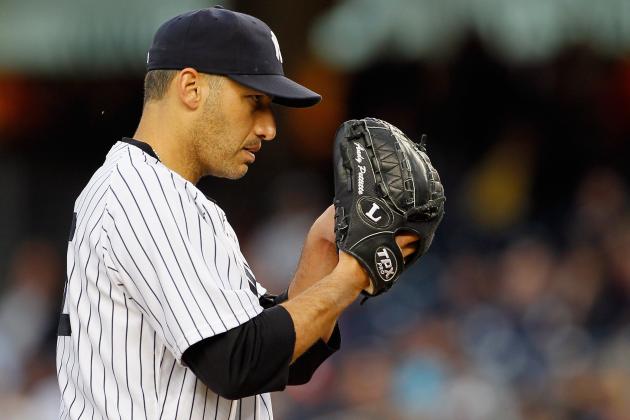 Mike Stobe/Getty Images

There's no hiding the fact that Andy Pettitte is 40 years old and was retired this time last year. Despite that, he's one of the New York Yankees' best pitchers.
He was shaky early on, no doubt because of being away from baseball for a year. Since then, he's been his old solid self. Pettitte has a 3-3 record with a 3.29 ERA, 1.10 WHIP, and 3.71 K/BB ratio so far.
Pettitte has gone at least six innings in each of his starts. His strikeout-to-walk ratio indicates he's in total command of his pitches. Sure, he'll have his off days where his control is not as sharp, but for the most part he's in control.
A pitcher's control is a good way to see if he'll be able to continue his performance for the rest of the season. With the way Pettitte has returned to baseball, he should be able to finish the season with solid numbers.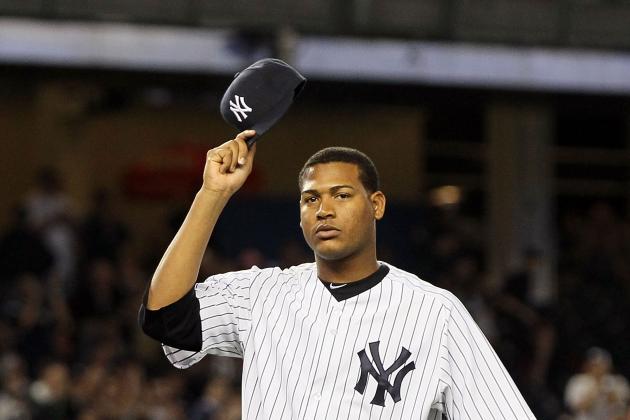 Jim McIsaac/Getty Images

Ivan Nova hasn't lost a game on the road in what seems like forever. He gave the New York Yankees a bit of a scare in May when he had an ERA of 5.87 for the month.
Nova has since settled down and put up stellar numbers in June. He's 3-0 with an ERA of 1.27 and a K/BB ratio of 3.67. As long as that strikeout-to-walk ratio remains fairly high, Nova should continue to have success against opposing hitters.
Part of the reason behind Nova's horrible May was his low K/BB ratio. He was walking a high amount of hitters despite striking out more than he walked. All those walks means more pitches and more hitters.
Opposing hitters were capitalizing on Nova's mistakes. He gave up at least six hits per start in May. In fact, he had 43 hits in 38.1 innings. When you combine that with the walks, it was no surprise Nova gave up all those runs.
Since then, Nova has cut down on the walks as well as the hits. By keeping the walks down, he'll see more success later on in the season. He probably won't maintain that 1.27 ERA but he won't get an ERA over 5.00 again.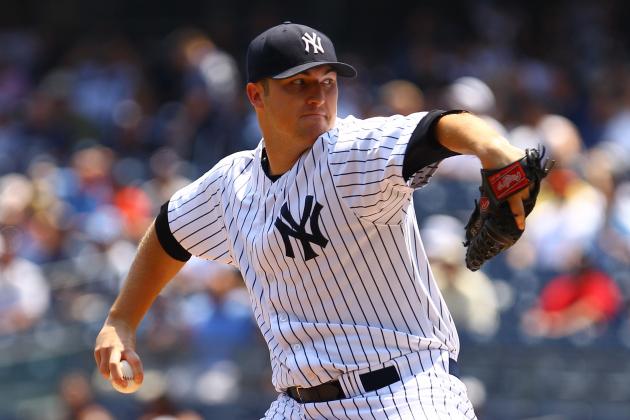 Al Bello/Getty Images

Phil Hughes' amazing spring training gave everyone hope (false hope) that this was the year he was finally gonna put it all together. By the time May ended, the New York Yankees wondered what to do with him.
Hughes' ERA at the end of May was 5.64. Unlike Ivan Nova, Hughes was keeping the walks to a minimum by only walking seven batters in the entire month of May. He was also striking out a lot of hitters.
His problem is his tendency to give up home runs. Hughes had 12 straight starts where he gave up at least one home run. That's not a streak to be proud of. On top of giving up homers, Hughes was giving up a lot of hits: 39 in 36.2 innings in May alone.
The home run is still one of Hughes' weak points. His pitches have gotten better however as he's giving up less hits. Along with that, Hughes' command and confidence have improved as he's hitting his spots as opposed to making mistakes that turn into hits.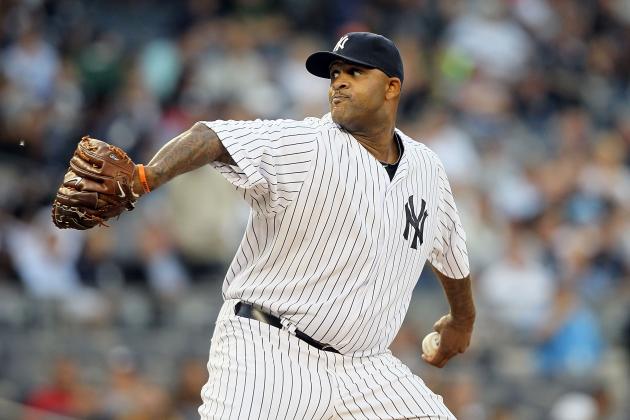 Jim McIsaac/Getty Images

CC Sabathia is a bit of a puzzling case as he was slightly better in May than he was in June. His ERA for May was 2.75 while it's 3.03 for June. Of course, his K/BB ratio is probably a better sign of how he's doing.
Sabathia had a K/BB ratio of 2.58 in May while in June, it's currently 4.5. He'll likely end up having a better June by the time the month is finished. Sabathia's troubles lie in the fact that he gives up quite a bit of hits.
On the season, Sabathia has given up as many hits as he's pitched innings: 107. In May, Sabathia pitched 36 innings while giving up 35 hits. That's a little too close for the ace of the staff. And yet, in June Sabathia pitched 35.2 innings and gave up 41 hits so far.
All of those hits means more batters to face and pitches to throw. He's averaging seven innings per start which is good but all of those hits are hurting him. The bright side is that Sabathia was able to get his K/BB ratio back up which'll help him keep those runs off the board.
Sabathia's been steadily lowering his ERA with each start. I have complete faith that Sabathia will be dominant for the rest of the season.