Portugal vs. Spain Euro 2012: The Top 10 Players to Watch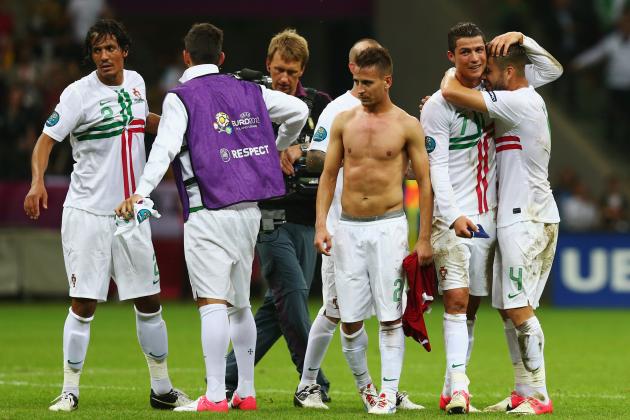 Alex Grimm/Getty Images

Either Portugal or Spain will make Iberia proud and punch their ticket to the Euro 2012 Final tonight.
The matchup is sure to display a hypnotizing blend of Spain's methodical passing and Portugal's fast-paced counterattack. While the dueling histrionics of Ronaldo and Sergio Busquets will be an amusing side show, the real attraction is the plethora of superstars the game boasts.
Here is a list of players whose every touch will set off the camera flashes.
Begin Slideshow

»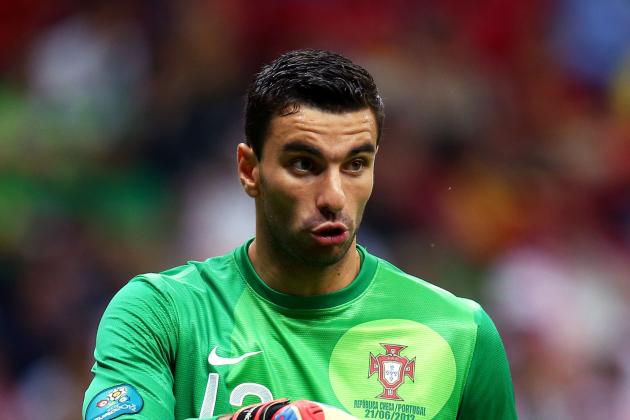 Alex Grimm/Getty Images

Between Xabi Alonso's long-range blasts and the Barcelona midfield's mesmerizing passes, the Sporting man will be on the ropes from the first whistle.
He may not play a large role in the first 90 minutes, but if the game reaches penalties, he'll have to outclass perhaps the world's greatest goalkeeper and a murderer's row of penalty takers.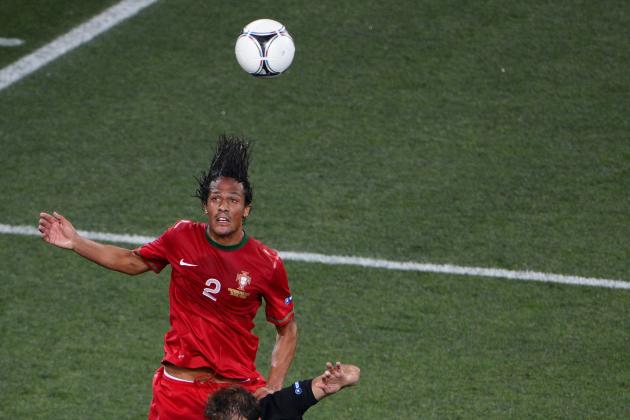 Lars Baron/Getty Images

The Juventus target makes up one half of a formidable back line that will be tasked with the job of shielding Rui Patício from the worst of the Spanish attack.
Bruno Alves' heading ability will prove an especially difficult task to overcome on set pieces too.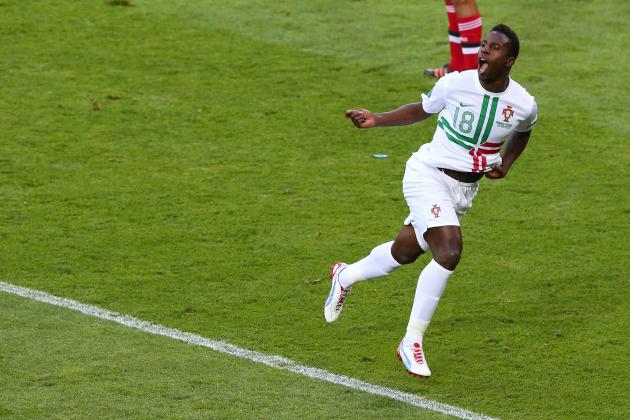 Alex Livesey/Getty Images

Varela is more than likely going to start the game on the bench, but you would not be wise to overlook him.
His goal shifted the momentum of the entire Portuguese side in these finals and let a struggling Ronaldo off the hook. He could very well reemerge for an encore performance against Spain.
It's been a lonely year-and-a-half for El Niño. He's been relegated to the bench and has on the whole looked listless and confused.
So, why put him on this list?
Besides his £50 million price tag, performances like this always leave room for optimism.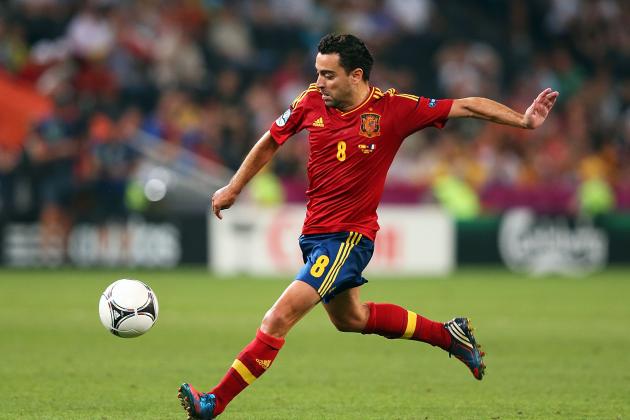 Alex Livesey/Getty Images

There is nothing left to say about Xavi.
He has proven himself as a consummate professional and champion as the architect of both Barcelona and Spain. Portugal will be hard-pressed to contain him for the length of the entire game and more than a few of his hair-splitting passes are bound to connect.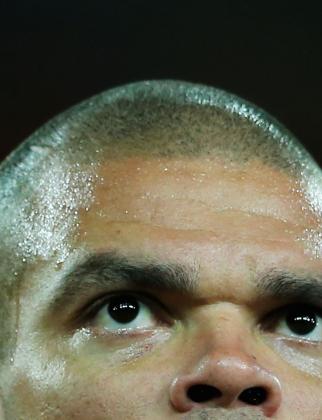 Ian Walton/Getty Images

Ask Lionel Messi about the bull of Portugal's back line. Better yet, consult the police report from the physical assaults Pepe inflicted on him.
Pure class on both sides of the ball, don't be surprised if he makes some noise of his own in the middle of the Spanish passing game.
Alex Livesey/Getty Images

The majestic midfielder from Barcelona has been known to give coaches wet dreams from time to time.
It may be a bit extreme, but the sentiment suits Iniesta's diamond-cutting precision and reliable ball control. Paulo Bento would be wise to bring some high-grade contraception to the pitch if he plans on stopping Iniesta.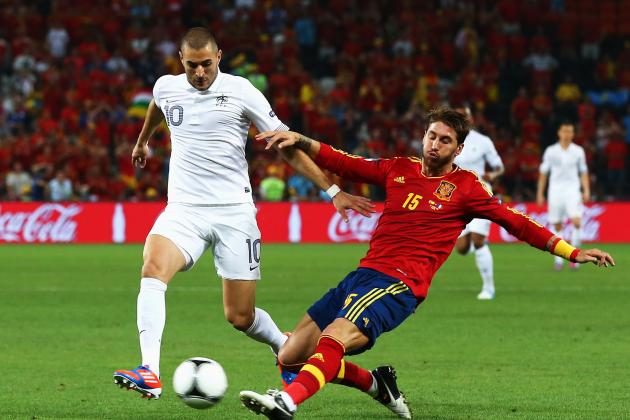 Martin Rose/Getty Images

Let's be real, when defenders make the highlight reel, their arms are usually raised in a pose of dejection after they've been beaten.
Expect Ramos to change that with some strong slide tackles and pillaging runs against his Real Madrid teammate Cristiano Ronaldo. Just because they are teammates doesn't mean Ramos won't go studs up on Ronaldo if he is treated like just another defender.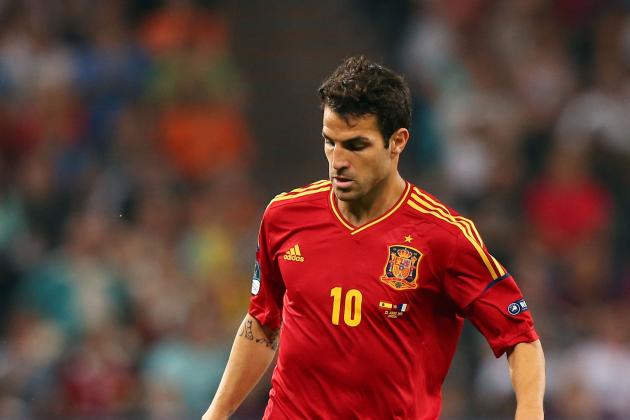 Alex Livesey/Getty Images

The former Arsenal man experienced a renaissance in his first year at the Camp Nou and has shown extraordinary adaptability in his role as Spain's "False Nine" at the Euros.
Without a true striker in the starting lineup, Fabregas will need to maneuver his way around Pepe and Bruno Alves as well as add to Spain's tally.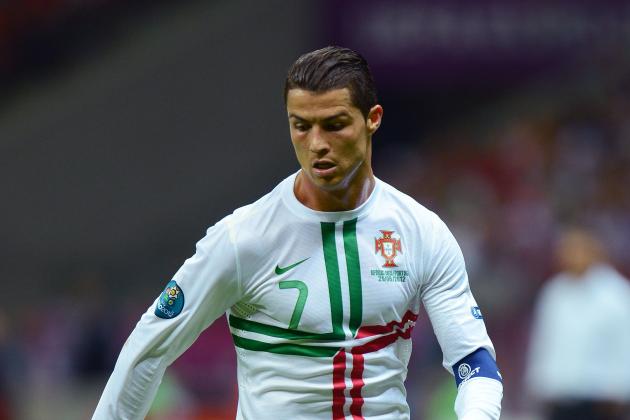 Shaun Botterill/Getty Images

Could there be anyone else atop this list?
There is no doubt that Ronaldo is the most talented player in the tournament, and his performances against the the Netherlands and Czech Republic have proved it.
Spain's possession game will limit his touches, but between his slick dribbling and theatrical flopping, he is bound to create mid-range shots for himself. A goal or two from CR7 might be enough to see Portugal through to the final.